Question: When is Shooting a 12-year-old Child Reasonable?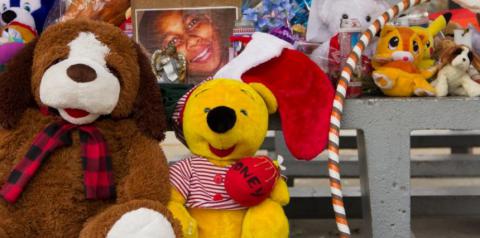 Tamir Rice memorial in Cleveland., .
Answer: When the child is Black and the shooter is a police officer.
Welcome to America, where #BlackLivesMatter is a trending hashtag, but police impunity is a lethal reality of Black life.
There's an old saying that the definition of a consultant is "someone who borrows your watch to tell you what time it is." That is true when it comes to police experts as well.  Cops and prosecutors come from the same culture. So it surprises no one that the experts hired by Cuyahoga County Prosecutor Timothy McGinty to investigate the fatal shooting of Tamir Rice are reading the time from the watch supplied by law enforcement and have come to the same conclusions as the county police and (let's be honest) McGinty himself: that the shooting was "reasonable."
You're not likely to find any law enforcement person within a 100-mile radius who would dare speak out and say what we all know: this went down badly (not just "tragically," as one of the experts put it) and the officers should be held accountable. Law enforcement culture doesn't allow for people to break ranks without consequences. So please, let's not call these hired consultants "independent" or "outside" experts. Their perspective is wholly within the law enforcement world.
An independent investigation would have asked the question, If the 911 caller could see that the "suspect" was a child and the gun "probably a fake," why couldn't trained police officers see that? An outside perspective would have taken note that police arrest white suspects with real guns all the time without firing a shot, let alone killing the suspect within two seconds of arriving on the scene. And any observer who really believes that Black lives matter as much as white lives would have expressed outrage that the two officers involved did not administer first aid to Rice after he was shot. He died the next day, and it's a more than reasonable question whether the officers' callous disregard for his life was the difference between life and death.
Also relevant to those of us outside the warped world of police culture: last December the Cleveland Police Department was hit with a report by the Department of Justice criticizing the excessive use of force by officers and the unnecessary use of weapons. In May, white Cleveland police officers sued their own bosses for being discriminated against in favor of Black officers on the same force. They say that the brass treats them more harshly than Black officers after use-of-force situations.
In a culture like that, where cops feel aggrieved because they are cops, and feel especially aggrieved because they are white cops, it's no wonder that the county police who investigated the Rice shooting have issued no recommendation and that the hired experts found the shooting "reasonable."
Which brings us back to McGinty, the prosecutor. He is taking the now familiar "neutral" approach to indicting the cop who shot Rice, an abandonment of a prosecutor's actual job that seems to apply only in cases where cops have shot a Black person. Add to that McGinty's failure to convict Officer Michael Brelo in the 2012 police killing of an unarmed Black couple and I'm sure the Cleveland Police Department sees, like the rest of us do, that the writing is on the wall for yet another prosecutorial failure when the police kill Black people.
There is nothing remotely "reasonable" about any of this.
[Vincent Warren is the Executive Director of the Center for Constitutional Rights. He oversees CCR's groundbreaking litigation and advocacy work, which includes using international and domestic law to hold corporations and government officials accountable for human rights abuses; challenging racial, gender and LGBT injustice; and combating the illegal expansion of U.S. presidential power and policies such as illegal detention at Guantanamo, rendition, and torture. Prior to his tenure at CCR, Vince was a national senior staff attorney with the American Civil Liberties Union, where he litigated civil rights cases, focusing on affirmative action, racial profiling, and criminal justice reform. Vince was also involved in monitoring South Africa's historic Truth and Reconciliation Commission hearings, and worked as a criminal defense attorney for the Legal Aid Society in Brooklyn. Vince is a graduate of Haverford College and Rutgers School of Law.
He is a frequent guest on MSNBC's Melissa Harris Perry Show, The Reid Report, and Up with Chris Hayes, and has appeared on Moyers & Company with Bill Moyers. His writing has been featured in the New York Times Room for Debate, on the Huffington Post, and on CNN.com, among many publications.]