labor
How the "Wal-Mart Effect" Squeezes Workers in the Vast Infrastructure Behind Your Groceries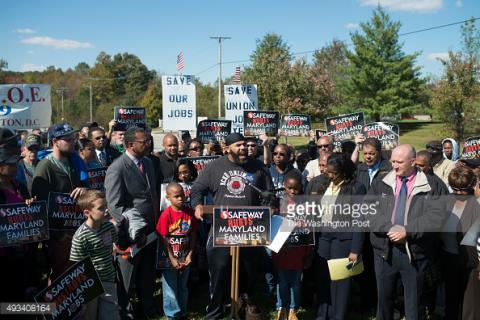 Workers and supporters rally Oct. 16 in Upper Marlboro, MD, against the announced closing of two Safeway distribution centers.,Marvin Joseph/The Washington Post)
In the early afternoon of Oct. 6, a couple of lawyers from a company called C&S Wholesale Grocers arrived at the union hall of Teamsters Local 639 in Northeast Washington.
Phil Giles, the union's vice president, was already worried. Ever since C&S's Collington Services unit took over warehouse operations for Safeway, the workers who moved goods in and out of two facilities in Landover and Upper Marlboro, Md., figured their jobs might be at risk. What Giles didn't expect is that the warehouses would be shut down and 700 people might find themselves out of work.
"They didn't beat around the bush," Giles recalled. "They gave me a WARN notice" — a required document formally notifying workers of a pending layoff — "said that Safeway had decided to sell the property, they [C&S] had to vacate the premises, and the layoffs would start on December 6, 19 days before Christmas."
C&S planned to shift operations to non-union facilities in Pennsylvania, where any displaced Maryland union workers lucky enough to snag an opening would almost certainly be paid less — union warehouse jobs pay a base rate of $41,000 a year, plus overtime and benefits, which is about $10,000 more than the national median. Teamster truckers are paid a minimum of $57,000, about $15,000 higher than the median, according to the Bureau of Labor Statistics.
C&S declined to say whether its pay is lower at non-union facilities, only that its compensation varies based on location and is often incentive-based. Still, the move to shutter warehouses in Maryland is another blow to a once-strong union sector that has bled members and forfeited benefits in recent years with the entry of non-union grocery competitors such as Wal-Mart, Whole Foods, Harris Teeter and Wegman's.
The latest losses highlight the role privately held C&S — which bills itself as the biggest grocery distributor in the country, with $28 billion in revenue — has played in the shift. The company has expanded rapidly in recent years by assuming the warehousing and shipping operations of large grocery chains, and then working with the grocers to lower labor costs, even if it means moving operations elsewhere.
"As we have over the years, C&S serves our supermarket customers from where we can meet their needs most effectively and efficiently," the company said through spokesperson Wade Gates of the international PR firm Burson-Marsteller. "Safeway made and was subject to real estate decisions necessitating the relocation of this work."
Safeway offered little further explanation. "The decision to sell is part of our long-term strategy to support our retail stores more effectively," said spokesman Craig Muckle. (It owns one of the warehouses and is a tenant in the other, which Muckle says the landlord wanted to use for another purpose.)
The drama unfolding in Prince George's County has repeated itself dozens of times over the past few decades, as struggling grocery chains in the highly competitive industry have sought to cut costs by taking a two-step process to shake off their unionized workforces.
"People have been selling off their assets, to let the wholesaler take care of it. And then the wholesaler moves away," said Mark Wulfraat, president of the Montreal-based logistics consulting firm MWPVL, which tracks openings and closings of distribution centers. "It kind of puts an arms-length relationship between the retailer and the union. This is definitely a labor strategy that's unfolding."
Nationwide, Teamsters officials estimate that 6,700 union jobs have disappeared over the past two decades at grocers like A&P, Stop & Shop, and Giant Foods as a result of the downsizing and relocation of C&S-run facilities. Some of that is due to C&S's use of technology; the company invests in robots that are able to pick up and deliver boxes, which can render the majority of positions in a warehouse obsolete. (It's not the only one; Amazon and Kroger have also been leaders in automating their fulfillment.)
In the Maryland area, the Teamsters have been fighting C&S's influence since the mid-1990s.
Back then, C&S was what Giles calls "the scary uncle in the closet" — an intermediary standing in the wings to take over operations if workers didn't yield to contract demands from Safeway and Giant. To prevent that from happening, the Teamsters accepted painful concessions, such as a lower starting wage for entry-level workers and a five-year contract with no wage increases. Government officials even kicked in $2 million in tax incentives to build a new warehouse in Upper Marlboro; then-Gov. Parris N. Glendening (D) attended the ribbon-cutting.
But in 2000, Safeway went ahead and brought in C&S to run its warehouses in the county, with the contractor taking over most of its warehouse employees and truck drivers. More concessions followed: work on Sundays, and on-call employees who would have lower pay and no benefits.
Then layoffs. The cuts started with Giant Foods workers. In 2010, Giant announced that C&S would be taking over its warehouse in Jessup, Md. The union negotiated a 50 percent reduction in staff, with pay cuts and health-care price hikes for the approximately 200 who remained. Two years later, C&S shut down the dry goods warehouse entirely, saying it could save $13.5 million a year by moving the operations to its high-tech facility in York, Pa.
Over the years, that's where much of the warehousing work for the Northeast has settled, outside union strongholds in Pittsburgh and Philadelphia. Pennsylvania's minimum wage is still $7.25, while Prince George's County recently raised its floor to $11.50 by 2017.
"They're moving the jobs out of [Maryland], putting them far enough from the local union so that we can't go after them," said Nick Danos, a Giant truck driver who managed to hang onto his job in the company's last reorganization. "If they moved the warehouse down the street or a county over, they know we're going to organize them."
The Teamsters had hoped to negotiate a deal that would keep operations in Prince George's County. But this time, with Safeway's new majority owner, Cerberus Capital Management, in place, the closure was not up for discussion, they said. In addition, Cerberus is aiming to take Safeway public this year, as part of the Albertson's grocery chain. Cerberus declined to comment.
"It would be different if they had engaged in traditional extortion. 'We're going to leave unless …'" said the Teamsters' longtime lawyer, Jack Mooney. "This was not the traditional extortion. It was the new and improved union busting."
In an attempt to get C&S and Safeway to reconsider, the Teamsters plan to hold a rally  Friday. Teamsters International President James Hoffa sent a letter asking for a six-month delay, and the union has solicited expressions of support from politicians such as Rep. Chris Van Hollen (D-Md.). Some local officials say that in the 1990s, when taxpayers helped Safeway build its warehouse, they would have entertained the idea of finding a creative way to keep the facility open.
"What's alarming to me is to give them 60 days to reorganize their whole lives," said Maryland state Sen. C. Anthony Muse (D-Prince George's). "To not talk to any elected officials to help prepare them, or to say, 'Wait a minute, you all do business in lots of parts of this state, there have to be some incentives we could bring to the table.'"
Business retention has also been a high priority of both Maryland Gov. Larry Hogan (R) and Prince George's County Executive Rushern L. Baker III (D). When the development company Bozzuto announced it would be leaving the county, the Baker administration provided a $1.5 million subsidy to move into a larger headquarters within Prince George's borders.
"We are extremely unhappy about the news and concerned about it," said David S. Iannucci, Baker's top economic development aide. County officials had no advance warning of the closure, he said, despite speaking with both Safeway and C&S in July.
During the summer, Baker announced promising economic indicators that showed the county was coming out of its prolonged economic rut. For the first time since taking office in 2011, the county experienced year-over-year job growth of more than 4,000 jobs without any major losses.
Many of the workers threatened with the loss of a job fear further erosion of economic opportunities for blue-collar workers in the Washington area, where it's already difficult to find well-paying positions that don't require a college degree.
"It's been a great, high-paying job, fantastic benefits, free health care, retirement. And they're taking all of that away from us," said forklift driver Bill Woodall, 56, who's worked at the Upper Marlboro location since 1988. "First Safeway got rid of us, and now C&S is getting rid of us."
Lydia DePillis is a reporter focusing on labor, business, and housing. She previouly worked at The New Republic and the Washington City Paper. She's from Seattle. Arelis Hernandez contributed to this report.