Millennials Can No Longer Be Silent About Our Broken System. They Are Moving, Demonstrating and Revitalizing Movements for Social Change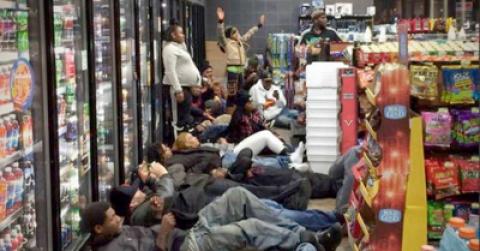 Civil disobedience action for higher wages, improved working conditions., Photo: David Nehrt-Flores // Common Dreams
by Yong Jung Cho, Waleed Shahid, Devontae Torriente, Sara Blazevic
November 2, 2015
We are running out of patience. After years of political inaction and failure, young people are taking these crises into their own hands. The Occupy movement, Black Lives Matter, the climate justice movement, the immigrant rights movement, Moral Mondays led by people of faith, and fast food workers on strike have captured the attention of the American people, but not of Congress. Now our movements are starting to come together to begin to speak with one voice.
On November 9, one year ahead of the presidential election, hundreds of young people will take part in the largest-ever civil disobedience for racial, climate, and immigrant justice. The choice is clear: politicians are failing to take our country to where it needs to go, so a movement of young people will lead us there. While politicians and the media continue to talk about left versus right, the Millennial Movements are talking about a different direction: forward.
We are not talking about some sort of beltway consensus between the parties and big business where the interests of the American people are compromised. We are talking about something completely outside the current confines of political debate.
It takes courage and dramatic action from ordinary people to do that. As politicians risk away our lives, we risk jail time to inspire urgency and courage from our elected leaders. We are taking to the streets of Washington, D.C. to demand that we keep fossil fuels in the ground; protect and respect the dignity and lives of immigrants, and black, brown, and poor communities; reinvest in healthy jobs, renewable energy, and an economy that works for all of us.
Politicians aren't the only voices with power. We have power, too. And we have more power when we act together. Young people don't live single-issue lives. We live at the intersection of the most pressing problems today. Our movements are connected and our purpose is huge. Martin Luther King described the civil rights movement as a time when the "people moved their leaders, not the leaders who moved the people." If enough of us push together toward a new vision, the world will begin to move.
Young people aren't just the future - we are the present. We are at the forefront of the fight for a more just, equitable, and stable world. Throughout history, a country founded to maintain the wealth and privilege of a few has been transformed by powerful movements that have expanded the meaning and practice of the "we" in "we the people." Now, it is our turn.
This work is licensed under a Creative Commons Attribution-Share Alike 3.0 License
By Amy B. Dean
November 11, 2015
This reflects today's workforce, which is far more diverse in terms of race and gender than it was during labor's postwar heyday. It also comes out of vastly different employment practices. The New Deal laws of the 1930s primarily targeted industrial workplaces, where workers often punched in under the same roof and stayed with the company for their entire lives. Agricultural and domestic labor was excluded. Millennials, on the other hand, work in an economic context in which fewer and fewer people are likely to work in the same location or stay at the same company for their entire working life. Many companies misclassify their workers as independent contractors in an attempt to discourage organizing and avoid providing required benefits or overtime payment. And everywhere average wages stagnate while inequality increases. 
Organized labor and young people who have recently entered the workforce have common cause.
Traditional unions still face an uphill battle when trying to expand their ranks in the face of overwhelming employer opposition and weak labor laws. But alt-labor groups such as the Restaurant Opportunities Center and the Workers Defense Project and movements without fixed membership rosters such as the Fight for $15 are more easily able to rally millennials to their cause. The labor movement would make a lot of sense for a generation caught on the edge of the new perilous economic order and sympathetic to collective action. 
"We see a real national trend of younger workers really pushing the labor movement to the left in a number of ways," says Katy Fox-Hodess, a former campus chairwoman of graduate student union UAW 2865, in an interview with Timm. "We have to stand up on issues of racism, xenophobia, women's issues, LGBT issues, foreign policy issues. We have to have a broader politics."
Nevertheless, there's a new sense that the challenges millennials are facing - from increasing debt loads to stagnating wages to a lack of job prospects - can be tackled only by collective action. Organized labor and young people who have recently entered the workforce have common cause. By championing the issues millennials care about most, unions not only promote a more just economy for a new generation; they also chart a course for their own revival.