'Keep It in the Ground' Victory: BLM Utah Halts Oil and Gas Lease Sale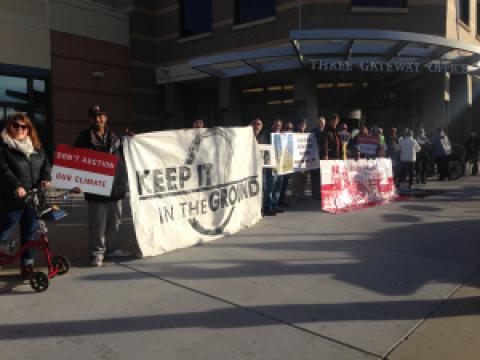 Celebratory Rally in front of the BLM offices in Salt Lake City.,
SALT LAKE CITY— Elders and climate activists are celebrating today as the Bureau of Land Management made a last-minute decision to halt an oil and gas lease sale owing to a "high level of public interest."
Dozens of citizens were planning to protest the auction on Tuesday morning in Salt Lake City.  Instead, they will now celebrate the Bureau's decision to postpone the auction of 73,000 acres of publicly owned oil and gas in Utah — which harbor an estimated 1.6 – 6.6 million tons of potential greenhouse gas pollution. The planned protest had been led by elders calling on the BLM to act to prevent catastrophic climate change and to ensure a livable future for generations to come.
The victory is the latest from a rapidly growing national movement calling on President Obama to define his climate legacy by stopping new federal fossil fuel leases on public lands and oceans – a step that would keep up to 450 billion tons of carbon pollution from escaping into the atmosphere. Similar "Keep it in the Ground" protests were held in Colorado and Wyoming in recent weeks and more are planned for upcoming lease sales in Reno, Nev., and Washington, D.C.

A number of national and local groups are coming together to demand that fossil fuels stay in the ground, including 'Elders Rising' – a group of seniors concerned for their children and grandchildren in an age when catastrophic climate change is destroying the possibility of a livable future. Elders Rising is joined by national groups Rainforest Action Network, the Center for Biological Development, the Women's Congress for Future Generations, Canyon Country Rising Tide, and WildEarth Guardians in calling for inter-generational justice and an end to fossil fuel development.
Quotes
Kathy Albury, Elders Rising
"It has been said that when the elders rise up, it is a real crisis.  Well, here in Salt Lake City the elders only needed to talk about rising to protest the leasing of our public lands to fossil fuel companies, and thousands of acres have been saved from destruction. We are grateful for the postponement of this auction and are making plans to be at the rescheduled auction.  We will be bidding for the preservation of our wild areas to slow the progress of climate change and provide a livable future for our children and grandchildren."
Lauren Wood, Canyon Country Rising Tide
"The BLM's cancellation of the lease sale proves the strength of our movement. The BLM is learning that the people of Utah won't allow our public lands to be sold off to the fossil fuel industry. We've seen the destruction they cause first-hand, and our movement will keep growing until we see a just transition from fossil fuels for all of Utah's communities, urban and rural."
Kaitlin Butler, Women's Congress for Future Generations
"Community groups are standing up and withdrawing their consent to a toxic future. A powerful ethic is (re)emerging based not only on the right to a healthy environment, but also on the responsibility to act on behalf of the planet and future generations who are inheriting our debts. Currently, government protects private property and financial capital, instead of protecting the commons — the air, land, water, cultural heritage – the things we all share."
Valerie Love, Center for Biological Diversity
"The BLM knows the public is watching and that they don't want our lands and our climate auctioned off to the highest bidder," said Valerie Love with the Center for Biological Diversity. "We forced the BLM to stop this lease sale, and we won't rest until all new fossil fuel lease sales on America's public lands are ended."
Ruth Breech, Rainforest Action Network:
"Thanks to the people powered resistance, BLM is backing off and reassessing the corporate giveaway of our public lands. It is going to be community leaders stepping up in Utah and all over the country that will help end the fossil fuel leasing of America's most precious resources. A delay on this lease sale in Utah means less public lands doomed to industrialization and a glimmer of hope to break the corporate stronghold on our future."
Tim Ream, WildEarth Guardians
"The decision by the Obama Administration to cancel today's Utah oil and gas lease sale is a possible turning point. Earlier this year the Utah BLM office was denying that climate change was even happening. Today, they heard the huge uproar of people across the U.S. and responded in a way we can all be proud of. If we all push hard enough this next year, the end of federal coal, oil, and gas leasing might be just around the corner."
Background
The American public owns nearly 650 million acres of federal public land and more than 1.7 billion acres of Outer Continental Shelf — and the fossil fuels beneath them. This includes federal public lands like national parks, national forests and wildlife refuges that make up about a third of the U.S. land area — and oceans like Alaska's Chukchi Sea, the Gulf of Mexico and the eastern seaboard. These places and fossil fuels are held in trust for the public by the federal government; federal fossil fuel leasing is administered by the Department of the Interior.
Over the past decade, the combustion of federal fossil fuels has resulted in nearly a quarter of all U.S. energy-related emissions. An August report by EcoShift consulting, commissioned by the Center for Biological Diversity and Friends of the Earth, found that remaining federal oil, gas, coal, oil shale and tar sands that have not been leased to industry contain up to 450 billion tons of potential greenhouse gas pollution. As of earlier this year, 67 million acres of federal fossil fuel were already leased to industry — an area more than 55 times larger than Grand Canyon National Park containing up to 43 billion tons of potential greenhouse gas pollution.
More than 400 organizations and leaders in September called on President Obama to end federal fossil fuel leasing. They included: Bill McKibben, Winona LaDuke, Robert F. Kennedy Jr., Dr. Noam Chomsky, Dr. Michael Mann, Tim DeChristopher, Dr. Stuart Pimm, Dr. Michael Soule, United Auto Workers Union, Unitarian Universalist Association, Physicians for Social Responsibility, Protect Our Winters, 350.org, the Center for Biological Diversity, Environment America, Friends of the Earth, Food & Water Watch, Indigenous Environmental Network, Oil Change International, Greenpeace, Rainforest Action Network, REDOIL, Sierra Club, Great Old Broads for Wilderness, Waterkeeper Alliance, WildEarth Guardians and hundreds of others.
Earlier this month Senators Merkley (D-Ore.), Sanders (D-Vt.) and others introduced legislation to end new federal fossil fuel leases and cancel non-producing federal fossil fuel leases. Days later President Obama cancelled the Keystone XL tar sands pipeline, saying "Because ultimately, if we're going to prevent large parts of this Earth from becoming not only inhospitable but uninhabitable in our lifetimes, we're going to have to keep some fossil fuels in the ground rather than burn them and release more dangerous pollution into the sky."
===
Who are we? Canyon Country Rising Tide is a local action network dedicated to confronting the root causes of climate change.