Full Disclosure Campaign: Toward Honest Commemoration of American War In Vietnam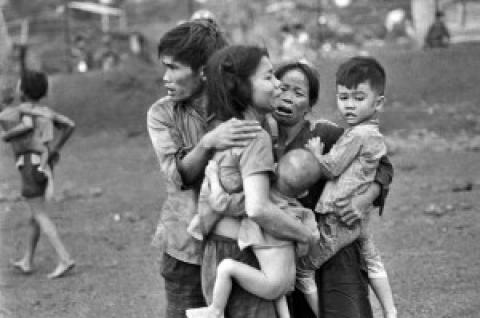 ,
All of 2015 the Full Disclosure Campaign: Toward an Honest Commemoration of the American War In Vietnam has been organizing local and natioonal events with allies to commemorate the 50th anniversary of the American escalation of the war in Vietnam.  We are hoping that as more events are memorialized, that people will continue to accurately summon up the realities of that war.  In this fearful moment, it is crucial to remind people of the devastation of war, about its predictable and unpredictable consequences.  While history does not repeat itself and surely the DRV and NLF bore no resemblance to ISIS and other agents of terror, the American powers that be have learned little from the experience of the American war in Vietnam.  Our goal is not to distract people from the important work at hand – in countering unending war, deep-seated racism and sexism, economic inequality and environmental heedlessness – but to connect to and hopefully enrich it.  When lies are propounded about the American war in Vietnam, they legitimize and justify present and future dangerous adventures and prevent us from escaping the dangerous "logic of war" as promoted by our rulers and media.
We want to let you know about an ongoing campaign around the issue of Agent Orange and how you can support it.
HR 2114Victims of Agent Orange Relief Act of 2015, introduced to the House of Representatives on April 30, 2015--the day of reunification in Vietnam.  VAVA (Vietnam Association of Victims of Agent Orange) is coming to NYC and Washington, DC for a couple of weeks in December.  At this point, the only finalized event is a meeting with Congresswoman Barbara Lee on December 17th.
There are currently 12 co sponsors on the bill: Rep. Grijalva, Raul M. [D-AZ-3]05/14/2015Rep. McDermott, Jim [D-WA-7]05/20/2015Rep. Honda, Michael M. [D-CA-17]09/08/2015Rep. McGovern, James P. [D-MA-2]09/16/2015Rep. Serrano, Jose E. [D-NY-15]09/16/2015Rep. Meng, Grace [D-NY-6]09/24/2015Rep. Cohen, Steve [D-TN-9]09/25/2015Rep. Maloney, Carolyn B. [D-NY-12]10/07/2015Rep. Pingree, Chellie [D-ME-1]10/16/2015Rep. Nadler, Jerrold [D-NY-10]10/22/2015Rep. Ellison, Keith [D-MN-5]10/23/2015Rep. Conyers, John, Jr. [D-MI-13]11/02/2015.
This legislation would:  
 Provide medical assistance to children and grandchildren of American Veterans who served in Vietnam,
 Extend the National Vietnam Veterans' Readjustment Study to include a mortality and morbidity study of Vietnam Veterans' health,
 Provide health care and social services for exposed Vietnamese and Vietnamese Americans, and
 Clean up the lands and eco-systems contaminated by Agent Orange/dioxin in Vietnam.
Contact the legislative aide of your representative and send them an email requesting that your representative become a co sponsor of the legislation.  You can easily get this information by call the Washington office of your congressperson and requesting the name and email address.  Please ACT NOW.
A delegation from Vietnam will be visiting Congress in December, so now is tie t contact your representative prior to the delegation's arrival.  The Vietnamese delegation will represent VAVA (Vietnamese Association of the Victims of Agent Orange) the organization responsible to the nation and its people for overseeing both Agent Orange/Dioxin clean-up (at bases like Danang) and for supporting the families and groups, which care for its victims.