labor
Trump International Employees Vote to Join Culinary Union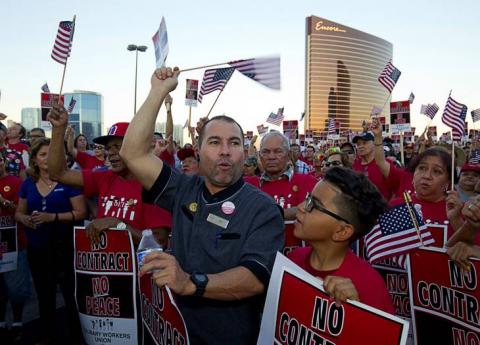 Jose Martinez, center, a Trump Hotel worker, takes part in a Culinary Workers Union, Local 226, demonstration by the Trump International Hotel on Oct. 12.,Steve Marcus
Workers at the Trump International Hotel have voted in favor of unionizing, a major Las Vegas union announced today.
The Culinary Workers Union Local 226 said in a statement that a majority of eligible Trump employees agreed to join it and the Bartenders Union Local 165 in a two-day National Labor Relations Board election last week. Voting was open to some 500 hotel workers included in the union bargaining units, according to the Culinary.
"Trump Las Vegas workers have spoken loud and clear: They want respect, dignity, and the Las Vegas union standard," Geoconda Arguello-Kline, the Culinary's secretary-treasurer, said in the statement.
Arguello-Kline called on the hotel to immediately recognize the vote and to start negotiating a contract "as soon as possible."
A hotel representative could not be immediately reached for comment.
The union has campaigned publicly in recent months to organize employees at the Trump International, a 64-story, non-gaming hotel that opened on Fashion Show Drive in 2008. The hotel is part of the larger Trump Hotel Collection affiliated with Republican presidential candidate Donald Trump.
The Culinary has not been shy about linking its organizing efforts to Trump's campaign: at a rally at the Trump International in August, the union invoked Trump's "Make America Great Again" slogan and urged him to "start here."
Democratic politicians have picked up on the union's campaign, too. Presidential candidate and former Maryland Gov. Martin O'Malley spoke in favor of the Culinary two days before the August rally. And Hillary Clinton relayed support at a union rally in October, a day before the first Democratic debate at the Wynn Las Vegas.
Eric Trump, an executive in his father's organization, has previously spoken against the union's efforts.
In an interview with the Las Vegas Sun published in October, he said the hotel would be unionized if workers wanted it.
"Since the very beginning of Trump International, the union has tried and has failed to unionize," Eric Trump said at the time. "Our employees are categorically rejecting the union, and it's for reasons beyond just salary and benefits. It is because we have a strong relationship with all of them."
Today's announcement comes about a week after the Culinary said it had secured a four-year contract to represent about 2,000 employees at the Cosmopolitan, which the union had once fought intensely to organize.
The vote also comes a week after workers at the Trump hotel in Toronto ratified their first contract with the Unite Here union, according to the Culinary statement. The Culinary and Bartenders unions are affiliates of Unite Here.