labor
The Bernie Sanders Path to Victory in the South: African American Union Leaders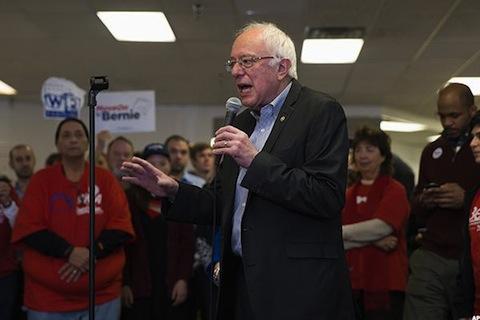 ,
Hillary Clinton has held as much as a 30-point lead in South Carolina over Bernie Sanders. Southern states like South Carolina, with large African American populations and where Clinton holds commanding leads, are thought to be crucial in securing the Democratic nomination for the former secretary of state.
But, with the Vermont senator gaining momentum with his surprisingly energetic campaign, there is a path for him to win the south -- and it goes through African American union leaders.
"I always like when they underestimate the African American community because on this one we are gonna rise to the occasion," Charles Vance tells me over the phone while on break from his job on the docks in Charleston, South Carolina.

Polling shows that Clinton has a
74% to 14% lead among African American voters
over Sanders in South Carolina. Vance says that while organized labor represents only 3% of the workforce in South Carolina, that many key labor leaders, particularly in the African American community, could play crucial roles in organizing on Sanders' behalf.
The support of key African American union leaders played a key role in Clinton's narrow victory in Iowa, where union households made up 21% of the electorate and voted for Hillary by 52%-to-43% margin. Lee Saunders, the first African American elected to head the nation's largest public sector union, the 1.4 million member American Federation of State, County, and Municipal employees (AFSCME), was quick to claim credit for his role in the victory, pointing out that his union knocked on more than 8,000 doors and conducted 11,000 member-to-member meetings on Clinton's behalf.
"AFSCME's boots on the ground make a difference for candidates who stand with working people," Saunders said in a statement.
Activists say that in order for Sanders to win African American voters that he will need to mobilize an army of door-knockers who can do what AFSCME did for Clinton in Iowa for Sanders in the south.
Many African American union leaders have key connections within the civil rights and faith community that they are attempting to leverage to help build this army of door-knockers. And while the labor movement is small in places like South Carolina, in 2015, according to the Bureau of Labor Statistics, 8 of the 13 States categorized as "Southern" gained union members, adding a total of 200,000.
Clinton has received endorsement from over 24 different unions representing 10 million of the nearly 15 million union members in the United States. However, the endorsement process has been heavily criticized as not a single one of the unions that endorsed Clinton have allowed their members to vote on the endorsement. In contrast, many of the international and local unions that have endorsed Sanders have done so through a vote.
For example, in October, Vance was outraged when Ken Riley, the president of his local union, the International Longshore Association 1422, decided to endorse Clinton at their union hall in Charleston without any of the members of his union voting on the issue. Riley's endorsement of Clinton came as a shock to labor leaders not just in South Carolina, but longshoremen on both coasts. Riley had long been critical of endorsements of Democrats and had helped found the Labor Party in South Carolina.
"They are calling me a senior citizen, but I am a realist. I like winning," says Riley. "In order to get things done, you know you are gonna have to have realistic positions and know you have enough support to get things done." His words echo Clinton's, who has repeatedly said, ""I am a progressive who gets things done."
The lack of internal union democracy has lead many disgruntled union members to form the independent organization Labor for Bernie. The group's spokesperson Rand Wilson, who is white, boasts that the organization has "more than 10,000 union members who publicly support Bernie Sanders, and three national unions, and more than 65 local and regional labor organizations, representing nearly two million members that have endorsed the Sanders campaign for president."
The organization serves as an informal network of rank and file union members who are working together to form alternative union committees to get out the vote for Sanders. The union has also worked successfully with members to get regional federations to pass resolutions bucking their national unions and endorsing Sanders. The South Carolina AFL-CIO was formally rebuked for doing so by the international AFL-CIO last year in an effort to stop the pro-Sanders union mutinies from spreading.
Bill Fletcher, the first African American education director of the AFL-CIO, who is serving as an advisor to Labor for Bernie, says that many of the African American regional leaders that he speaks to on a regular basis are "feeling the Bern," but don't want to get burned by picking a loser
"The people I speak with are in general in favor of Sanders but they don't know whether he is likely to win so they don't whether it's...worth taking the risk," says Fletcher. "If he gets more serious, if there is a major black upsurge in South Carolina...things would shift very quickly in Sanders' favor among African American labor leaders."
But that's an uphill battle for the Democratic socialist, who is better known in New England than in the south.
"I have known Bernie's politics for years -- I am just a political junkie," says Jerome Favor, an African American electrician with the IBEW Local 776 in Charleston. "He is well known up north, but not nearly as well as the Clintons are in the South."
According to a recent Reuters/IPSOS poll, approximately 25% of Democrats say that they are not familiar with Sanders compared to Clinton, who has near-universal name recognition nationally. However, polling shows that as more voters get to know Sanders that his support increases. A July 2015, Washington Post ABC-News poll showed that only 28% of voters of color approved of Bernie Sanders, but a poll taken last month showed that 51% of voters of color now approve of Bernie Sanders.
As the primary migrates to South Carolina on February 20 and then to much of the rest of the south on Super Tuesday, March 1, Sanders will likely spend time and effort increasing his profile there. And the key to winning, many labor activists for Sanders feel, is just getting African Americans in the south to know who he is.
"I talked to a lot of people and they said 'I didn't know Sanders was back with Dr. King back in the day,'" says Sandy Squirewell, a member of the ITPEU, the Industrial Technical Professional Employees Union. Sanders marched with King and his campaign has made wide use of African American surrogates such as Cornel West, Killer Mike, and former Ohio State Senator Nina Turner to tell that story, but it perhaps hasn't yet spread far enough in the south.
But increasing his name-recognition among potential supporters isn't enough; Sanders needs to "talk more about specific policies and communicate clearly to folks exactly what he is going to do for them," says Favor.
One problem, perhaps, is that he hasn't spent enough time asking them.
Bridget Todd, the former MSNBC social media editor and a veteran campaign strategist, says that the Sanders campaign needs to hold town hall meetings and engage on social media to figure out what type of policies that the African American community wants him to enact. Todd says that the campaign seeming responsive to social media pressure is vital for African American voters to feel like they have a real voice in Sanders' candidacy.
"Black folks are having real conversations about our political futures in some pretty interesting online spaces," says Todd. "A lot of these conversations are inherently political and can give you a sense of what black folks online care about, worry about, are suspicious of. This information should be used to drive policy -- not just outreach."
The key, Todd says, is to have African American supporters who can go out, listen to people, and be seen as effective representatives who have a real stake in shaping the policy of the Sanders campaign.
So far, the Sanders campaign has enlisted the support of local clergy and elected officials to campaign. Last week, former NAACP President Ben Jealous was asked if he would tour South Carolina for Sanders. South Carolina State Representative Justin Bamburg, who represented the family of Walter Scott who was shot in the back by North Charleston policy, recently switched his endorsement from Clinton to Sanders and has begun touring the state with Erica Garner, the daughter of Eric Garner, who was choked to death by police in Staten Island in July 2014.
So far, the efforts seem to be working, as recent polls showing the race beginning to tighten. While Sanders has trailed Clinton by more than 30 points throughout the campaign in South Carolina, a Washington Post/ ABC News poll released last week showed that Sanders had narrowed that gap by 15 points to a more manageable 19-point lead.
If Sanders can figure out a strategy to pick up African American support in South Carolina, it could be the formula to win not just in South Carolina but in the many Super Tuesday primaries that follow, where African Americans constitute a huge block of Democratic primary voters. Given its roll in Iowa, labor could be the key.