Supreme Court Justice Antonin Scalia Dies at 79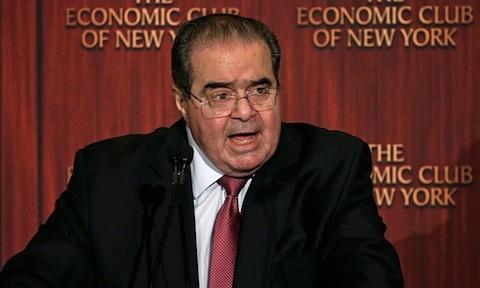 Antonin Scalia speaks at the Economics Club of New York, on 8 February., Peter Foley/EPA
The supreme court justice Antonin Scalia has died. He was 79.
The supreme court chief justice, John Roberts, the Republican Texas governor Greg Abbott and the US marshals service confirmed that Scalia had died.
In a statement, Roberts said: "On behalf of the court and retired justices, I am saddened to report that our colleague Justice Antonin Scalia has passed away.
"He was an extraordinary individual and jurist, admired and treasured by colleagues. His passing is a great loss to the court and the country he so loyally served."
The San Antonio Express News reported that Scalia was found dead on Saturday morning at a ranch in the Big Bend region of Texas, south of Marfa, and said he had been discovered to have died after not attending a breakfast.
Local ABC affiliate KVIA reported that Scalia died in his sleep after a day of quail hunting.
Scalia was appointed to the court in 1986, by President Ronald Reagan, as the first Italian American to serve on the high court. He was born in Trenton, New Jersey in 1936 and brought up in New York City. From private practice and academia he entered public service during the Nixon administration, and became an appeals court judge under Reagan.
His written rulings and opinions, often expressed in witty yet forthright terms, divided observers, infuriating liberals. He dissented, for example, in the 2015 case which legalised same-sex marriage across the US. He also caused controversy with comments about race and healthcare.
Governor Abbott, a conservative Republican, said in a statement: "Justice Antonin Scalia was a man of God, a patriot, and an unswerving defender of the written constitution and the rule of law.
"He was a solid rock who turned away so many attempts to depart from and distort the constitution. His fierce loyalty to the constitution set an unmatched example, not just for judges and lawyers, but for all Americans."
The process to nominate and confirm Scalia's replacement is bound to be fraught, with a Democratic president in his final year in office confronting a fiercely antagonistic, Republican-held Congress.
Not long after the news was confirmed, Conn Carroll, communications director for Mike Lee of Utah, a Tea Party backed member of the Senate judiciary committee, used Twitter to say: "What is less than zero? The chances of Obama successfully appointing a supreme court justice to replace Scalia?"
He added: "If anything this will put a full stop to all Obama judicial nominees going forward."
In a brief preliminary statement, a White House spokesman said: "Obama was informed of Scalia's death this afternoon. He and [Michelle Obama] extend deepest condolences."
The Texas senator Ted Cruz, a leading contender for the Republican presidential nomination who clerked in the supreme court while Scalia was on the bench, said on Twitter: "Justice Scalia was an American hero. We owe it to him, [and] the nation, for the Senate to ensure that the next president names his replacement."
Cruz has used fiery rhetoric about the court on the campaign trail, saying in Iowa recently: "We are one justice away from the supreme court taking away every single restriction on abortion and mandating abortion on demand … up to the moment of birth
Mitch McConnell of Kentucky, the Senate majority leader, also said the next president should be the one to nominate a replacement to a court now evenly balanced between liberal and conservative justices.
Indicating the fierce battles to come, Patrick Leahy of Vermont, the ranking Democrat on the Senate judicial committee, issued a sharply worded statement in response to Republican remarks.
Saying he was saddened by the death of Scalia "although I often did not agree with his legal opinions", Leahy continued: "I hope that no one will use this sad news to suggest that the President or the Senate should not perform its constitutional duty.
"The American people deserve to have a fully functioning supreme court. The supreme court of the United States is too important to our democracy for it to be understaffed for partisan reasons. It is only February. The president and the Senate should get to work without delay to nominate, consider and confirm the next justice to serve on the supreme court."
Republican presidential contenders paid tribute to Scalia. In a statement emailed to the Guardian, a spokeswoman for Donald Trump, the frontrunner, said: "Justice Scalia was a remarkable person and a brilliant supreme court Justice, one of the best of all time.
"His career was defined by his reverence for the constitution and his legacy of protecting Americans' most cherished freedoms."
Senator Marco Rubio said: "One of the greatest honors in my life was to attend oral arguments during Town of Greece v Galloway and see Justice Scalia eloquently defend religious freedom. I will hold that memory forever."
Cruz indicated his own conservative stance on how the constitution should be interpreted when he said: "As liberals and conservatives alike would agree, through his powerful and persuasive opinions, Justice Scalia fundamentally changed how courts interpret the constitution and statutes, returning the focus to the original meaning of the text after decades of judicial activism."
Jeb Bush, the former governor of Florida, said Scalia's "logic and wit were unparalleled, and his decisions were models of clarity and good sense".
His brother, former president George W Bush, said Scalia was a "towering figure and important judge".
On the Democratic side of the ledger, Senator Bernie Sanders said: "While I differed with Justice Scalia's views and jurisprudence, he was a brilliant, colourful and outspoken member of the supreme court."
Cruz also called Scalia's time on the court "one of President Reagan's most consequential legacies", and said: "Our prayers are with his beloved wife Maureen, their nine children, and their precious grandchildren."