Tidbits - February 18, 2016 - Reader Comments: Protest Music; How Social Change Happens; Bernie, Hillary, Kissinger and Scalia; Announcements and more...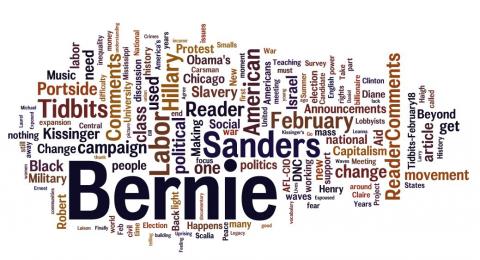 Tidbits - Reader Comments and Announcements - February 18, 2016, Portside
Announcements:
Great article!  And we ALL teach at some point as part of our political work.  While in Vietnam recently I volunteered at the Ton Duc Thang University "English Zone" -- a student-run-space where students get to practice English outside of the classroom.  Every "session" involved the "union clap" and learning a USA protest song from labor, civil rights and other movements.  The singing ALWAYS sparked great discussion, new vocabulary and FUN along with the political education.
Leanna Noble
Terrific lesson plan. Wish I could have used it when I was teaching. I used "Ballad for Americans" in my history class years ago (probably around 1980,,,) and I got away with it. I did get into a bit of difficulty when I used Dylan's Hurricane (he used the word "shit" in the song) and when I took my class up to The Young Lords HQ and when I put up a bulletin board that highlighted diverse revolutionaries from Sitting Bull to Pancho Villa and Emiliano Zapata to Nat Turner to the Nathan Hale... However, I continued at the school for 20 years until I decided to leave.
Lew Friedman
Daniel Millstone
Sanders is not Fidel, Mao or Lenin. He brings to our backward working class new vocabulary: Socialism. Revolution, MedicareForAll. Revolutionaries understand the content of the times.
Michael Berger
This is a good article but fails to put forth a radical mass movement as the key element to why a Bernie Sanders campaign is doing so well. It is important to acknowledge the primary affect of "The Black Lives Matter" movement that is awakening a deeper and more profound mass understanding of justice and equality. It is the atmosphere, the conversations and discourse produced and nurtured by the BLM movement that has ignited the mass demand for change. Please don't allow racism to weaken an otherwise profound analysis. ORGANIZE!
Curtis Muhammad
This is a very important article, especially for people under 55, and many of the rest of us who may have forgotten or still be unaware of Henry Kissinger extensive war crimes.
Diane Laison
Robert Haigh Perhaps one of the most telling things Americans have forgotten about Henry Kissinger and his sleazy cadre of associates is this: He was asked to be part of the 9/11 Commission but DECLINED BECAUSE HE WOULD HAVE BEEN REQUIRED TO DISCLOSE THE LIST OF HIS "CLIENTS." If Kissinger is such an "upstanding and moral" former Secretary of State, one must ask "What does he have to hide?"
Robert Haigh
More on the greatest living war criminal in the world today, and how he serves as a mentor for Hillary. Do the math.
Kim Scipes
We want to hear from you about what the pressing issues are you think we need to fight for this election.
AFL-CIO
Finally someone who doesn't feel the need to genuflect before the death of this extraordinarily reactionary and damaging man.
Ellen Cantarow
Thank you, thank you, thank you for this.  Finally some one says what I've said without telling me to not "speak badly of the dead" (and why not, they're dead?)
Scalia admittedly had command of the English language which is a rarity in these days of Twitter and adspeak.  But he uses language as a weapon.  What people call his wit is nothing but arrogant, narcissistic snark.  He was a mean-spirited SOB. 
Claire Carsman
Not an opinion I agree with. The difficulty is the income inequality and the lack of concern among the politicians and the media. The responses may be coming with ideas based on left and right positions but the difficulty is not with the responses but the lack of understanding of those in power. We are in a "mad as hell and I am not going to take it anymore" moment. Until the powers that be recognize that and stop trying to come up with esoteric excuses this will not change.
Gail Seaton Humbert
This article is excellent, but I don't know what "dying to be cute" art director picked this picture to go with it. This image is a smear, denigrating Bernie, and has no relation at all to the article itself. I wish I could erase it! But read the article! It's a refreshing young voice speaking out articulately against the "feminist" attack Hillary's campaign is using to try to get young women to vote for her. Why isn't she being accused of "playing the sex card?"
Mario Galván
I fear we will have a return of what happened in 1968 when the McGovern delegates were locked out of the voting part of the Convention.  The Establishment just stole half the delegates from the New Hampshire nomination of Bernie Sanders, and has learned nothing from the lesson that gave us Richard Nixon in 1968!!!  
Judith Ackerman
DWS has resumed taking lobbyist and PAC donations, defying Obama's edict.  How is she still head of the DNC?  And why is the establishment so scared of Bernie?  Because his election will be the beginning of the end of money in politics and that will mean the end of power brokers like Schumer & Co.  Can you see Bernie flying in the LA to attend fundraisers, hobnobbing with millionaires, etc?. Ain't gonna happen.  And DWS will be gone before Bernie even makes his acceptance speech! So time to make hay and get your cut before it's game over.  All the establishment money brokers will be out of luck, out of jobs and, best of all,  out of INFLUENCE!
Dorothy Reik
President, Progressive Democrats of the Santa Monica Mountains
Your "populist" Republican New Hampshire voters voted by a 60 percent margin to support the idea of banning t ravel by all and any Muslims to the US.s There's populism and there's popuism.  Hitler and Mussolini were Populiss.
Ernest Brill
ALBERT EINSTEIN KNEW EXACTLY WHAT HE WAS TALKING ABOUT WHEN HE ANNOUNCED THAT WE DWELL IN A COSMIC FABRIC OF TIME/SPACE!
As Einstein explained it, there is no such thing as "empty space.
Gentle ladies and men, at this very moment Feb. 12th 2016, most of us (U.S.) are understandably focused on the biggest, wildest circus act ever called the presidential election campaign, if not that then the tentative international peace negotiations about the civil war in Syria. Others anxiously study volatility of global markets, still others fear the effects of the endless waves of humanity fleeing war zones in Africa, Central Asia and the Middle East. Back home, many of us are protesting that Black lives matter deferring to the shock waves following Beyonce's radicalization of the Super Bowl halftime show....
BUT my FaceBook Friends, the most earth shattering (literally and figuratively) news and "noise" of the day is actually the announcement made yesterday that astro-physicists have verified the detection of gravity waves rippling through our planet, emanating from a cataclysmic event a galaxy far, far away: namely, one billion miles away and one billion light year ago of the collision of two massive Black Holes.
THIS DISCOVERY IS GOING TO CHANGE ALMOST EVERYTHING WE KNOW AND UNDERSTAND ABOUT OUR UNIVERSE!
Looking back from the future, sometime around 2030, the world will mark this moment as one of the most transformative discoveries of all times.
"Astronomers have used light to study the universe with optical telescopes for hundreds of years. We have expanded that view hugely since the middle of the 20th century, by building detectors and instruments sensitive to all the forms of what physicists mean by light: the electromagnetic spectrum, from gamma rays to radio. Yet the discovery of gravitational waves represents our first steps into studying the universe through the gravitational-wave spectrum, which exists independently from light, probing directly the effects of gravity as it spreads across the cosmos. It is the first page in a whole new chapter for astronomy, and science."
Larry Aaronson
"The weapons Obama is giving Israel will be used to maintain and fuel Israel's occupation, apartheid and settler-colonialism in Palestine, not to mention its regular massacres in Gaza."
Katharina Harlow
Great reason for optimism about radical challenges to US neoliberalism and neoconservatism!
Chuck Weed
He is featured in the documentary Slavery and the Making of America narrated by Morgan Freeman. I use that documentary in my African American History class. Smalls is a remarkable figure that more people in US should know about.
Mel Pritchard, History, West Valley College
co-chair, Steward Council, AFT Local 6554
No wonder it is so restricted! This is FREE trade? It sure isn't democracy!
The multinationals should not have had a seat at the table; they could have made presentations. What is new? There is not free market, it is very much a market for the large and powerful. Anyone who has set up a small on line business knows that. You can do it but it will not get promoted unless you give money to Facebook and Google etc.
Sad state of affairs.
Laurel MacDowell
Take heed.
Diane Fentress
     ====
This is pretty disappointing, if it is true. I thought Buffet was a "good billionaire". Maybe that's an oxymoron.
Donalda MacDonald
A two-day interactive event featuring panels, discussion circles, films and musical performances.
The expansion of slavery in the United States between the writing of the Constitution in 1787 and the outbreak of the Civil War in 1861 had enormous consequences for all Americans. Indeed, the expansion shaped many elements of the modern world, both inside and outside the borders of the United States.
His recent book, The Half Has Never Been Told: Slavery and the Making of American Capitalism, explores that process: the experience of the slave trades and forced migrations that drove expansion; the systems of labor that emerged; and the economic, political and cultural consequences for women, men and children.
Co-sponsored by the Hofstra Cultural Center
The Bernie Sanders campaign has exceeded all expectations in creating a credible challenge to government of, by and for the billionaire class.  For the first time in decades, a national movement is coming together around a candidate with an unapologetic allegiance to working class concerns and aspirations.
"Labor must step up to change the direction of American politics. We need politics to focus on the issues of our time: growing inequality and pervasive racism, the power of concentrated wealth and its corruption of our democracy, an escalating pension and retirement security crisis, runaway military spending and a militarized foreign policy, Medicare for All, and the need for new, bold solutions to our shared problems."
While we are inspired by the movement-building potential of the Sanders campaign, we are also mindful of the old adage that, "national electoral campaigns are the graveyards of progressive politics." Without leadership and planning, we fear that the forces called together by the campaign will quickly dissipate in its aftermath.
To that end, we invite you to attend a national discussion-Labor for Bernie and Beyond-in Chicago on April 1. This meeting will be an opportunity to connect with Bernie's strongest labor supporters from our unions and in our communities.  We plan to focus on two key topics:
**Beyond Bernie, what are the prospects for building a dynamic and diverse working class political movement that is strong enough to set the terms of debate and win real victories for working people?
A draft agenda for the April 1 Labor for Bernie meeting will be circulated soon. 
Steve Abbott, President, CWA Iowa State Council
Myles Calvey, Business Manager, IBEW Local 2222
Larry Cohen, Past President, CWA
Dana Coletti, President Local 230, APWU
Mari Cordes, RN, Vice President for Healthcare, AFT-VT, AFT Vermont
Bill Cruice, Executive Director, Penn. Assoc. of Staff Nurses & Allied Professionals (PASNAP)
Mark Dimondstein, President, APWU
Patty Eakin, RN, President, Penn. Assoc. of Staff Nurses & Allied Professionals (PASNAP)
Richard Gulla, President, SEA/SEIU Local 1984
Bradley Harmon, President, Missouri State Workers Union, CWA Local 6355
Jelger Kalmijn, President UPTE-CWA Local 9119
Janice Kelble, Executive Board, NH Postal Workers Union, APWU
Lisa Kermish, Executive Board, UPTE-CWA Local 9119
Jim Mahler, President, AFT Guild, Local 1931
Pete McLaughlin, Business Manager, IBEW Local 2327
Jenn Nappi, Business Agent, IBEW Local 2327
Katie Nelson, Executive Board, AFSCME Council 28, Washington State Employees
Chuck Pirtle, President, WFSE Local 1181, AFSCME Council 28
David Poklinkoski, President & Business Manager, IBEW Local 2304
John Riordan, President Emeritus, AFGE Local 3369
Sal Rosselli, President, National Union of Healthcare Workers
Cliff Smith, Business Manager, Roofers & Waterproofers Local 36
Ed Starr, Business Manager, IBEW Local 2321
Don Trementozzi, President, CWA Local 1400
*Affiliations shown for identification purposes only