labor
How Do Workers Organize When Their Boss Is an App?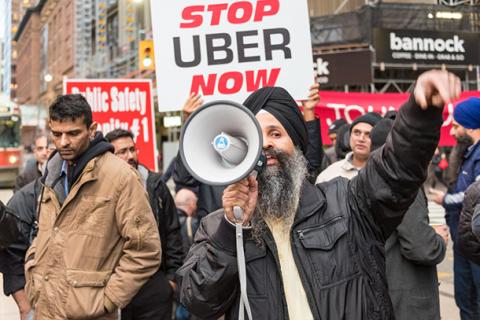 Taxi drivers in Toronto protested against Uber and the city's lack of regulation in December 2015. Uber is the face of the new gig economy. ,Photo by rmnoa357
Taxi drivers in Toronto protested against Uber and the city's lack of regulation in December 2015. Uber is the face of the new gig economy. Photo by rmnoa357 via Shutterstock.
Ever shown up for work -- only to discover your boss has deactivated you?
"Sounds like a robot," joked Donald Lafleur, vice president of the Canadian Labour Congress.
Uncomfortable laughter erupted around the large conference table as several dozen representatives of the country's major unions gathered behind closed doors to figure out what to do about the technology-fuelled platforms of the "gig economy," or what cheerleaders call the "sharing economy."
Being "deactivated" is the end of the road for an Uber driver. One day, you're being linked with customers through a smartphone app. The next, you're locked out, based on Uber's assessment of your customer ratings or activity -- or for any reason the company chooses.
Uber, Airbnb, Lyft, Handy -- the list of on-demand services is exploding. And union representatives at the meeting in the Ottawa headquarters of the congress were trying to plot a labour response.
"How do people organize when your boss is an app?" asks Emily Norgang, a senior labour congress researcher facilitating the session on the gig economy. "How do you actually organize in this digital environment... where you don't know any of your co-workers or how many are even in the city where you work?"
'You can't even keep a shitty job in Canada anymore'
Uber is the face of the new gig economy. It has dominated Canadian headlines, with reports of furious Montreal taxi drivers smashing operators' smartphones and Edmonton legalizing the service in late January.
But it is just one of the online platform businesses raising tough questions for the labour movement.
Airbnb's rentals are seen as a threat to hotels and their unionized workers (and as a factor reducing Vancouver's already limited rental housing stock as the city becomes unaffordable for workers).
Handy, an app conceived in 2012 by a 19-year-old entrepreneur, lets customers book handymen, plumbers, electricians, painters, cleaners, movers and even furniture assemblers at the tap of a button. As Handy's website boasts, "We're well on our way to changing the way the world buys services." That promise has many consumers, especially millennials, excited.
The BC Liberals have welcomed the new model. The party recently advertised an online poll that asks, "Do you think it's time to welcome the sharing economy -- including popular services like Uber, Airbnb and Lyft -- to British Columbia?" (There was no option for voting no.)
The party's enthusiasm for the sector is apparent -- "lower priced options... more convenience and choice... new opportunities for entrepreneurs... grow our tech sector."
For the labour movement, the challenges are daunting.
Unifor's Ken Bondy says the solution is simple.
"I don't think it's unreasonable to ask for a complete ban," says Bondy, national co-ordinator of health, safety and environment. If a new business model undermines workers' rights, "we have to oppose that 100 per cent," he says.
Bondy and others in the union sector recognize that the people offering on-demand services, whether drivers, handymen or other part-time positions -- are themselves workers.
But the new model does them no favours, he says.
"You have an entire generation who themselves are being forced into precarious work," Bondy says. "People working part-time jobs are being put out of work. You can't even keep a shitty job in Canada anymore."
Chris Roberts, senior social and economic policy researcher with the congress, said Canadian workers are being forced to cobble together low-paying jobs to make ends meet.
"This wouldn't be happening if people had decent job opportunities with decent wages and real chances," he argues. "The goal [is] to turn labour into something that comes out of a tap. You turn it on when you need it, you turn it off when you don't."
That's not how prophets of the sharing economy see it. Handy enthuses about its ability to connect people with jobs on their own schedule. "Make up to $22/hour as a cleaner or $45/hour as a handyman," it promises.
Uber entices its drivers -- now more than a million -- with slogans like "Drive when you want, earn what you need."
But the union representatives see trouble, starting with the small-print disclaimer at the bottom of such websites: "Handy is not an employer, but simply connects independent service professionals with customers."
It's a big distinction.
If these workers -- the drivers and electricians -- are employees of Uber or Handy, they can organize unions or at least demand the protection of the Employment Standards Act.
But the companies say the service providers are independent contractors, not employees. Gig economy workers tend to make their own hours, are paid by the task, own their own car or tools and aren't tied exclusively to a single employer, the companies note.
Norgang says they're wrong. The people providing the services must follow guidelines, take mandatory training and can't hire somebody else to do the work for them. The companies sets the pay rates and invoice customers. They're employees, and the claim they are independent contractors undermines their rights, she says.
"This really shifts the risk and the cost onto the workers," Norgang explains. "And it takes a lot of the liability off of the employer."
Workers in the sector aren't even guaranteed minimum wage. Despite Uber claiming its drivers can make more than $20 a hour, a Journal de Montreal investigation found that after car expenses and the company's 25 per cent cut, a full work week netted only $4.60 an hour.
"It's a classic case of the race to the bottom," Norgang warns. "There's nothing in place to protect these workers from being fired."
'I want to organize these workers'
It's not about technology, Norgang says. It's about business models that raise concerns about workers' rights, corporate accountability, public safety and consumer rights.
There have been efforts to organize independent contractors, or create online forums or Facebook pages where they can air grievances and solve workplace problems.
But the labour movement is divided on the best approach.
Aaron Spires of the Canadian Union of Postal Workers says despite the challenges, unions have to organize these workers. "We need to change the power relations that exist."
Forget it, say others around the table. Some see the gig workers in the same light as "scabs" who replace striking employees. Their willingness to work under the companies' conditions undermines the rights of other workers, critics complain.
Bondy is against organizing efforts. Partly, it's too hard. Unifor tried to organize temp agency workers in the past, he says. "It frankly doesn't work."
But it should also be a matter of principle for the labour movement, he says.
"When we're talking about these kinds of precarious work changes -- happening on the backs of working people -- organizing them is not the answer because all it's saying is that labour has bought into this type of precarious work."
What's at stake is much bigger than taxis versus Uber, Bondy warns.
"This is about every worker in the next generation," he said. "The entire workforce in Canada could become an on-call job app, instead of providing secure, permanent employment."