labor
Expert: Right-To-Work Lawsuit Could Have National Implications Even As It Fails In Wisconsin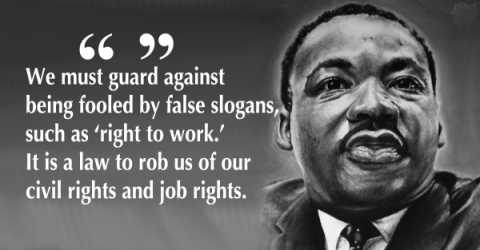 While Wisconsin's right-to-work law will likely be reinstated after being struck down by a judge last week, a labor law expert said Monday that the lawsuit that halted it could have national implications.
Dane County Judge William Foust overturned Wisconsin's right-to-work law Friday, writing that it creates a "free-rider problem" where unions are forced to pay for services for non-union members. Foust said that amounted to "taking" unions' property, which violates the state constitution.
Marquette University law professor Paul Secunda said he thinks the legal battle over right to work in the state will eventually be decided by the Wisconsin Supreme Court, where conservatives hold a 5-2 majority.
"Chances are that this decision by the Dane County Circuit Court judge is going to be overturned," Secunda said.
Secunda said he expected the case to follow the same track as one that challenged the law known as Act 10, which diminished the bargaining power of public employee unions. As in this case, that law was initially overturned by a circuit court judge in Dane County but was ultimately upheld by the state Supreme Court.
However, Secunda said Wisconsin's right-to-work lawsuit has highlighted "a real free-rider problem" with right to work, and that future lawsuits could raise similar arguments in federal court.
"This could be the beginning of something very important, perhaps not in Wisconsin, but perhaps nationally," Secunda said.
Lawsuits In Other States
Whether that prediction plays out will depend a lot on the timing of the next right-to-work lawsuit and what happens with the current vacancy on the U.S. Supreme Court.
Speaking to reporters in Milwaukee Monday, Gov. Scott Walker noted that right-to-work laws have been upheld elsewhere.
"We're not alone. We were the 25th state," Walker said. "There's now an additional state — West Virginia — that has passed right to work. So a majority of states in the country have this and have upheld the law in those states.  And we will here too."
Right-to-work laws have prevailed in the courts going back to 1947, according to Secunda. That includes a recent federal lawsuit challenging Indiana's right-to-work law that was shot down by the 7th Circuit Court of Appeals, which also covers Illinois and Wisconsin.
Two judges who heard the Indiana case dismissed the idea that right-to-work laws violate "The Takings Clause" of the U.S. Constitution, which is a near-identical argument to the one raised in Wisconsin.
But a third federal judge dissented, and Secunda said a federal challenge to West Virginia's right-to-work law could very well succeed on those grounds in the 4th Circuit Court of Appeals.
If that happened, it would leave a split between two federal appeals courts, which Secunda said would make the case "ripe" for review by the U.S. Supreme Court.
"And of course we have no idea what the United States Supreme Court is going to look like in 2017," Secunda said. "All things are possible at this point."
The U.S. Supreme Court is currently split 4-4 between Republican and Democratic appointees following the death of Justice Antonin Scalia earlier this year. That split has already played itself out in another union-related lawsuit that would have greatly diminished the power of public employee unions nationally. As it was, observers said unions dodged a bullet.
President Barack Obama has nominated U.S. Appeals Court Judge Merrick Garland to fill Scalia's seat, which would tip the ideological balance on the court. Senate Republicans have promised to fight the nomination.
Any decision by the U.S. Supreme Court would be the law of the land should a future right-to-work case ever rise to that level. But Wisconsin's lawsuit was filed in state court, giving the state Supreme Court the final say on the matter, at least for now.
Chuck Quirmbach contributed reporting for this story.