Uber Win: Settlement Allows Ridesharing Service to Keep Denying it Has 'Employees'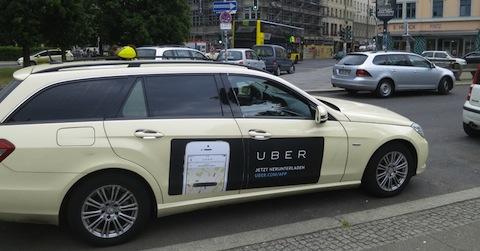 Alper Cugun/flickr/cc
Ride sharing service Uber announced Thursday it settled two class action lawsuits, with the company agreeing to pay up to $100 million to workers and being able to continue to classify its drivers as "independent contractors."
USA Today described the settlement affecting roughly 385,000 workers in California and Massachusetts as "a big win for a company whose business model depends on keeping costs low by merely serving as a conduit between drivers and riders, rather than being an employer."
As Steven Hill, an author whose books include Raw Deal: How the "Uber Economy" and Runaway Capitalism Are Screwing American Workers, previously wrote, "because Uber drivers are classified as independent contractors--1099 workers--they are not entitled to any health benefits, Social Security, unemployment or injured workers compensation, paid sick or vacation leave, or any other safety net benefits."
"They're outside the labor laws," wrote Robert Reich, a public-policy professor at the University of California, Berkeley, and a former Secretary of Labor. Reich called the designation
the most significant legal trend in the American workforce - contributing directly to low pay, irregular hours, and job insecurity.
What makes them "independent contractors" is the mainly that the companies they work for say they are. So those companies don't have to pick up the costs of having full-time employees."
According to a statement posted by Uber CEO and Co-Founder Travis Kalanick, the company is "so pleased that this settlement recognizes that drivers should remain as independent contractors, not employees."
The settlement includes $84 million to the plaintiffs, and "will allow drivers to put signs in their cars saying 'tips are not included' in the price of a ride and would be appreciated," the Associated Press reported.  "There will be a second payment of $16 million if Uber goes public and our valuation increases one and a half times from our December 2015 financing valuation within the first year of an IPO," Kalanick's statement reads.
"It's a lot of money, sure," Marcus Wohlsen wrote at Wired, "but with billions in financing, it's a modest price for Uber to pay to protect its business." The Wall Street Journal similarly described the amount as "a small concession relative to the larger triumph of preserving the high-margin business of connecting passengers to freelance drivers."
However, as the Washington Post noted, "The settlement does not set any legal precedent and the company still faces other suits that remain unresolved."
Earlier his month, Uber also released its first-ever transparency report which showed "that in the second half of 2015 alone, the popular ride-sharing app handed over information affecting more than 12 million riders and drivers to a number of U.S. regulators, and shared data about more than 400 users with federal and state law enforcement agencies," as Common Dreams reported.
Moderators Note.  The settlement still needs the approval of Judge Edward Chen of the District Court of Northern California.