labor
Treasury Department Rejects Teamsters' Central States Proposal to Cut Retiree Benefits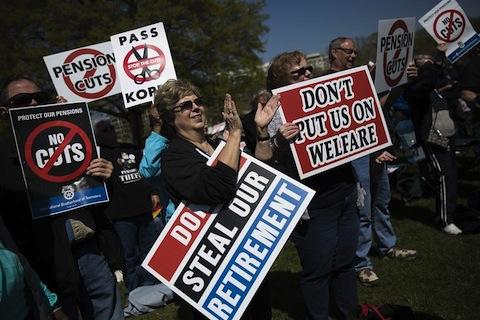 Members of the International Brotherhood of Teamsters and their supporters rallied against cuts to Central States Pension Fund benefits last month outside the Capitol in Washington., Bloomberg News
The Treasury Department rejected a proposal to cut retirement payouts for hundreds of thousands of truck drivers, construction workers and other service personnel, turning back an attempt to keep the Teamsters' Central States Pension Fund afloat.
The decision by well-known mediator Kenneth Feinberg heads off planned reductions to pension checks of up to 90% for some, a win for labor unions and retirees. But the victory could prove short-lived. The plan, which represents 400,000 workers at 1,500 companies in the Great Plains, Midwest and Southeast, faces a funding shortfall that its administrators say could leave it insolvent in a decade.
Click here to read the letter from Feinberg to Central States (link from Teamsters for a Democratic Union)
Mr. Feinberg said he rejected the plan because it unfairly imposed uneven cuts among retirees, sent notifications to participants that were too technical to be understood and was based on overly rosy assumptions about investment returns. "We at Treasury do not believe that the plan as submitted will reasonably avoid insolvency," Mr. Feinberg told reporters.
It is extremely rare for retirees' pension benefits to be reduced. In most cases, it is illegal, but a 2014 federal law made it possible to impose cuts on participants in some cash-strapped plans covering workers and multiple employers. At Central States, some 270,000 retirees were facing benefit cuts.
Bill Orms, a 69-year-old retired truck driver from Akron, Ohio, already has sold a winter home in Florida, anticipating tighter times ahead. The proposed cuts would have halved his monthly after-tax income to about $1,200. "You get to breathe again," Mr. Orns said after learning of the Treasury decision. "You get to exhale. Our life was on hold."
Central States represents employees of global giants including United Parcel Service Inc. and Kroger Co. , as well as smaller companies such as YRC Worldwide Inc. 's YRC Freight of Overland Park, Kan.
Decades ago, it had four active workers contributing to the plan for every one retiree or inactive member. But that ratio has nearly reversed, as a decline in membership due to deregulation of the trucking industry has left far fewer active workers paying into the plan than receiving benefits.
The pension plan has been reeling from investment losses from the 2008 financial crisis. It currently has about half of the money it needs to meet future obligations, with $16.8 billion in assets against $35 billion in liabilities.
Without an injection of funds or benefit cuts, Central States could run out of money in the next 10 years, said Thomas Nyhan, the plan's executive director, who added he was "disappointed" by the Treasury's decision.
Mr. Nyhan had argued retirees would have been better off with the cuts than they would be if the plan became insolvent. A safety net does exist with the federal Pension Benefit Guaranty Corp. if Central States were to run out of cash. But the PBGC caps payouts at $12,870 a year, or less than $1,100 a month.
Central States retirees are currently pulling in $1,128 a month on average, though that total includes workers of all different lengths of tenure. The longest-tenured workers get about $2,400 a month. The average proposed benefit reduction was around 23%, though some saw their retirement income curbed as much as 90%.
The PBGC itself is facing financial duress. Its funding deficit for multiemployer plans soared to $52.3 billion in 2015 from $8 billion in 2013, according to PBGC annual reports. About 55 multiemployer plans currently receive financial aid from the PBGC.
Labor groups, retirees and lawmakers cheered the Treasury decision. "This decision means that there won't be any cuts to retirees' pensions this July or the foreseeable future," said Teamsters General President James P. Hoffa.
But at some point, Central States, which pays out $2.8 billion in retiree benefits annually, will have to figure out a turnaround plan, experts say.
"It doesn't solve the underlying problems," said Jean-Pierre Aubry, an assistant director at the Center for Retirement Research at Boston College. "There's still not enough money coming into these funds to pay the benefits they promised."
Since the 2014 law was passed, five multiemployer plans have submitted applications to cut benefits. They include Central States and other funds representing iron workers and truckers.
A 2015 Government Accountability Office report called the multiemployer pension-funding shortfalls a crisis.
The proposed cuts at Central States took many retirees by surprise. Mr. Feinberg and other Treasury officials hosted town-hall meetings from Greensboro, N.C., to Peoria, Ill., where retirees packed auditoriums and convention centers. Last month, thousands of Teamster retirees rallied at the U.S. Capitol, chanting "No Cuts! No Cuts!"
One of the key reasons behind Mr. Feinberg's rejection was Central States' assumption it could generate yearly investment gains of 7.5%. Those return targets "were too optimistic and unreasonable," Mr. Feinberg said.
Mr. Feinberg also questioned the disparate impact of the cuts, pointing out that some UPS workers had their benefits reduced more than others, noting the law requires such cuts "be equitably distributed."
"UPS appreciates the thorough review by Treasury," a spokesman said, adding the Central States fund's future "is not clear."
Write to Timothy W. Martin at timothy.martin@wsj.com