food
Spring Training for the Next Wave of Food Activists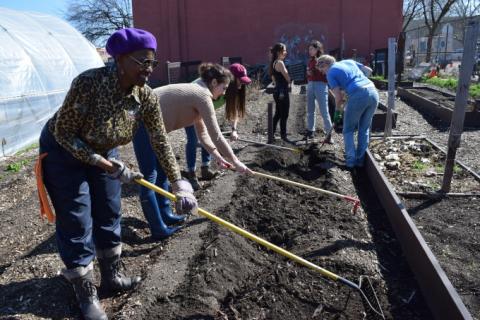 Eco Practicum NYC empowers young people to be the change they want to see in the food system., Rachel Jones
Some people go to Daytona Beach in the spring, and others take a deep look at the food on their plates.
This year, 20 members of this second, much more self-selecting, group came together for five days in New York City for the third annual Eco Practicum produced in partnership with Our Name Is Farm, a training aimed at building "effective advocacy for a better food system."
With Eco Practicum, founders Eugenia Manwelyan and Tal Beery and want to "make idealism practical." That is, translated into action on a daily basis, and undertaken by real people with needs and limitations.
Their program drew young people from Oklahoma, California, Florida, and Long Island. For just $880, the participants received an introduction to the vibrant, growing, messy, and often contradictory local food system found in our country's biggest city.
I was chatting with Beery and Manwelyan as the program's participants were spread out around us in the lobby of the hostel in Queens that served as our home base. Some participants were college students looking to find a passion, some were in their mid-20s looking to find a career, and some were in their mid-30s looking to change a career. As the week wrapped up, they were all working on their final collaborative projects, engaged in deep conversation and contemplation, trying to make sense of all they'd experienced
That final project is one of four core components—along with "Encountering Experts," "Farming & Land Stewardship," and "Learning Together"—of every Eco Practicum program. The programs are designed to be experiential and intensive, forging a deep connection among the participants and the experts with whom they spend time.
"Food and agriculture are always core themes in our programs because everything is connected to soil," Beery told me. "In our summer Practicum, participants spend mornings working on our on-site educational farm, growing, and harvesting produce, and caring for chickens, sheep, and ducks. This spring was the first time, however, we chose to make a program specifically about food."
The itinerary for this year's Eco Practicum NYC included visits to urban farms, composting facilities, and aquaponics demonstration sites. The participants spoke to experts about green roofs and local food investment, and about farmers' markets and food advocacy through social media, as well as food waste and dumpster diving on the Upper East Side. Through it all, they shared meals, personal stories, ideas, and dreams.
"By the [end of the] first day, all of us were so close," said Jasmine Michel, a participant by way of Miami and New York.
For Veronica Legarreta, who is from Los Angeles, the visit to an urban farm run by theBed-Stuy Campaign Against Hunger was a particularly profound experience. "It was like a light bulb went off," she told me. "I was like, 'Wow, those are all of the things that I've been wanting to do with food and my identity.'"
"I think people are leaving from here with a much better sense of how the different aspects of our food system interact with each other," Beery said, "and what they can choose to do moving forward."
Training a New Generation of Food Systems Thinkers
Eugenia and Tal have a vision for how they want to see the food movement evolve. They started Eco Practicum out of a desire to bridge environmentalism and local food and social justice, to train a generation of people who can make those links, think systematically, and help nudge our food culture in a just and sustainable direction. They want to, in Beery's words, create "a generation of skilled land stewards."
And they want to make folks comfortable with the contradictions inherent to our food system, with the compromised nature of any action in the real world. "The closer I have gotten to the people and organizations doing the most effective work in the environmental movement right now, the more I see how important it is to embrace complexity and contradiction, to keep an open and non-judgmental mind, and to recognize that we can't, and shouldn't, expect people to be pure," said Beery. He emphasized that, "it's especially important to have this patience with yourself, because that [leads] to a more sustainable engagement in the movement."
On the second day of the training, the group met with an executive from Slow Money NYC, an organization that helps drive investment into sustainable food projects. Tal found the experience to be a perfect example of what they're trying to show their participants.
"Derek Denckla founder and director at Slow Money really understood how compromised the system was, and how difficult it would be within that system to create a more equitable paradigm. But he operated within it nonetheless, and saw major gains in the last 10 years," Beery said. "It was an example of someone who was really in the trenches, really trying to make major changes in mindset. It's promising and inspiring that someone would choose to take that challenge on."
Building a Career Path
Alumni of Eco Practicum programs are actively engaged now in journalism, engineering, visual arts, business, social work, and yes, farming, too. One past participant is known as the "compost king of Connecticut," and another is a whole-animal butcher.
"We often hear from alumni that Eco Practicum gives them a renewed sense of possibility, that they are inspired by all the exciting and practical ways to engage in the environmental movement," Beery told me later. "So many of our alumni are now on the path of establishing careers in this sector, and through Eco Practicum, they also have a supportive community of peers who can help them when they need it."
Both Manwelyan and Beery feel a strong sense of urgency as farmland disappears, antibiotic resistance becomes an increasingly glaring problem on large animal farms, and food and agriculture continues to be a major contributor to climate change. "We don't have the luxury of moving slowly," said Beery.
For these reasons, "making idealism practical," can also be an important call to action. "My idealism is about a deep recognition that your life matters, and what you choose to do with your life matters," said Manwelyan.
As our conversation ended, the couple rushed off to prepare the site for the closing night's presentations, and the participants moved through the hostel's bar and lobby with the buzz and energy of an intense, transformative experience.
The next day, the Eco Practicum participants would be back to thinking about the future—a future that is too often filled with social isolation, vocational confusion, and professional frustration. But for now, they were fully immersed in the present.