Media Bits & Bytes -- Tech Takes Over Edition?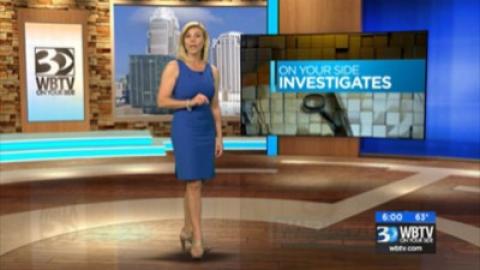 Above, a virtual set in use at Raycom's WBTV Charlotte, N.C., Credit - WBTV
What does the First Amendment look like in the digital age? Knight and Columbia are spending $60 million to find out
By Benjamin Mullin 
May 17, 2016
Columbia University and The Knight Foundation are teaming up to create the First Amendment Institute at Columbia University, a $60 million initiative dedicated to thinking through the thorny questions of First Amendment case law in the digital age - and going to court if necessary to preserve the right to free speech.

The institute, which will be housed at Columbia university, will help shape the interpretation of "privacy, information access, libel and press freedom" laws, according to a press release. In the information age, when applications for First Amendment case law is still murky, the institute hopes to provide some much-needed clarity.
Who's got the most cash in corporate America? For the first time, 5 tech firms
By Paresh Dave
May 20, 2016
Climbing profits at tech companies in 2015 -- as revenue and earnings largely fell at other U.S. businesses -- gave the industry the five most-stuffed corporate wallets for the first time since tracking began in 2007.
The technology industry has put billions of dollars into acquisitions, dividends and share buybacks during recent years, but surging cash flows for companies such as Apple are restocking bank accounts faster.
Shared, Collaborative and On Demand: The New Digital Economy
By Aaron Smith
May 19, 2016
A number of new commercial online services have emerged in recent years, each promising to reshape some aspect of the way Americans go about their lives. Some of these services offer on-demand access to goods or services with the click of a mouse or swipe of a smartphone app. Others promote the commercialized sharing of products or expertise, while still others seek to connect communities of interest and solve problems using open, collaborative platforms. These services have sparked a wide-ranging cultural and political debate on issues such as how they should be regulated, their impact on the changing nature of jobs and their overall influence on users' day-to-day lives.
Five Technologies Reshaping TV News
By Phil Kurz
May 19, 2016 
Whether it's virtual or hybrid sets, Ka-band satellite contribution or tools to make story-centric workflows a reality, the shape of TV news production, presentation and even publishing - not just to air, but to multiple platforms - is changing. Here's a look at five important technologies that are helping to transform television news.
In Sheldon Adelson's Newsroom, Looser Purse Strings and a Tighter Leash
By Sydney Ember
May 22, 2016
In late January, about a half-dozen reporters from The Las Vegas Review-Journal gathered at a colleague's apartment after work.
An article about a long-running lawsuit against Sheldon G. Adelson, the paper's new owner, had just been cut in half for the print edition on orders from the top editor, and the reporters were disturbed by what they considered editorial interference. With two other colleagues conferenced in, they discussed the possibility of a byline strike.