labor
Working While Black: Demographics and Destiny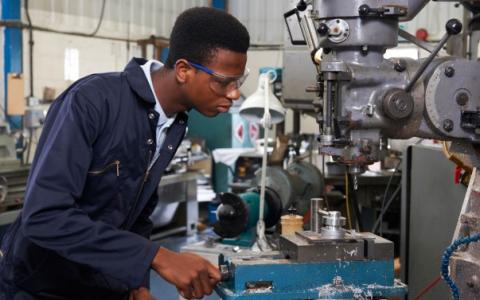 Thinkstock
 The Black and Brown revolution is coming.
People of color will be a majority of the American working class by 2032, according to a new study released by the Washington D.C.-based Economic Policy Institute (EPI). That is just 16 years from now, or four presidential elections away. Fifty years ago this working class population shift would have been impossible for some people to imagine. Now a Black and Brown America is becoming everyone's reality. Let that truth sink in for a second.
With people of color soon dominating the working class, what does this mean for the traditional imagery of the "iconic American" worker?

The report's author, Valerie Wilson, says the image and policies must shift.
"It is important to realize that the working class is more diverse than stereotypical images of white men in blue collar jobs suggest," says Wilson, an economist and director of the Project on Race, Ethnicity and the Economy.  "While policies aimed at raising living standards for the working class are often conflated with policies to raise living standards for white workers without college degrees, the reality is that the working class is increasingly people of color, and our policies should reflect that."
In short, the working class is far more diverse and vibrant than the image of a disgruntled Donald Trump supporter from Northeast Ohio that we have been steadily fed by mainstream media. The next president of America, politicians and pundits need to recognize this sea change and start to act accordingly with tangible policies that benefit and protect black and brown workers.
For the foreseeable future, Latinos and African Americans will remain the two largest minority groups in the U.S. By 2043, Latinos will be 26.6 percent of the working-age population while African Americans will be just over 13 percent. This is significant for the demographic transition of the working class because members of these two groups are also the least likely, according to some research, to have a four-year college degree. In 2013, only 13 percent of Latinos and 21.2 percent of African Americans in the labor force had a bachelor's degree.
Furthermore, many Black and Brown workers find themselves in a very difficult and vulnerable position. While working harder year after year, very little has been gained for the working class.  Productivity (a measure of the increased economic value of what American workers produce) in the country has grown by nearly 63 percent between 1979 and 2014, but Black male workers during that same time period have seen their wages drop by more than 7 percent.
Even more damaging for Black workers is the fact that much of the job creation that politicians tout as proof of recovery from the Great Recession is low-wage. Over the last 40 years a second EPI report found that compensation for the vast majority of workers in the U.S. has either stagnated or declined, leaving more and more people in low-wage jobs that pay too little and offer too few benefits. Across the country 8.2 million African American workers are employed in jobs that pay under $15 an hour: that's roughly 53 percent of all African American workers.
Let's break this down even more and look at a few key states. In Florida, just over 60 percent of Blacks make less than $15 an hour. In Georgia, it is just over 54 percent.  In the Northeast it is not so much better with Pennsylvania at 50.5 percent, Massachusetts at 46.3 and New York at 41.2 percent. Overall in 32 states, more than 50 percent of African American workers earn under $15 an hour.
This is a crisis in our community. 
You cannot have the new majority of workers in the U.S. earning so little if you want this great big giant economy of ours to keep humming. When workers struggle to house, clothe and feed themselves, the entire nation also suffers. As William Spriggs, Chief Economist to the AFL-CIO,  states: "Low wage workers also face great difficulties in supporting their children's pursuit of higher education. So, low wages cut off the family investments needed to improve America's pool of highly educated workers."
A vibrant working and middle class that is paid a living wage is fundamental to our nation. Without this we are doomed to eternal inequality. Even the original capitalist, Henry Ford, wrote this back in the 1920s: "We increased the buying power of our own people, and they increased the buying power of other people, and so on and on… It is this thought of enlarging buying power by paying high wages and selling at low prices that is behind the prosperity of this country."
The game plan has got to change. We need to ensure that the economy works for everyone. And that means everyone deserves the opportunity to make a living wage. The first step is making sure that our new American majority gets properly paid for every hour they work. The current minimum wage is unacceptable. Black and brown workers have organized to increase their wages. All over the nation the Fight For $15 movement has blossomed with successful organizing in a number of states. But what our nation needs most is for our politicians to also step up and enact policies that will increase the wages of workers. When workers receive higher wages it is a win for everyone.
This ain't the time for divide and conquer. Too much is at stake. It is time to do what's right for the majority starting now.
Marc Bayard is an Associate Fellow and the Director of the Black Worker Initiative at the Institute for Policy Studies, and a Public Voices fellow of The OpEd Project. Follow him on Twitter @MarcBayard