Here's What to Expect From a Breitbart News Infused Trump Campaign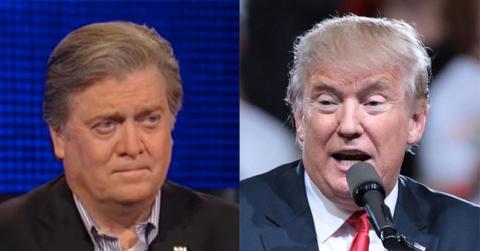 Breitbart News chairman Stephen Bannon has been hired as chief executive for Republican presidential nominee Donald Trump's campaign following months of shilling for the candidate on the website, relentlessly promoting Trump's inflammatory rhetoric and defending his blunders.
Media figures were appalled by the news of Bannon's new role in the Trump campaign, labeling the move "insanity" and saying the hire makes the relationship between Trump and Breitbart "official." CNN's Chris Cuomo commented that Bannon makes campaign chairman Paul Manafort look "like a puppy" and scandal-ridden former campaign manager Corey Lewandowski look "like a kitten."
Based on the way Bannon has run Breitbart News and according to statements he's made in the past, here's what can be expected from the Trump campaign under his leadership:

1. Attacks Against The Clinton Campaign Will Rely On "Clinton Sex Stuff"
Noting that "Few have done more than Bannon to help draw the 2016's version of the Clinton 'cartoon,'" NBC News reported that Bannon's hiring "is widely seen as a sign Trump will devote the remainder of his campaign to lurid rumors and scandalous accusations" like those "about Bill Clinton's sex life." In addition, a 2015 Bloomberg profile of Bannon suggested that he was open to attacking Democratic presidential nominee Hillary Clinton with her husband's old scandals, which he referred to as "Clinton sex stuff":
Bannon does, indeed, have a touch of Clinton Madness. When we met in January, Bill Cosby's serial predations had just exploded into the news after laying dormant for many years. Bannon was certain this signaled trouble for Bill Clinton, whose own sexual history some conservatives long to revive as a way of hampering his wife's campaign. His conviction stems from the group of young, female Breitbart News reporters whom he's dubbed the Valkyries. When I expressed skepticism about the value of reintroducing old scandals, Bannon countered that the Valkyries—a sort of in-house focus group of millennial voter sentiment—were unfamiliar with Clinton contretemps that most older people consider settled. "There's a whole generation of people who love the news but were 7 or 8 years old when this happened and have no earthly idea about the Clinton sex stuff," he says.
2. Recycling Debunked Smears About The Clinton Foundation
Bannon
the anti-Clinton documentary Clinton Cash, based on a book by the same name written by Peter Schweizer. The book is a trainwreck of sloppy research and shoddy reporting that pushes the evidence-free claim that while serving as secretary of state, Clinton did favors for foreign entities that donated to the Clinton Foundation. A Media Matters analysis of the book found that it contained more than 20 errors, fabrications, and distortions, several of which were later corrected in the Kindle version of the book. Clinton Cash heavily relied on innuendo in the absence of evidence, prompting Slate writer Jamelle Bouie to write, "Peter Schweizer's attack on the Clintons leads with his conclusions and never connects the dots."
Trump has cited Clinton Cash as the source for some of his attacks on Clinton, drawing criticism from the media. After Trump gave a June 22 speech targeting Clinton, CNN's David Gergen said he "was really surprised he leaned as heavily as he did upon the Schweizer book, called the Clinton Cash, that book has been basically discredited." But Bannon's new role in the Trump campaign signals that these attacks will be a prominent feature during the rest of the campaign.
3. Conspiracy Theories
CNN's Brian Stelter has predicted that after Bannon's hiring, "nothing is off limits" for the Trump campaign. While appearing on the August 17 edition of CNN's New Day, Stelter pointed out that Bannon's role as chief executive indicates that "the most fringy ideas" will "bubble up to the surface." Trump, who often parrots conspiracy theorist Alex Jones quasi verbatim, is no stranger to conspiracy theories, but by joining the campaign in an official capacity, Bannon might elevate the absurd conspiracy theories that are Breitbart News' bread and butter to official campaign positions. Some of the conspiracy theories that can be found on Breitbart.com include baseless speculations about Hillary Clinton's health, "birther" attacks against President Obama, and fear mongering that election machines could rig the upcoming presidential elections.
4. Anti-Immigration Rhetoric And Nativism
Inflammatory rhetoric against immigrants has been a feature of the Trump campaign since its kick-off, but the way that Bannon turned Breitbart News into the "media arm of the 'alt-right'" by presenting "racist ideas" and "anti-immigrant ideas" as news doesn't forecast a change in tone. In their anti-immigrant slant pieces, Breitbart News often cites the work of the Center for Immigration Studies (CIS), an organization with a reputation for producing shoddy research. According to the Southern Poverty Law Center (SPLC), CIS belongs to the "nativist lobby" and has been tied since its foundation to organizations the SPLC considers hate groups. Breitbart News does not shy away from these extreme connections; they have hosted anti-immigrant summits featuring speakers from nativist organizations like NumbersUSA.
5. Doubling Down On Islamophobic Rhetoric
Breitbart News has staunchly defended Trump's widely criticized proposal to ban Muslims from entering the U.S and elevated those who support it. The website has published articles in favor of profiling Muslim individuals, and technology editor Milo Yiannopoulos responded to the Orlando massacre with an inflammatory column writing ""f*** you" to Islam." As reported by the SPLC, the site produced a video fear mongering about Sharia law seeping into the United States, and it defended anti-Muslim known misinformer Pamela Geller -- whose writing has frequently been published on Breitbart.com -- after she promoted a contest meant to offend American Muslims.
6. Outright Lies, Fabrications, And Distortions
Under Bannon, Breitbart News routinely promoted and rigorously defended many of Trump's fact-free talking points, including his baseless claim that American Muslims had celebrated the 9/11 terrorist attacks. Breitbart News also defended his comment that Mexican immigrants are "bringing drugs, they're bringing crime. They're rapists," by writing that "Trump is right" and that "without Trump's typically blustering comments, the media would still be ignoring the problem of illegal immigrant criminality." The website has a history of reporting falsities that extends beyond Trump as well, including questioning whether Shaun King, a Black Lives Matter activist, was "lying to the public about his race," attributing a fake quote to an Obama advisor to attack the Iran nuclear talks, and attempting to attack Loretta Lynch's nomination for attorney general by going after the wrong Loretta Lynch.