Fred Hellerman, Last of the Weavers Folk Group, Dies at 89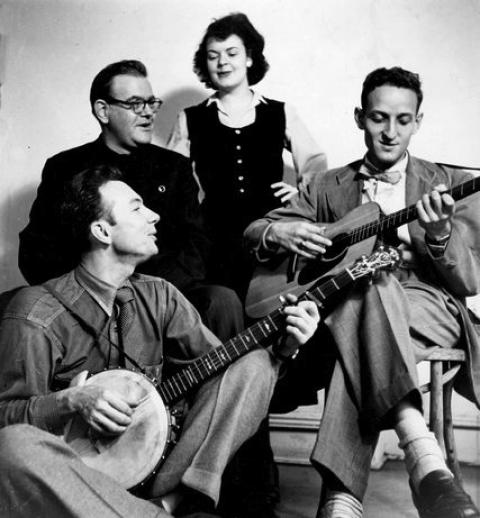 The Weavers in the early 1950s, clockwise from right: Fred Hellerman, Pete Seeger, Lee Hays and Ronnie Gilbert,
Fred Hellerman, a singer, guitarist and songwriter and the last surviving member of the Weavers, the quartet that in the 1950s helped usher in the folk music revival, died on Thursday at his home in Weston, Conn. He was 89.
His death was confirmed by his son Caleb.
With songs like "If I Had a Hammer," "Goodnight Irene" and "Kisses Sweeter Than Wine," the Weavers brought folk music to a mass audience, paving the way for singers like Joan Baez, Bob Dylan and Peter, Paul and Mary, who galvanized a young, politically conscious audience in the 1960s.

Mr. Hellerman's mellow baritone, rock-steady guitar and songwriting talent made him a pillar of the group, whose other members were Pete Seeger, Lee Hays and Ronnie Gilbert. Mr. Hays died in 1981, Mr. Seeger in 2014 and Ms. Gilbert in 2015.
"He stood right in the middle of the two men, between Pete's tenor and Lee's bass," said David Bernz, a singer who produced two Seeger albums and performs with the tribute group Work o' the Weavers. "It wasn't a standout voice, like Ronnie Gilbert's, but it made everything meld together."
With the other members of the Weavers, who were based in Greenwich Village, Mr. Hellerman recast dozens of traditional songs, which were credited to the collective songwriting name Paul Campbell. He also wrote for the group, as well as for Harry Belafonte, under his own name or the pseudonym Fred Brooks. Many of his songs were later recorded by other artists.
His Weavers songs included "There Once Was a Young Man Who Went to the City," "Tapuach Hineni" and, with Fran Minkoff, "The Honey Wind Blows" and the antiwar ballad "Come Away Melinda." For Mr. Belafonte he wrote "I'm Just a Country Boy" (with Marshall Baker), "I Never Will Marry," "Green Grow the Lilacs" and "Walkin' on the Green Grass."
After the Weavers disbanded in 1964, Mr. Hellerman kept up a performing and producing career. He played guitar on the debut albums by Joan Baez and Judy Collins, and produced Arlo Guthrie's first album, "Alice's Restaurant," and its successor, "Arlo."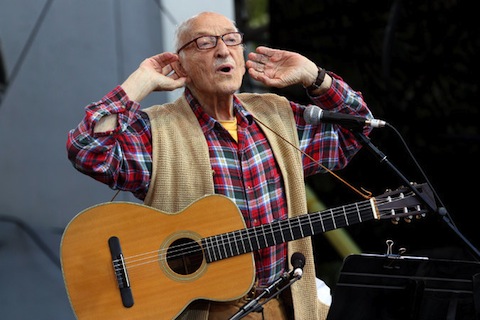 He rejoined the Weavers for reunion concerts in 1980, documented in the film "The Weavers: Wasn't That a Time!" He also produced the album version of the concerts, "Together Again."
He was born Fred Hellerman on May 13, 1927, in the Flatbush section of Brooklyn. His father, Harry, and his mother, the former Clara Robinson, were Jewish immigrants from Riga, Latvia. His father ran a small grocery store and later a clothing recycling business on the Lower East Side.
After graduating from Lafayette High School, Mr. Hellerman enlisted in the Coast Guard toward the end of World War II and served on a weather ship. In his spare time, he taught himself to play guitar.
"His playing with the Weavers was not flashy, but it was tasty," Mr. Bernz said. "He was always looking for that interesting note to add to a chord, and there was always movement in his playing. It made the Weavers sound different from everybody else."
While studying English at Brooklyn College, he performed with American Folksay, a group of singers and square dancers, and in 1948 he recorded "The Little Cowboy" with Will Geer and Ernie Lieberman for Young People's Records.
He soon came to the attention of Mr. Hays and Mr. Seeger, former members of the Almanac Singers, who were trying to organize musical backing for folk dancers at a Thanksgiving hootenanny at Irving Plaza in Manhattan being held by People's Music, a leftist organization that sent folk singers to political events.
With Ms. Gilbert, whom Mr. Hellerman knew from their days as counselors at the leftist Camp Wo-Chi-Ca in northern New Jersey, they came up with a medley of international folk songs that turned out to be a crowd pleaser. Encouraged, they began rehearsing and appearing as the No Name Quartet until Mr. Hellerman suggested the Weavers, a name taken from the title of Gerhart Hauptmann's play about a 19th-century workers' revolt.
"We really got together for the fun of it, singing in Pete's basement on Macdougal Street," Mr. Hellerman told The New York Times in 1980. "We sang for unions, at picket lines and at hootenannies, but we had no anticipation of getting jobs. Even Pete, the most accomplished of us, could not get jobs on his own, so we couldn't expect anyone to pay for four of us."
A booking at the Village Vanguard in December 1949 changed that. It did not hurt when the folklorist Alan Lomax brought the poet Carl Sandburg to a performance, which he loved.
"The Weavers are out of the grass roots of America," Sandburg told reporters. "I salute them. When I hear America singing, the Weavers are there."
Decca signed the group to a contract. Their first record for the label, the Hebrew song
"Tzena, Tzena, Tzena,"
rose to No. 2 on the Billboard chart. The flip side,
"Goodnight, Irene,"
an interpretation of the Lead Belly anthem, sat atop the chart for 13 weeks. The record sold two million copies.
After Mr. Seeger was labeled a Communist by the influential publication "Red Channels in 1952, and an F.B.I. informant made the same charge against Mr. Hellerman and Ms. Gilbert, it became impossible for the group to perform on radio and television, or at most concert halls.
Mr. Hellerman began teaching guitar and writing songs for other artists. As the fervor of the McCarthy years began to wane, the Weavers reunited for a concert at Carnegie Hall in 1955 and signed with Vanguard Records, which released "The Weavers at Carnegie Hall" in 1957 and, after a second concert in 1960, "The Weavers at Carnegie Hall, Vol. 2." At the same time, Mr. Hellerman was the conductor for two albums by the folk singer and actor Theodore Bikel.
In 1970 Mr. Hellerman married Susan Lardner, who survives him. In addition to his son Caleb, he is survived by another son, Simeon, and three grandchildren.
Mr. Hellerman later wrote the music for the 1974 Sidney Lumet film "Lovin' Molly" and produced Mr. Seeger's album "Circles and Seasons" (1979). Their collaboration led to the Weavers' reunion concerts the next year.
In 1995 Mr. Hellerman joined Peter, Paul and Mary on their album "LifeLines," and in 2005 he recorded his first solo album, "Caught in the Act," a collection of vaudeville songs. His final appearance onstage was in 2014, when he sang "Long Way to the Graveyard," a song he wrote with Erik Darling, another former Weaver, at a memorial concert for Mr. Seeger at Lincoln Center.