labor
How Obama Has Tilted the Workplace for Unions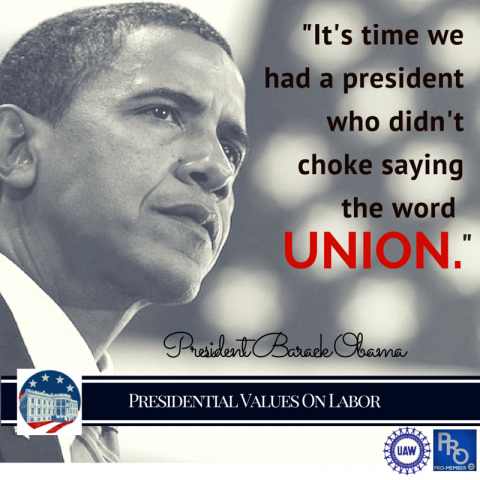 , UAW
President Obama has been arguably the most pro-labor chief executive since Harry Truman. He has appointed staunch labor allies to the federal agencies that watch unions, and he has tilted the regulatory field in organized labor's favor through reintepreting old rules and implementing new ones.
"I am proud and humbled to be your humble servant as labor secretary," Obama's first labor secretary, Hilda Solis, told the AFL-CIO labor federation at its 2009 convention in Pittsburgh.
As far as labor leaders are concerned, Solis and her successor, Tom Perez, have delivered. "President Obama has been a good president for working people," AFL-CIO President Richard Trumka said at a Sept. 1 Christian Science Monitor breakfast.
Since his days as a community organizer in Chicago, Obama has had close relations with labor unions, and organizations such as the Service Employees International Union were among his earliest and most vocal supporters when he ran for the White House in 2008.
Steve Bernstein, a management-side lawyer with the firm Fisher & Phillips, said Obama's approach has made a noticeable difference: Unions are emboldened and taking more cases to court rather than settling. "Legal precedents that stood for decades vanished overnight. It is increasingly difficult to advise clients," he said.
Vincent Vernuccio, a labor policy analyst for the Michigan-based conservative nonprofit Mackinac Center, called the Obama administration "the most blatantly partisan" presidency toward unions in history.
But he argued that unions may come to regret the administration's approach since it relied almost entirely on regulation rather than Congress. The next president will have the same expanded executive powers.
"What should be worrying to unions is that federal agencies tend to swing like pendulums. A future president could send it in the opposite direction," he noted.
Obama's first-term Labor Dept.: Slow start with Congress leads to regs
The Obama administration did not start off well for unions as it failed to deliver on the issue that topped labor's wish list: "card check."
The term refers to a proposal to change the rules for union workplace elections, eliminating the right of employers to call for a federally monitored secret ballot vote when a union claims to have the majority support of the workers.
A union's claim of majority is typically shown through cards signed by the workers — hence, the term "card check." There is no mechanism to prevent the numerous cases of fraud and coercion in obtaining the signatures that have been found by federal regulators. The secret ballot vote verifies the union's claim. Unions win those votes about 68 percent of the time, according to federal data.
Labor leaders instead wanted the government to grant union recognition immediately based on the signed cards. Labor's congressional allies gave the legislation the name "the Employee Free Choice Act."
The legislation proved too radical, and despite an aggressive push during Obama's first term, Congress never took it up, even when the Democrats had the majority.
After that, the administration decided to work exclusively through executive branch rulemaking, bypassing Congress entirely.
Solis' gift to unions was to roll back transparency regulations put in place by the Bush administration to uncover fraud and embezzlement by union officials.
The Obama administration said at the time that the rollback "promotes transparency" even though it drastically reduced the amount of disclosure required by unions. The Federal Register announcement for the change stated the rollback's purpose was "to avoid overburdening unions and their officials with unnecessary reporting requirements."
The Bush rules prevented some serious corruption: Labor Department investigations recovered $93 million of stolen dues on behalf of union members during the previous administration. After rolling the rules back, the Obama administration stopped publishing the amount of money recovered from corruption investigations.
Labor Dept. under Tom Perez: 'Props' from unions
Current Labor Secretary Tom Perez has been more pro-union, with the department issuing several new rules under his watch.
"We have to give him his props and the department its props," said Lee Saunders, president of the American Federation of State, County and Municipal Employees, during a Sept. 1 Labor Day webcast that had Perez as its guest.
The department vastly expanded the number of workers who are eligible for overtime pay. It rewrote an old rule that allowed employers to exempt certain workers from receiving time and a half provided that the worker made at least $23,000 annually. The new rule put the cutoff at $47,000, expanding coverage to an estimated 4.2 million more workers.
The department also has issued new rules regarding lawyers who advise employers on labor law. Previously, lawyers were required to financially disclose their work if they interacted with employees. That was known as the "persuader rule," since the lawyers typically made the case to employees against unionizing.
Under new rules issued this year, lawyers must disclose the arrangements even if they never meet with employees and only advise management. The rule is expected to cause many smaller law firms to stop providing the advice.
Obama also issued an executive order in 2014 requiring federal contractors to pay a minimum wage of at least $10.10, mostly a symbolic gesture since existing pay rules on federal contracting already put most contractors' wages well above that.
More significantly, the Labor Department issued a rule this summer requiring all contractors bidding for projects of $500,000 or more to disclose any violations within the last three years of 14 federal labor and safety laws, as well as violations of any equivalent state laws.
In effect, any contractor that has had a run-in with a union or federal agency gets put on a blacklist, even if they are still fighting any complaints in court.
The department also has fostered labor's efforts to build support in immigrant communities. It has signed formal agreements with the embassies of Ecuador, Guatemala, Honduras, Peru and the Philippines to teach immigrants from those nations about U.S. labor rights both before and after they arrive. The agreements make no distinction between legal and illegal immigrants.
The National Labor Relations Board: Rewriting the rules
Equally aggressive has been the National Labor Relations Board, the main federal labor law enforcement agency.
In an unprecedented move, the board in 2011 charged airplane manufacturer Boeing with illegal retaliation against the union that represented its Washington state workers because it was opening a new factory in South Carolina, even though none of the West Coast workers were fired, laid off or otherwise harmed.
The board said that expanding to a different state — South Carolina is right-to-work — was proof that the company was retaliating. Business groups were alarmed. The controversy fizzled out when Boeing settled with the union in late 2011, prompting the labor board to withdraw the complaint.
When Obama took office, the five-member board had often lacked a working quorum. During the last year of President George W. Bush's administration, it had only two members because Senate Democrats refused to allow any votes on nominees to fill the vacancies.
Appointing a full five-member pro-union board was a top priority for labor leaders. Obama used recess appointments to install three members in January 2012.
Those included Richard Griffin, a former top lawyer with the International Union of Operating Engineers, and Sharon Block, a former Ted Kennedy staffer. The president didn't give the Senate an opportunity to hold hearings on his nominees, although Democrats had majority control at the time.
The Supreme Court declared the appointments unconstitutional in the 2014 case National Labor Relations Board v. Noel Canning, retroactively voiding a year's worth of work by the board. After aggressive lobbying by the White House, the Senate agreed to vote on a slate of different nominees and approved Griffin as the board's general counsel.
Republican lawmakers apparently thought that was a demotion for Griffin, but it gave him more authority. While the board has final say, the general counsel effectively runs the board and directs its investigations.
Under Obama and particularly under Griffin, the labor board has become one of the most controversial federal agencies, with business groups and congressional Republicans calling for it to be reined in.
Its potentially most far-reaching change came in 2014, when the board charged McDonald's Corp. as a "joint employer" in a series of unfair-labor-practice complaints against its franchised restaurants by a union branch, even though the franchises were mostly privately owned, and therefore legally separate, businesses.
The labor board since then has charged several other businesses under the expanded joint employer definition.
Previously, a joint employer charge could be brought only if a company had "direct control" over another company's workers. The new definition uses a vaguer "indirect control" standard that is a vast expansion of legal liability for corporations, which now could find themselves on the hook for fines incurred by any other business they have a connection to.
The rule is a boon to unions, allowing them to focus organizing campaigns on the corporate parent rather than having to unionize each franchise individually.
The labor board also has expanded the definition of "worker." Perhaps its most famous action under Obama came in 2014, when the director of its Chicago regional office said Northwestern University football players could form a union.
The board overturned the decision on the grounds that it did not have jurisdiction. However, two years later, the board declared that teachers' assistants were eligible to form unions, which could send labor costs — and tuition — higher.
Traditionally, organizing a workplace required unions to have the support of a majority of all workers. The board reversed that policy in 2011, allowing for the existence of so-called "micro-unions," small subsets of a workplace's employees such as those in the cosmetics section of a Macy's. The reversal made it easier for unions to gain a foothold in companies where they didn't have full worker support.
The board also has worked to make unionizing easier. In 2014, it adopted what has become known as the "speedy election" rule, requiring most workplace unionization votes to be held about two weeks after the board authorizes them, a process that previously could take months.
Labor leaders had long called for a change, complaining that the old standard gave employers too much time to make the case against forming a union.
The new rule gives employers a week after a vote is authorized to raise any concerns, such as whether certain employees should be eligible to vote. If the employers miss the deadline, they forfeit the right to raise objections.
The rule also limits the evidence employers may use in their objections and allows the board's regional directors to defer ruling on them until after the vote. That renders many of management's objections moot because the company is unionized by the time the board investigates them. The change has helped unions to win more elections, though the effect has been marginal.
The speedy election rule has another notable provision: It requires employers to turn over all employee contact information to any union seeking to represent their workers, including private phone numbers and email addresses, whether workers agree or not.
When a union lost a 2015 vote to represent a group of Connecticut hospital workers, the labor board ordered a re-vote because the hospital gave the union only 94 percent of the workers' phone numbers. The hospital said it didn't have up-to-date information for the rest.
Like the Labor Department, the board has fostered unions' efforts to build support in immigrant communities. The board has signed formal agreements with the embassies of Mexico, Ecuador and the Philippines to teach immigrants from those nations about U.S. labor rights before and after they arrive.
Last year, Griffin expanded on those agreements by announcing a new policy in which the labor board will help to facilitate temporary visas for illegal immigrants to testify in labor rights violations cases against their employers.
The board was attempting to resolve, in its favor, a longstanding catch-22: The board and other agencies interpret federal worker protection laws to extend to all employees regardless of immigration status, but federal immigration law says employers must fire people who are not legally eligible to work in the U.S.
Now employers who try to comply with the law by firing an illegal immigrant worker can find themselves facing charges from the labor board. The Justice Department even released a video in late August advising employers not to terminate immigrants after their employment authorization expires, warning that it was potentially a form of discrimination.
No matter has been too small for the labor board. Last year it instituted new rules for writing employee manuals, expanding what counts as violations of workers' rights. The labor board decided, for example, that a company rule prohibiting "false or misleading representations about your credentials or your work" is illegal.
The labor board hasn't won every battle. In 2011, it instituted a new rule requiring employers to prominently display a poster explaining union rights. The rule was struck down in court in 2013, and the board hasn't tried to revive it.