books
"There was no market for poetry about trauma, abuse and healing"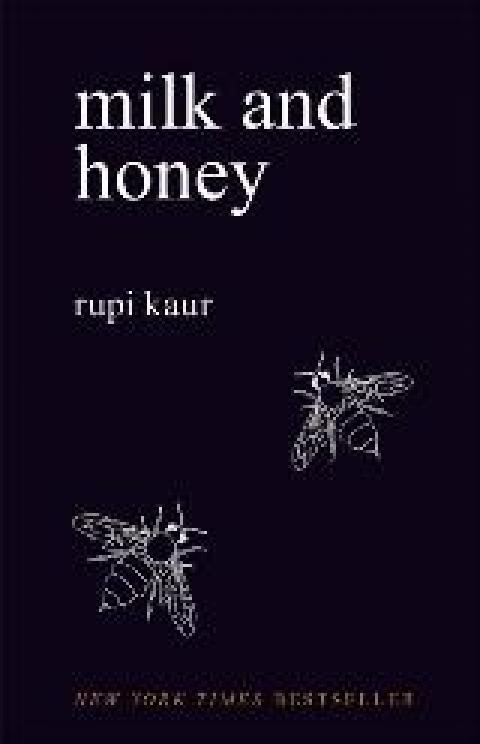 ,
Milk and Honey
by Rupi Kaur
Andrews McMeel Publishing
ISBN: 9781449474256
Rupi Kaur is planning what she calls a dinner of Queens. Come this fall, she says, "we're going to go to the bougiest place where there's no people of colour. We're just going to sit down looking so fly and have a really expensive dinner".
Her eyes light up as she continues: "We're going to be sitting down and negotiating with multimillionaires because we as brown women can and should. We're allowed to be in these spaces."
The night out – which will mark Kaur's 24th birthday – is rather fitting. This young poet from the suburbs of Toronto has fashioned a career out of forcing herself into places where she's least expected; whether it's the New York Times bestseller list or challenging social media to rethink how it sees menstruation.
It was the latter that catapulted Kaur into headlines in 2015. After Instagram banned a photo, published as part of a university assignment, showing Kaur lying in bed with her pyjamas and sheets stained with a small amount of menstrual blood, Kaur fought back. She pointed out the hypocrisy of being censored by a site that readily publishes photos of underage girls who are "objectified" and "pornified". Followers flocked to her, cheering her on as she added, "I will not apologise for not feeding the ego and pride of misogynist society that will have my body in underwear but not be okay with a small leak."
Instagram backed down. Insults and death threats were launched at Kaur, but her followers on Instagram grew seven times over. A spoken word artist who had been told at times that she was too aggressive for certain venues or made some people uncomfortable, Kaur wondered if her hundreds of thousands of followers would all stick around for what was coming next.
She began releasing short poems to her followers – simple, raw lines that tackled tough topics such as rape, domestic violence and alcoholism. "That was really scary," she says over coffee one sunny afternoon in Toronto. "But they did. They stayed for the poetry and that was such a beautiful gift in disguise."
In 2014 she self-published a collection of her poetry, accompanied by her own sketches, titled Milk and Honey. It was a bold move, one made amid warnings that self-publishing would bar her from prestigious literary circles.
But the traditional path of submitting her work to anthologies, magazines and journals was yielding little success. "There was no market for poetry about trauma, abuse, loss, love and healing through the lens of a Punjabi-Sikh immigrant woman," she says.
The book was re-released in October 2015. The book climbed bestseller lists, earning Kaur an audience far beyond those she had captured through social media. "Which is so weird," she says. "How does a 50-year-old white woman relate to this?"
The reach of her writing hit her at a reading in San Francisco last year. As she neared the bookstore she saw a long line that snaked down four blocks and realised the crowd was there to see her. "That was the moment that I was like wow, this is crazy. It's going to be crazy. It's been that way since, which is really cool."
No longer did it feel like she was casting her poetry into the vast online world and waiting to see if anyone would notice. Now it felt like the world was watching as Kaur, the child of Indian immigrants to Canada, sought to find her place using an unconventional recipe of poetry and social media.
Part of a generation of poets dubbed Instapoets for their online reach, Kaur struggled to strike a balance between the side of social media that had nursed her unlikely career – "10 years ago, who was going to embrace the story of a young brown woman?" – and the other, darker side of social media where insults and threats are hurled freely. While she tries to stay accessible to what she calls her grassroots community, she stays off social media for the most part. "It's hard because I feel like it's such a big stage for my work," she says.
Another tension lies in the norms impressed upon her during her strict upbringing in a tight-knit Punjabi-Sikh community. "For South Asian women, you're supposed to be quiet and not have those opinions." When she began publicly addressing topics like rape, menstruation and domestic abuse, her parents would wonder what her hypothetical mother-in-law might think one day. "And I would be like, then why did you teach me to say things out loud?"
Since the release of her book, her family has rallied around her, supporting her work. But she's often reminded of the limits she's railing against when she performs in Brampton, the suburban city on the outskirts of Toronto where she grew up and where the South Asian population now outnumbers all other groups. "I thought that I would go to Brampton and do readings there and it would be filled with Punjabi people. It's not," she says. "They're very timid. I think poetry and this form of expression is still kind of new and there's a lot of hiding happening."
But there are moments during those shows that validate Kaur's drive to constantly force her way past boundaries. "When you see someone who looks like your mom there and she's like 'this puts so much of my pain into something concrete that I can hold,'" she says. "That's when I'm like okay, I'm doing something right and I just want to keep doing it."
Ashifa Kassam is the Canada correspondent for the Guardian.