tv
FX's 'Atlanta' Breaks Viewing Records. Is Diverse TV Here to Stay?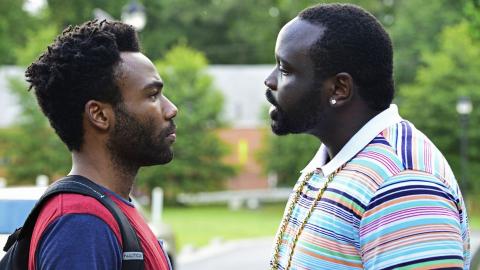 Donald Glover, left, as Earn Marks and Brian Tyree Henry, right, as Alfred Miles in the FX dramedy "Atlanta.", Guy D'Alema
After three episodes, FX's newest half-hour comedy, "Atlanta," which follows two cousins in that titular city, is proving to be a record-breaking success.
That, along with equally record-breaking television shows "Empire" and "Inside Amy Schumer," offer further proof that television's on-screen diversity breeds not just critical but also financial rewards.
The show, written and directed by Donald Glover, follows two black cousins. Earn Marks (Glover) just dropped out of Princeton and finds himself in a dead-end job. Meanwhile, his cousin Paper Boi (Brian Tyree Henry), a local rapper and drug dealer, appears to be on the verge of a hit single. The show explores their relationship, along with that Southern brand of poverty that so starkly contrasts with the booming downtown of Atlanta.
Its first two episodes aired Sept. 6, and with 1.2 million telecast viewers under 50 (1.8 million total viewers), it surpassed the previous record for a basic cable comedy premiere — 2013's "Inside Amy Schumer," a show that turned a comedic eye on being a woman in 21st-century America and is now on hiatus after four successful years.
The second episode of "Atlanta," which aired immediately after the premiere, maintained 92 percent of its audience, Vulture reported.
That might seem like a small statistic, but it hints at a much larger trend: Shows featuring minority leads (thus story lines revolving around minorities) are among TV's most popular.
It makes sense — according to a report by the geographic information system company ESRI, in 1990, non-Hispanic whites made up 74.5 percent of America. By 2010, that number was 63.75 percent, and by 2017, it is predicted to be 60.9 percent.
The audience is increasingly not white.
But that has yet to be reflected in some cultural corners, particularly Hollywood.
"Atlanta" has many quirks that may have turned off a traditional studio exec. To some audiences, it's both inviting and alienating by design — "I wanted to show white people, you don't know everything about black culture," Glover told Vulture.
It also features an all-black writing staff, which is nearly unheard of in television. Not to mention, no one in the writer's room had ever worked in one before. The director, Hiro Murai, had previously only worked with music videos.
The intent is clear: This is not "safe" television.
And that might be why it's so successful.
Recent years have shown that breaking free from traditional casting and telling stories heretofore untold on television isn't only a critical boon but a financial one. American audiences seem hungry for new stories, which shows like "Atlanta" deliver.
The best example is last year's "Empire," Fox's over-the-top soap opera focused on a hip-hop mogul and his family, which features a nearly all-black cast.
It has broken so many viewership records that CinemaBlend published a piece not so subtly titled "Empire Just Won't Stop Breaking Ratings Records."
According to Entertainment Weekly, it "is the only primetime scripted series to grow in total viewers over each of its first five telecasts since at least 1991." It was the most tweeted about show in 2015, garnering an average of 451,270 tweets per episode, according to the Wrap. Most important, in 2015 it was the most-watched entertainment program among people under 50, Variety reported. In 2015, 61 percent of its viewership was black, according to CNN Money.
"Empire" isn't alone. In the past few years, shows such as "Master of None," "Black-ish," "Orange is the New Black," "Scandal," "The Mindy Project," "Fresh Off the Boat," "Jane the Virgin" and "The Carmichael Show" have taken television by storm. All of them include a lead character that is an ethnic or racial minority; some include casts almost entirely composed of ethnic or racial minorities.
The television landscape has changed so rapidly in recent years that, to the casual observer, shows featuring such minority leads might not seem surprising.
But consider that in 2008, as the New York Times noted, there wasn't even one minority lead in a major network show.
And in 1999, the NAACP threatened a viewer boycott of network television because of "the dearth of blacks and other minorities both in front of the camera and behind the scenes."
"Nothing short of a real and measurable effort by the networks will prevent us from going forward," then-NAACP president Kweisi Mfume said.
A real and measurable change has occurred, although many argue it occurred for financial reasons rather than out of any moral obligation to diversity.
In Grantland, critic Andy Greenwald wrote, "When considered along with the season's other hits — 'How to Get Away With Murder,' 'Black-ish,' and 'Fresh Off the Boat' — 'Empire' appears to be at the forefront of TV's next great business innovation: In order to succeed in America, you have to have shows that, you know, endeavor to actually look like America."
In the New York Times, critic James Poniewozik wrote, "Representing more people in more ways is the right thing to do, and it has made TV better. But it happened largely because there was money in it."
That's not simply conjecture. A study authored by Darnell Hunt, the director of UCLA's Ralph J. Bunche Center for African American Studies, in 2013 analyzed ratings for more than 1,000 cable and broadcast dramas and comedies that aired during the 2011-2012 season.
The result, as a UCLA statement about the study said: "Researchers found that for cable television shows, median household ratings were highest among those programs with casts that were 31 to 40 percent minority."
The lowest rated shows included casts that were 10 percent minority or less.
Part of this might be credited to the ability to tell different stories. As Greenwald wrote when the multiracial "Orange is the New Black" premiered, for example, " 'Orange' restored my faith in TV's ability to tell diverse stories in exciting new ways."
And as The Washington Post's Lavanya Ramanathan argued, the result is better television.
"Television isn't just getting more diverse. It's finally beginning to feel authentic," wrote Ramanathan.
It likely doesn't hurt that TV's diversity stands in stark contrast to that seen on the silver screen, as evidenced by the #OscarsSoWhite outrage prompted by the lack of minorities represented in the 2016 Oscar nominations. In response, the Academy of Motion Picture Arts and Sciences promised to double the number of women and minorities in its voting ranks by 2020.
But make no mistake, multi-cam shows such as "The Big Bang Theory," which features a nearly entirely white cast and traditional sitcom story lines/humor, still do extremely well. In its ninth season, "BBT" grabs a staggering 20.3 million viewers per episode, the Wrap reported.
But for the first time in nearly 20 years, shows featuring diverse casts and story lines are challenging them — the Season 1 finale of "Empire," for example, drew 21.1 million viewers, Deadline reported.
This hasn't always been the case. As Variety noted, "since the crash and burn of Margaret Cho's 'All-American Girl' two decades ago, shows revolving around the lives of nonwhite families had been few and far between, especially on the broadcast networks."
Those days, it seems, are over. "Atlanta" offers the latest proof that minority-led shows might be here to stay.
As Idris Elba announced at the Screen Actors Guild Awards in January: "Ladies and gentlemen, welcome to diverse TV."
Travis M. Andrews is a reporter for The Washington Post's Morning Mix. Previously he was an editor for Southern Living and a pop culture and tech contributor for Mashable.  Follow @travismandrews