Why Bruce Springsteen's Depression Revelation Matters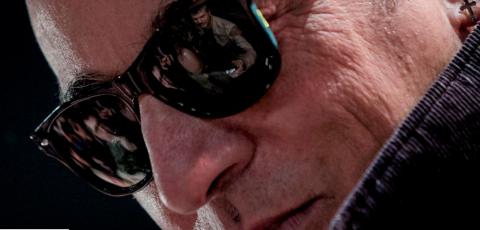 Norsk Telegrambyra AS/Reuters
E Street lead guitarist Steve Van Zandt once said Bruce Springsteen never took drugs because he was afraid he might reprise his father's depression. It turns out that Springsteen was suffering from mental illness all along.
Much of the buzz surrounding Bruce Springsteen's new memoir "Born to Run" has been about the rock star's disclosure of his long history of depression, which, to many, was a surprise.
In the past, such disclosures have had consequences. It was only 1972 when Senator Thomas Eagleton resigned as George McGovern's vice presidential running mate after the revelation of his depression. Since then, the stigma of mental illness has diminished somewhat. And yes, the requirements for the job are less stringent for The Boss than for the president.

But Springsteen has long been committed to social justice; in writing about depression, he has perhaps undertaken a new cause, one that seeks to combat the stereotypes and stigmas about mental illness that still exist today.
Struggles with mental illness are common and familiar among rock and pop stars. They include Beyoncé, Eric Clapton, Kurt Cobain, Sheryl Crow, Janet Jackson, Billy Joel, Jon Bon Jovi, Alicia Keys, Lady Gaga, John Lennon, Alanis Morissette and Brian Wilson. Were one also to include artists known to self-medicate with drugs and alcohol but otherwise undiagnosed, the list would be far longer. The medical literature, though limited, strongly indicates that being a rock star is a high-stress lifestyle.
But Springsteen's disclosure is arguably unique because his image runs counter to stereotypes of depression. According to one study, for years the media has reinforced negative stereotypes of people with mental illness, often depicting them as "inadequate, unlikable, dangerous" and absent a "social identity: single or of unknown martial status, frequently without indentifiable employment … confused, aggressive and unpredictable."
These media depictions, according to public health scholar Heather Stuart, "also model negative reactions to the mentally ill, including fear, rejection, derision and ridicule" and "impair self-esteem, help-seeking behaviors, medication adherence and overall recovery." Stuart blames the media for fueling much of the stereotypes of the mentally ill that persist today.
Springsteen, however, is a living, breathing repudiation of these media-fueled stereotypes.
The Boss's energetic devotion to myriad progressive causes, working class ethic, family values and ebullient liberal patriotism contrast sharply with the brooding manner and death-laden imagery of Jim Morrison, one of rock's many "27's," the stars whose fast, furious lifestyles left them played out – and dead – at the age of 27.
Married since 1991 to bandmate Patty Scialfa, with whom he has three children (and who shares and empathizes with his depressive illness), Springsteen enjoys a stable family life. He works out with a trainer, which might help explain his legendary stamina. During tours that often include over 100 shows, he plays famously exhausting sets that last nearly four hours.
The Boss's treatment regimen has included both decades of therapy and antidepressants, the latter eschewed by many artists who fear they will inhibit creativity. But he has also said that touring was the best therapy of all: "You are free of yourself for those hours; all the voices in your head are gone. Just gone. There's no room for them. There's one voice, the voice you're speaking in."
Nonetheless, the stigma of mental illness remains deeply ingrained in society.
After reviewing a number of studies on stigma and mental illness, a group of psychiatrists reported that most mental illness goes untreated. And they found that stigma – what they defined as lack of knowledge of symptoms and treatment, prejudice, and fear of discrimination – is a major factor in not seeking treatment.
Public stigma leads to "self-stigma," which can lead to diminished productivity (the latter apparently not, however, a problem for Springsteen). Many are still afraid to discuss their mental illness, which includes telling bosses. In some cases, there's good reason to keep it a secret: A 2010 survey of U.K. employers found that around 40 percent said they thought someone with a mental illness could be a "significant risk" to the company.
Springsteen's wife, Scialfa, was initially apprehensive about his coming forward with his depression in a memoir that would be read by millions. But in the end she supported him, telling Vanity Fair that the struggle was inextricably linked to his art:
"That's Bruce. He approached the book the way he would approach writing a song, and a lot of times, you solve something that you're trying to figure out through the process of writing – you bring something home to yourself. So in that regard, I think it's great for him to write about depression. A lot of his work comes from him trying to overcome that part of himself."
Springsteen has battled his demons out loud, in public and before his fans, contrary to the social isolation stereotypical of depression.
Yes, it's still risky to open up about one's vulnerabilities. In terms of choosing between "the closet" and coming out, the stigma of mental illness is most closely analogous to LGBT status, a cause Springsteen has courageously championed, even canceling a recent concert in North Carolina to protest its anti-transgender legislation.
The champion of numerous underdogs, Springsteen has now taken on depression, to the benefit of us all.
Alex Lubet is Morse Alumni Distinguished Teaching Professor of Music, University of Minnesota