labor
Philadelphia Orchestra Walks Out on Opening Night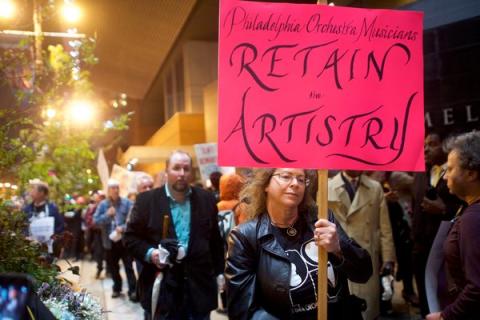 The musicians of the Philadelphia Orchestra went on strike over pay issues on Friday just before their season-opening gala concert., Mark Makela
The musicians of the fabled Philadelphia Orchestra went on strike on Friday just before their season-opening gala concert, rattling the classical music world and silencing one of the nation's great ensembles a little more than four years after it emerged from bankruptcy.
The strike — called on the same day that musicians on the other side of Pennsylvania at the Pittsburgh Symphony Orchestra walked out on strike — came as the Philadelphia's players sought to recover some of the pay they lost to concessions during the recent bankruptcy.
As a gala audience including many of the Philadelphia Orchestra's donors and board members, some in black tie, gathered at Verizon Hall for an opening night concert that was supposed to be conducted by the orchestra's popular music director, Yannick Nézet-Séguin, a series of last-ditch talks were held in an effort to avert the strike. But they proved fruitless, and the musicians were soon walking a picket line instead of playing Gershwin and Ravel.
The strike was the biggest shock wave yet in a tumultuous autumn for symphony orchestras, at a time when many are grappling with fiscal challenges. Now Philadelphia, the Pittsburgh Symphony, and the smaller Fort Worth Symphony Orchestra are all on strike. At the same time other orchestras, like the San Francisco Symphony, have agreed to record-setting pay deals.
The Philadelphia Orchestra, one of America's "big five" orchestras, is known for its plush Philadelphia sound, and for a high caliber of music-making under leaders including Leopold Stokowski, Eugene Ormandy, Riccardo Muti, and now Mr. Nézet-Séguin, who was recently named the next music director of the Metropolitan Opera.
"We can no longer remain silent while we continue in a downward spiral," the musicians said in a statement. They noted that their pay had been cut in recent years, including a 14 percent cut in 2011, and that they now make less than musicians in the nation's other leading orchestras.
John Koen, a cellist who is chairman of the orchestra's negotiating committee, said, "We did everything we could to save this concert," but that the two sides remained too far apart on pay.
The orchestra's management said it had offered the musicians raises of 2 percent each year for the next three years on an annual base pay of $127,608, which is less than other top orchestras pay.
Allison Vulgamore, the president and chief executive of the orchestra, told the audience that the concert had been canceled. She said in a statement that the cancellation was "naturally disappointing to all of us" and added that "even as our last several years have seen us overcome numerous challenges, we hope this, too, will soon lead to a mutually satisfactory agreement."
Outside the hall, musicians marched carrying signs saying "Philadelphia Orchestra on Strike" and "Retain the Artistry." A small group of the orchestra's brass players gave a brief impromptu concert on the sidewalk to console disappointed concertgoers.
As he left the hall, Tim Szczesny, 24, said that he had driven three hours from Binghamton, N.Y., to attend the concert and had come away disappointed. "We tried to do something nice tonight and it backfired," said Mr. Szczesny, who was with his girlfriend, Pamela Blatkiewicz, 23, who lives in Philadelphia.
Mr. Szczesny said he didn't know whom to blame for the concert cancellation but he believed top-class musicians should be fairly compensated. "It does seem kind of sad that they can't reach agreement," he said. "These musicians are world renowned."
Deborah Ledley, a resident of Penn Valley, in the Philadelphia suburbs, was downcast about the strike.
"It's so sad," she said. "I love the orchestra, and they couldn't play on opening night."
A small gala dinner in the hall went on as planned after the concert was canceled.
_____
Jon Hurdle contributed reporting from Philadelphia.