labor
Chicago Teachers Strike Prepare To Strike As Midnight Deadline Looms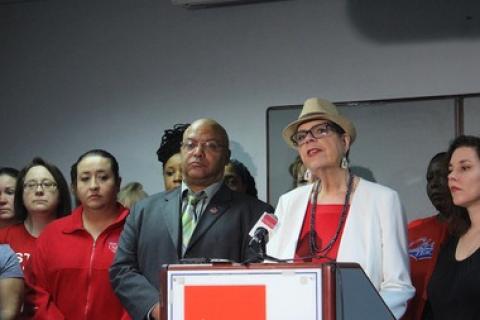 CTU President Karen Lewis said Monday that CPS wants to "have their cake and eat it too.",DNAinfo/Alex Nitkin
RAVENSWOOD — As parents gathered for a protest in Mayor Rahm Emanuel's neighborhood Monday morning, urging him to avert a strike by finding new funding for schools, the Chicago Teachers Union was preparing for a long day of negotiations with CPS.
On Friday, the CTU said that its members will not accept any cuts in pay or benefits in the contract being negotiated ahead of a possible strike Tuesday.
"We want no cuts to our pay and benefits," union President Karen Lewis said at a news conference at its headquarters in the Merchandise Mart.

At the same time, Lewis set a clear price tag of $200 million to avoid a strike, saying that would provide "everything we need to fund schools so that they work well."
Without expressing optimism that a deal will be reached ahead of a strike, Lewis did grant that there was "movement" in talks between Chicago Public Schools and union negotiators.
"There's always movement," she said. "I think people are listening.
"We're throwing out ideas about how to land this," Lewis added.
Vice President Jesse Sharkey said, "We're bargaining every day," and that talks would continue through the weekend. As of Monday morning, however, no deal had been made. CBS reports that if there isn't a deal reached by midnight, the strike will begin at 6 a.m. Tuesday.
With schools closed Monday for Columbus Day, Lewis said they'd call a strike "if we can't make headway by Monday night" in order to give parents notice of whether they can expect teachers in school Tuesday. She said the two sides are "talking about TIF money and wherever else we can get money from."
The union has said the city could give an additional $200 million in funding for Chicago Public Schools, or about $500 per pupil.
Lewis said the union had already accepted more than $2 billion in cuts in recent years. "Enough is enough," she added.
According to Sharkey, that included a loss of 1.5 percent in pay with cuts instituted at the midway point of last school year, the loss of "step and lane" increases, "literally thousands of layoffs," the rescinding of a 4.5 percent raise in 2011 compounded since and $1.2 billion diverted from pensions during CPS "pension holidays," for a total of $2.2 billion.
The union has also expanded the debate, insisting it's not just about compensation, but about Mayor Rahm Emanuel drawing on additional revenue to show a commitment to public education and halt cuts in school budgets. It brought in former Dyett High School hunger striker Jitu Brown, of the Journey for Justice Alliance, to emphasize that point at Friday's news conference.
"We're very clear that teacher conditions are children's learning conditions," Brown said. "This is not just about teachers and teacher pensions. This is about teachers fighting for good learning conditions for our young people."
The union recently voted 96 percent to strike this fall, and set a strike date of Tuesday as negotiations continue.
CPS Chief Executive Officer Forrest Claypool has insisted the district is offering "as generous a raise as possible" for teachers, though teachers have disputed that claim. Emanuel has called a strike "totally unnecessary" and urged teachers to accept an offer much like the one the union rejected last winter.
The union, however, has rejected any deal that includes an end to a 7 percent pension payment the district has made for teachers since the '80s, stating that perk was hard-won then at the bargaining table, and making that payment now would constitute a 7 percent cut in pay.
A year ago, Lewis called that issue "strike-worthy."
The union stated in a release announcing Friday's news conference that it was pushing for "job security; no cuts to pay and benefits; adequate staffing levels; resources for students; and an additional $500 per pupil ($200 million in new revenue for schools)."
Aldermen, state legislators and CPS parents argued Friday that CPS could take a large step toward finding that money if Emanuel declared a $200 million surplus in citywide Tax Increment Finance district funds.
"We need additional money right now to help avert a strike," said Ald. Harry Osterman (48th) in pushing that proposal.
Teachers have been working without a contract since the middle of last year. They last went on strike in 2012, although they also walked out on a "day of action" April 1.