Paul Ryan, If Republicans Lose the Senate, Bernie Sanders Wins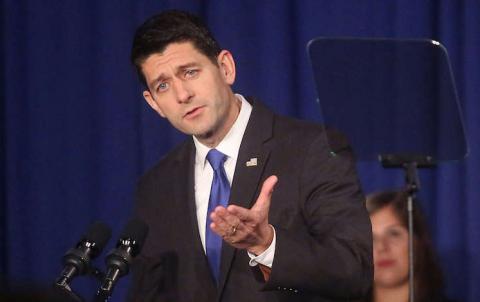 House Speaker Paul Ryan speaks during an appearance with a group of College Republicans at the Masonic Center in Madison, Wisconsin, Friday, October 14, 2016., AP Photo / John Hart
Paul Ryan is famously described as what Republicans think a smart person sounds like. But sometimes the speaker of the House outsmarts himself.
Ryan lectured Young Republicans in his native Wisconsin last Friday, and the national news media were invited to listen along. The speaker wanted to make the case for Republican voters to turn out and back GOP congressional candidates, even if they can't stomach their party's scandal-plagued presidential ticket. Implicit in Ryan's argument was the suggestion that a Republican-controlled House of Representatives and Senate could be counted on to obstruct Hillary Clinton's supposedly "liberal progressive" agenda.
But in a question-and-answer session following his unremarkable speech, Ryan inadvertently made a case for liberals and progressives to turn out in big numbers in order to elect Democratic candidates in the fight for control of the Senate.

As he outlined his Wall Street–friendly proposals for tax reforms that would more rapidly redistribute wealth upward, and for budgets that would put vulnerable Americans at greater risk while increasing burdens for middle-class families, the speaker explained that his agenda can advance only if Republicans control both the House and Senate. "If we keep control of the Senate in the Republican hands…a nice guy named Mike Enzi from Wyoming is the Senate budget chair and he helps us get these budgets to the president's desk, gets these tax bills through," he said.
On the other hand, Ryan warned, "If we lose the Senate, do you know who becomes chair of the Senate Budget Committee? A guy named Bernie Sanders. You ever heard of him?"
Ryan's comment drew a tepid response from the Young Republicans he was lecturing. No surprise there. Polling suggests that Bernie Sanders is among the most well-regarded political figures in the country, especially among younger voters, and the long-time independent generates far less partisan antipathy than veteran Democrats.
But when word got out that Ryan was rattled by Sanders, the response from around the country was electric. People who might have been having a hard time getting excited about the presidential race were most intrigued by the possibility that Sanders might become a powerhouse in the Senate.
The possibility is real enough.
The senator from Vermont is the ranking member of the budget committee, and if Democrats gain control of the chamber on November 8, he would be in line to chair it. But Sanders could also end up chairing then powerful Senate Health, Education, Labor, and Pensions (HELP) Committee, which he could use to advance many of the proposals (for affordable college, empowering unions, and investing in public-health programs) that made his bid for the Democratic presidential nomination so popular.
The final list of committee assignments will be influenced by the choices of senior senators, such as Washington's Patty Murray. "There's lots of individual choices ahead, of people who are senior to Bernie," says Senator Charles Schumer of New York, who is set to replace retiring Senate Democratic leader Harry Reid of Nevada. Yet Schumer says of Sanders, "He will chair a significant committee if we win the majority.''
 John Nichols is The Nation's national affairs correspondent. He is the co-author, with Robert W. McChesney, of People Get Ready: The Fight Against a Jobless Economy and a Citizenless Democracy, published in March 2016 by Nation Books.
Copyright c 2016 The Nation. Reprinted with permission. May not be reprinted without permission. Distributed by Agence Global.