Devastation of Hurricane Matthew Renews Talk of French Reparations to Haiti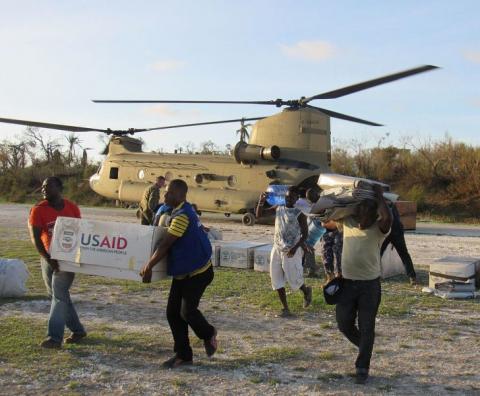 Service members from Joint Task Force Matthew and representatives from the United States Agency of International Development delivered relief supplies to areas affected by Hurricane Matthew to Jeremie, Haiti. , Photo via the official U.S. Navy Page, from United States of America Capt. Tyler Hopkins/U.S. Navy [Public domain], via Wikimedia Commons
The Category-4 hurricane struck parts of the Caribbean nation on October 4, 2016, causing Haiti's largest humanitarian crisis since the 2010 earthquake. The directorate of Civil Protection of Haiti have confirmed 473 deaths, 339 injuries and 75 people missing, while many international media reports have put the death toll at more than 1,000 people. A further 1.4 million people are in need of assistance and some bloggers have been sharing links for "organisations that are quietly doing good work in Haiti that does not line the pockets of multinational aid corporations, or continue to fatten the Port au Prince elite."
In the wake of the disaster, the United Nations Office for the Coordination of Humanitarian Affairs has launched a flash appeal to raise US$119.8 million in emergency funding.
But the impact of the hurricane is also leading many people to ask whether France should provide financial assistance by finally repaying its colonial reparations to Haiti.
As Facebook user Mandy Dalton put it:
The Hurricane and the Earthquake were not the worst disasters to happen to Haiti. The worst disaster was manmade. Haiti is still dealing with the aftermath of a debt that it should have never had to pay.
Leondra Saintil added:
Hurricane hitting Haiti is heartbreaking. You know what would help? France paying the 21 billion $ it owes in reparations. Hmmmmm.
While Haiti is now known as the poorest country in the Western Hemisphere, it was once the most profitable possession of the French Empire. Saint Domingue, as it was then known, traded extensively in coffee, cotton and sugar, among other exports.
Haiti declared independence in 1804, after leading a successful anti-slavery and anti-colonial insurrection, and becoming the first country in modern times to officially abolish slavery. But it paid a heavy price for its freedom — 150 million gold francs, later reduced to 90 million gold francs — to compensate French settlers and slave-owners for their lost plantations.
This was a tremendous sum, and it crippled the country. In fact, it took until 1947 for Haiti to finish paying it off. In 2003, former Haitian president Jean-Bertrand Aristide estimated that the "independence debt", as it has come to be known, was worth a modern equivalent of about US$21 billion, including interest. Other people have put the figure closer to US$17 billion. In fact, after the devastating hurricane in 2010, 100 artists and scholars signed a petition to try to force France to repay this amount "as reparations for a 200-year-old injustice." At the time, France dismissed it.
Then in May 2015, the issue again drew international attention after French President Francois Hollande told an audience on the French island of Guadeloupe, "When I go to Haiti, I will, for my part, handle the debt that we have." His aides later insisted he was referring to the moral debt, rather than a financial obligation. In his subsequent visit to Haiti, Hollande tried to side-step the issue by telling the country, "You're not asking for aid, you want development."
This exchange led to an outpouring of articles calling on France to finally compensate Haiti by paying back what it owed.
Since last week's hurricane, many netizens have been re-posting articles from that time, with many saying now is the time to revisit the issue.
Facebook user Sol DjVaselli Duverne put it even more simply, captioning his post with a simple "PAY UP."
Alex is a Canadian freelance journalist, currently working in Georgetown, Guyana. She holds a Bachelor of Journalism with Honours from Ryerson University in Toronto. Before moving to Guyana, Alex worked as a staff reporter and videojournalist for Global News in Canada. Her work has appeared in The Toronto Star, the Montreal Gazette, on CBC and Al Jazeera English. Her areas of interest include international politics, climate change, press freedom and gender equality.