Public Sector Pensions Under Attack -- From the LA Times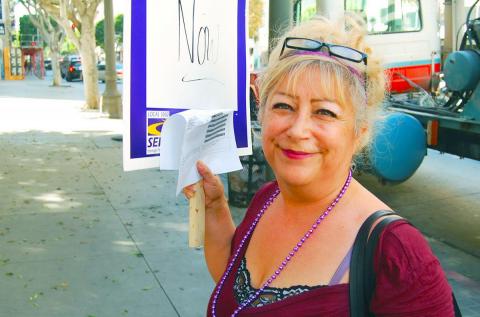 Dolly Avila, a state employee who must put off her planned retirement.,Bill Raden
In mid-September, however, the paper's news section turned its withering gaze on what many argue remains the one bright spot on California's otherwise catastrophic retirement landscape — the state's public-sector pensions. "Costing the state billions" … "civil servants retire in style," clucked the headlines. The piece, by investigative reporter Jack Dolan, characterized state and local pensions — which, according to the California Public Employees Retirement System (CalPERS), averaged $2,627 a month for 2014-15 retirees — as offering "retirement security normally reserved for the wealthy."
Long a target of right-wing think tanks and hedge-fund managers, the retirement security of unionized state, county and municipal employees is typically seen by conservatives as the Achilles heel of labor's political clout in Sacramento.
"The retirement conversation that's going on is a little bit schizophrenic," retirement researcher Nari Rhee reflected in a phone call with Capital & Main. "In the private sector, we now have a conversation saying, 'People have been relying on 401(k)s and it's not enough. It's too much risk. People aren't saving enough. These individual plans just aren't working very well.' On the public [pension] side of debates, 'These pensions are too expensive, we should do what the private sector does and put everybody on 401(k)s.'"

Rhee manages the Retirement Security Program at the Institute for Research on Labor and Employment/Center for Labor Research and Education at the University of California, Berkeley and co-wrote a key study on the U.S. private-sector retirement savings crisis. She said that the real irony of the public pension debate is that it comes at a time when nearly 40 million working-age households (or 45 percent) do not own any 401(k)s or Individual Retirement Accounts (IRAs), and the average working household has virtually no retirement savings.
The Dolan article implicates a 1999 law, Senate Bill 400, passed during the pension-surplus years of the decade-long dot-com boom. That law, a bête noire of public pension critics, ratified collective bargaining agreements that, among other things, boosted pensions for California Highway Patrol and state firefighters in lieu of wage hikes. CHP got a one percent bump that calculated pension benefits at three percent rather than two percent of salary times the number of years worked, but kept the retirement age at 50. Firefighters went from 2.5 percent to three percent, retiring at 55-years-old. The September L.A. Times piece darkly hinted that CalPERS ignored actuarial warnings because of the "considerable influence" of unions. Governor Jerry Brown's 2012 Pension Reform agreement subsequently eliminated the three percent formulas for all workers going forward and raised the retirement age to 57.
(An October 7 follow-up piece in the L.A. Times pension series, which looked at then-Governor Pete Wilson's 1991 attempt to loot CalPERS, concluded that organized labor emerged from the fight with "considerable influence over the 13-member board." The series is a collaboration between the Times, CALmatters and Capital Public Radio.)
As anyone fluent in the actuarial thicket of state budgets and rates of returns knows, crunching investment numbers can be a very elastic thing. According to CalPERS, eligible police officers and firefighters comprise approximately three percent of the system's total retiree population, and SB 400 represents roughly 18 percent of this year's $5.4 billion pensions contribution by the state, with 77 percent accounting for recessionary investment losses. To put this in perspective, since 1999, state spending other than salaries and pensions has soared from $19 billion to $136.1 billion, a 715 percent increase. If salaries and pensions had grown at that same rate, those costs today would be $42.8 billion rather than the actual $34.6 billion. So rather than "costing the state billions," as the Dolan piece proclaimed, public servant salaries and pensions — including those created by SB 400 — could just as easily be said to have been a bargain over the long-term for California, saving taxpayers $7.2 billion.
The really important September pension story, ignored in Dolan's attack, was arguably the creation of California Secure Choice. Senate Bill 1234, which was responsible for the new state-run retirement program and which was authored by Senate President Pro Tem Kevin de León (D-Los Angeles), will take effect January 1. When the program launches (sometime in 2018, officials estimate), it will enroll as many as seven million private-sector California workers in companies that do not offer their own retirement savings plans. It was signed into law by Governor Brown September 29.
"I think it's fair to say Secure Choice is the most significant advancement since the establishment of Social Security," California State Treasurer John Chiang told Capital & Main.
Chiang, who chairs the Secure Choice Board, noted that the new program is not a defined-benefits pension that guarantees a lifetime income stream or a specific rate of return. Rather, it involves IRAs that will be subject to the current $5,500 annual IRA contribution limits. Nevertheless, he added, the plans could be enough of a supplement to Social Security to keep the state's lowest-wage earners off of state public assistance when they can no longer work.
"A worker who begins making mandatory contributions to a Secure Choice early in their 20s," he said, "could accumulate enough assets so that they could draw a stream of income that could replace about 20 to 25 percent of their preretirement income. Social Security for the Secure Choice target population generally replaces about one-third of preretirement income. This means that Secure Choice, combined with Social Security, could provide a worker with more than half of their preretirement income during retirement years, which is significantly more than many California retirees have today."
Chiang added that while three percent of wages will be automatically deducted from employee wages and deposited into a Secure Choice account, workers can opt out of the plan or change their contribution levels at any time.
The week following his public pension hit, Dolan made explicit the piece's implicit argument while on local right-wing talk radio. Trading indignant public-pension potshots with conservative morning drive host Doug McIntyre on the McIntyre in the Morning program, the investigative reporter criticized unions for not redressing the lower benefits standard established for new hires under Brown's 2012 reform bill: "Why not give yourself a haircut and spare the younger people?" Dolan opined.
In public pension circles, a "haircut" is generally understood as moving public employees out of defined benefits plans and into 401(k)-styled, high-fees retirement savings accounts, where the employer puts in a matching contribution, and then shift the costs — and risks — of managing it to the employee. Replacing defined benefits pensions with 401(k)s was the stated purpose behind at least three failed pension-cutting ballot measures floated by former San Jose mayor Chuck Reed and his allies in 2012, 2014 and again last year.
"If you're not giving employees the value of a defined benefits pension, you should expect there to be pressure on salaries to go up to compensate for that," Rhee observed. "The reason to go into public sector jobs is in part because of the security of benefits. The other way in which there's going to be costs that [pension critics] aren't thinking about is if you don't provide meaningful retirement income security, then there actually is going to be increased pressure on [social services] budgets down the line by people who don't have enough retirement income when they retire."
Dolly Avila's first haircut came in 1989 when the demands of school-age children and uncertainty over providing for her retirement persuaded the Los Angeles resident to trade in her private-sector job as a seasonal tax accountant for a lower-salaried position with the California Franchise Tax Board. (Avila is a shop steward with Service Employees International Union, Local 1000, a financial supporter of Capital & Main.)
"It was more regular hours," she said. "If I had gone to another accounting firm, you don't have regular hours, especially during tax season. And they didn't have any kind of retirement at my other employers. That's the primary selling point. As state workers, we earn much less than we can earn in the private sector."
One senior auditor that left her department last year to take a job at a small CPA firm, she claimed, almost doubled his annual state salary of roughly $80,000 to $150,000 a year. The starting annual salary for an associate tax auditor at the California Franchise Tax Board is $64,408, according to Glassdoor.
Avila's next haircut came in 2009, when during the bleakest depths of the Great Recession, then-Governor Arnold Schwarzenegger ordered state workers to take three days of unpaid furlough each month. It added up to a 15 percent pay cut for that year.
"When the furloughs first started," she recalled, "I had a little bit of savings. Because of the furloughs, I had to go through my savings, then I had to max out my credit cards and right now I have no savings. The only asset I really have is my retirement. So it's really important, because that's how I'm going to live after I retire."
Less senior coworker friends, she claimed, filed for bankruptcy during the recession and had their cars repossessed, while one "very good friend" lost her house. Avila, who had planned to retire this year, has had to put it off to rebuild her lost savings.
In spite of the pain, California's public employees emerged in far better shape than their private-sector peers. The crash wiped out trillions of dollars in "defined contribution" 401(k) and IRA accounts (or about 31 percent of their peak, 2007 value), and while the market has since rebounded, recent evidence suggests that those nearing retirement age during the meltdown have been less likely to have fully recovered.
The bitterest irony for all American workers economically kneecapped by the 2007 global financial crisis is that they are footing the still-ongoing, $16.8 trillion-dollar bailout bill that rescued the banks ultimately responsible for the California public pension system's shortfalls that Dolan and the L.A. Times blame on CalPERS and union greed.
Last year, CalPERS announced that it was introducing a more conservative "Risk Mitigation Policy" that would immunize the system from the volatility of capital markets. And in its September meeting, the board discussed gradually lowering the "discount rate" of 7.5 percent — a rate of return based on historic, long-term stock market performances — after admitting that its recent investment returns were lagging behind its funding obligations.
CalPERS board member Richard Costigan, an Arnold Schwarzenegger-appointed State Personnel Board representative and a member of the CalPERS Finance and Administration Committee, took exception to the Dolan attack in an op-ed he co-authored with fellow investment committee members Dana Hollinger and Bill Slaton. The editorial, which Costigan said was first offered to — and refused by — the L.A. Times, points out that what gets lost in public-pension debates "is what's ultimately at stake: The financial future of millions of Americans."
(In an email, L.A. Times op-ed page editor Juliet Lapidos declined to confirm or deny the receipt of Costigan's submission.)
Costigan explained to Capital & Main that, unlike the 1990s and 2000s, when pension contributions by state and local governments had dropped as low as 1.7 percent of direct general spending (it was 5.1 percent in 2013), and abundant fund surpluses made boosts in worker retirement benefits appear more attractive than raising stagnant wages, board members today would not weigh in on another SB 400-type law, other than affirming a broader support for the defined benefit pension.
"What we tried to put in the [op-ed] is that we [on the CalPERS board] haven't been sleeping, we have been paying attention," Costigan said. "This is not the board of a decade ago or 15 years ago. The other thing I point out: If we can't pay our benefits with the system struggling, that means that the entire state is struggling, and we all have bigger issues than whether someone's got a [defined-benefit] plan. And that's why I think [that] at the end of the day, our economy is too diversified [to completely fail], we will weather the ups and downs, and I think, long-term, the system is trying to make the right moves."
Bill Raden is a freelance Los Angeles writer.