Record Latino Turnout Could Change Arizona Forever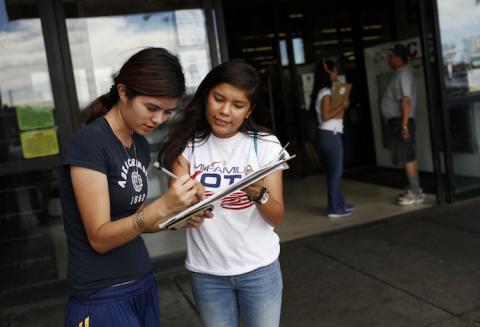 Fabiola Vejar, right, registers Stephanie Cardenas to vote in front of a Latino supermarket.,AP Photo/John Locher
PHOENIX, ARIZONA — Surging Latino voter turnout in Florida, Georgia, North Carolina, and Nevada in the final days of the 2016 election has Republicans panicking.
In Arizona, where polls show a Democratic nominee within striking distance for the first time in decades, Latino voters' level of participation this Tuesday could make the difference between Donald Trump or Hillary Clinton in the White House.
Former Arizona Gov. Jan Brewer, a Trump supporter, said recently that Republicans don't have to worry about Latinos, because "they don't vote." Pita Juarez, who has worked with organizations registering voters of color in Arizona for six years, is eager to prove her wrong.

"We guarantee record Latino turnout," she said. "The person of the year is going to be the Hispanic voter."
For decades, Latino voter participation has lagged behind nearly every other racial demographic. Though Latinos made up 30 percent of Maricopa County's population in 2012, they represented under 15 percent of the votes cast that year. 517,000 Latinos registered to vote in the state in the last presidential election, and fewer than 300,000 ended up casting a ballot.
But this year, Latinos comprise a record 709,000 of Arizona's 3.5 million registered voters. During early voting, the state saw a bigger surge in Latino voting than anywhere else in the country. Much of this spike has been fueled by millenials — since more than 2,000 Latinos turn 18 every month in Maricopa County alone.
One Arizona, a coalition of more than a dozen local organizations, registered 150,000 new voters of color, holding drives in churches, on college campuses, and outside grocery stores and libraries. For the last few months, they have been knocking on thousands of doors and sending hundreds of thousands of text messages to make sure the new registrants make it to the polls on Tuesday or mail in their ballot early.
Juarez, the communications director for One Arizona, says she is sick of the state's Latino population growing in numbers, but not in political power.
"The narrative of the Latino vote being a 'sleeping giant' has been so hard to get rid of," she told ThinkProgress. "You can't expect a sleeping giant to get up and starting run. But we've been constantly engaging people for six years, doing whatever it takes, and I think it's going to pay off."
Aiming to boost participation, the group convinced at least 50,000 of the voters they registered to sign up for the state's Permanent Early Voting List, called PEVL for short — a database of people who are automatically registered to vote early by mail.
"Once you're on PEVL you're three times more likely to vote," Juarez said. "I know that for me, I get my ballot in the mail, I sign it, I seal it, and I have nothing else to worry about. Who doesn't want that?"
Many of the dozens of staffers and volunteers responsible for the record-shattering registration numbers can't vote themselves. Some are undocumented immigrants, and others, like Merari Garrido, are still a few years away from turning 18.
Like many Latinos in Phoenix, Garrido is motivated not only by the prospect of stopping Trump, but also by the possibility of ending the 23-year career of Sheriff Joe Arpaio.
"Trump and Arpaio depict my people as criminals and rapists, but we are not that," she told ThinkProgress after a long day of canvassing voters in Phoenix. "We're just nice people working to change things for the better. It's disappointing how much they terrorize and attack our families. It gets me so frustrated that people follow them."
Garrido's father was detained and deported by Sheriff Arpaio's deputies when she was 10 years old. She bounced around between different family members for years after that, and struggled to help care for her four younger siblings.
"I didn't want anyone else to experience what I experienced," she said. "I had to do something."
For the past six months, Garrido has been registering voters, and she now spends at least part of every day knocking on doors in Phoenix to get out the vote. She began as a volunteer, and was later offered a paid part-time job with Central Arizonans for Sustainable Economy (CASE). On Friday, she led a walkout of hundreds of students at North High School to protest Trump and Arpaio's rhetoric about immigrants and to drum up excitement for Tuesday's election.
"Muslims, Latinos, other people of color, we can vote, and we can vote for the things we believe in. Most of the time our voice isn't heard, because this is a Republican state. But I know we can change Arizona blue."
Juarez said high Latino turnout on Tuesday could do more than just change which party controls Arizona. It could put more Latinos in local office — where they are under-represented — and make politicians in the state think twice before passing bills that target immigrants and their families. One Arizona hopes, for example, to flip the state senate from a Republican supermajority to an even Democratic-Republican split.
"We want people who reflect our communities, who reflect our values, who represent us," she said. "But we also want them to know that no matter who they are, no matter what party, there will be accountability."