The Fight for East Chicago: Portraits of Resistance and Daily Life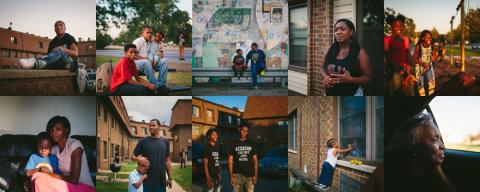 , Alyssa Schukar
In late July, news broke that more than a thousand residents of the West Calumet Housing Complex in East Chicago, Indiana— including 670 children—had been told to evacuate their homes because the Environmental Protection Agency found dangerous levels of lead in the soil. Specifically, lead levels just beneath some of the low-income housing unit were 225 times higher that the EPA's cleanup level and 75 times as high as its emergency level. Residents have until July 2017 to relocate.
The West Calumet housing complex sits just north of the former USS Lead plant—a Superfund Site, or a national cleanup priority due to toxic levels of contamination—and directly atop the now-shuttered Anaconda White Lead Company. The area has been plagued by pollution for decades. Testing, too, has been underway for some time: the Indiana Department of Environmental Management began lead and arsenic testing in 1992, just seven years after the USS Lead plant closed in 1985.
In August, after East Chicago Mayor Anthony Copeland made the announcement about the high levels of lead, many families started testing their children. They discovered blood-lead levels as high as six times the hazard level set by the Centers for Disease Control.
"Government officials knew about the contamination for a very long time and they didn't let people know to pursue appropriate health care for the exposure," says Debbie M. Chizewer, a lawyer at the Environmental Advocacy Center which, along with four other law firms and legal clinics, formed a coalition to fight on behalf of West Calumet residents including filing a motion to intervene in the cleanup process. "Dirty industry in residential areas don't make good neighbors. And we're learning the depths of that through this environmental injustice. I think that mistakes were made, and human health paid the price."
Henry Henderson, the Midwest program director at the National Resource Defense Council, says this kind of oversight would not happen in an affluent neighborhood. "If a situation like this occurred in Lincoln Park, which houses the former Finkl Steel site, there would be a lot more urgency and response. The people who bear the highest burden in these situations are those who are most vulnerable."
Photojournalist Alyssa Schukar first learned of the problems in East Chicago through residents in neighboring Marktown, Indiana where for several years she has been documenting the effects of the BP Whiting oil refinery. "I've always been interested in trying to show how communities are shaped by the environments that surrounds them," says Schukar. "Northwest Indiana has a really long history of environmental abuse. There is an amazing amount of industry and people living in neighborhoods just pocketed in between."
Schukar started photographing the community in August and continued to visit throughout the fall. "Everyone deserves the right to exist and live in a clean environment," says Schukar. "These are people who are often overlooked and trying to figure out how to hold it all together and to keep some semblance of community. I want to help amplify their voices."
[moderator: view the photos here]