Russian Propaganda Effort Helped Spread 'Fake News' During Election, Experts Say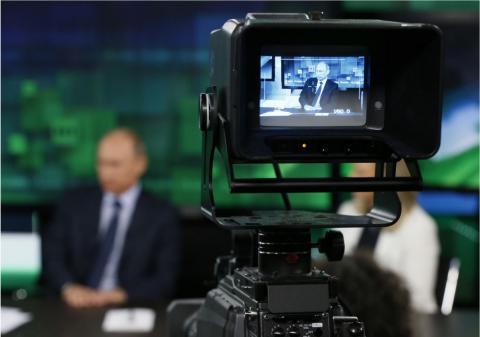 , Yuri Kochetkov / AFP / Getty Images
The flood of "fake news" this election season got support from a sophisticated Russian propaganda campaign that created and spread misleading articles online with the goal of punishing Democrat Hillary Clinton, helping Republican Donald Trump and undermining faith in American democracy, say independent researchers who tracked the operation.
Russia's increasingly sophisticated propaganda machinery — including thousands of botnets, teams of paid human "trolls," and networks of websites and social-media accounts — echoed and amplified right-wing sites across the Internet as they portrayed Clinton as a criminal hiding potentially fatal health problems and preparing to hand control of the nation to a shadowy cabal of global financiers. The effort also sought to heighten the appearance of international tensions and promote fear of looming hostilities with nuclear-armed Russia.
Two teams of independent researchers found that the Russians exploited American-made technology platforms to attack U.S. democracy at a particularly vulnerable moment, as an insurgent candidate harnessed a wide range of grievances to claim the White House. The sophistication of the Russian tactics may complicate efforts by Facebook and Google to crack down on "fake news," as they have vowed to do after widespread complaints about the problem.
There is no way to know whether the Russian campaign proved decisive in electing Trump, but researchers portray it as part of a broadly effective strategy of sowing distrust in U.S. democracy and its leaders. The tactics included penetrating the computers of election officials in several states and releasing troves of hacked emails that embarrassed Clinton in the final months of her campaign.
"They want to essentially erode faith in the U.S. government or U.S. government interests," said Clint Watts, a fellow at the Foreign Policy Research Institute who along with two other researchers has tracked Russian propaganda since 2014. "This was their standard mode during the Cold War. The problem is that this was hard to do before social media."
The researchers used Internet analytics tools to trace the origins of particular tweets and mapped the connections among social-media accounts that consistently delivered synchronized messages. Identifying website codes sometimes revealed common ownership. In other cases, exact phrases or sentences were echoed by sites and social-media accounts in rapid succession, signaling membership in connected networks controlled by a single entity.
PropOrNot's monitoring report, which was provided to The Washington Post in advance of its public release, identifies more than 200 websites as routine peddlers of Russian propaganda during the election season, with combined audiences of at least 15 million Americans. On Facebook, PropOrNot estimates that stories planted or promoted by the disinformation campaign were viewed more than 213 million times.
Some players in this online echo chamber were knowingly part of the propaganda campaign, the researchers concluded, while others were "useful idiots" — a term born of the Cold War to describe people or institutions that unknowingly assisted Soviet Union propaganda efforts.
The Russian campaign during this election season, researchers from both groups say, worked by harnessing the online world's fascination with "buzzy" content that is surprising and emotionally potent, and tracks with popular conspiracy theories about how secret forces dictate world events.
Some of these stories originated with RT and Sputnik, state-funded Russian information services that mimic the style and tone of independent news organizations yet sometimes include false and misleading stories in their reports, the researchers say. On other occasions, RT, Sputnik and other Russian sites used social-media accounts to amplify misleading stories already circulating online, causing news algorithms to identify them as "trending" topics that sometimes prompted coverage from mainstream American news organizations.
The speed and coordination of these efforts allowed Russian-backed phony news to outcompete traditional news organizations for audience. Some of the first and most alarming tweets after Clinton fell ill at a Sept. 11 memorial event in New York, for example, came from Russian botnets and trolls, researchers found. (She was treated for pneumonia and returned to the campaign trail a few days later.)
The final weeks of the campaign featured a heavy dose of stories about supposed election irregularities, allegations of vote-rigging and the potential for Election Day violence should Clinton win, researchers said.
"The way that this propaganda apparatus supported Trump was equivalent to some massive amount of a media buy," said the executive director of PropOrNot, who spoke on the condition of anonymity to avoid being targeted by Russia's legions of skilled hackers. "It was like Russia was running a super PAC for Trump's campaign. ... It worked."
He and other researchers expressed concern that the U.S. government has few tools for detecting or combating foreign propaganda. They expressed hope that their research detailing the power of Russian propaganda would spur official action.
A former U.S. ambassador to Russia, Michael A. McFaul, said he was struck by the overt support that Sputnik expressed for Trump during the campaign, even using the #CrookedHillary hashtag pushed by the candidate.
McFaul said Russian propaganda typically is aimed at weakening opponents and critics. Trump's victory, though reportedly celebrated by Putin and his allies in Moscow, may have been an unexpected benefit of an operation that already had fueled division in the United States. "They don't try to win the argument," said McFaul, now director of the Freeman Spogli Institute for International Studies at Stanford University. "It's to make everything seem relative. It's kind of an appeal to cynicism."
The Kremlin has repeatedly denied interfering in the U.S. election or hacking the accounts of election officials. "This is some sort of nonsense," Dmitry Peskov, press secretary for Putin, said last month when U.S. officials accused Russia of penetrating the computers of the Democratic National Committee and other political organizations.
RT disputed the findings of the researchers in an e-mail on Friday, saying it played no role in producing or amplifying any fake news stories related to the U.S. election. "It is the height of irony that an article about "fake news" is built on false, unsubstantiated claims. RT adamantly rejects any and all claims and insuations that the network has originated even a single "fake story" related to the US election," wrote Anna Belkina, head of communications.
The findings about the mechanics of Russian propaganda operations largely track previous research by the Rand Corp. and George Washington University's Elliott School of International Affairs.
"They use our technologies and values against us to sow doubt," said Robert Orttung, a GWU professor who studies Russia. "It's starting to undermine our democratic system."
The same tactics, researchers said, helped Russia shape international opinions about its 2014 annexation of Crimea and its military intervention in Syria, which started last year. Russian propaganda operations also worked to promote the "Brexit" departure of Britain from the European Union.
Another crucial moment, several researchers say, came in 2011 when the party of Russian President Vladimir Putin was accused of rigging elections, sparking protests that Putin blamed the Obama administration — and then-Secretary of State Clinton — for instigating.
"For them, it's actually a real war, an ideological war, this clash between two systems," said Sufian Zhemukhov, a former Russian journalist conducting research at GWU. "In their minds, they're just trying to do what the West does to Russia."tru
RT broadcasts news reports worldwide in several languages, but the most effective way it reaches U.S. audiences is online.
Its English-language flagship YouTube channel, launched in 2007, has 1.85 million subscribers and has had a total of 1.8 billion views, making it more widely viewed than CNN's YouTube channel, according to a George Washington University report this month.
The content from Russian sites has offered ready fodder for U.S.-based websites pushing far-right conservative messages. A former contractor for one, the Next News Network, said he was instructed by the site's founder, Gary S. Franchi Jr., to weave together reports from traditional sources such as the Associated Press and the Los Angeles Times with ones from RT, Sputnik and others that provided articles that often spread explosively online.
"The readers are more likely to share the fake stories, and they're more profitable," said Dyan Bermeo, who said he helped assemble scripts and book guests for Next News Network before leaving because of a pay dispute and concerns that "fake news" was crowding out real news.
Franchi said in an e-mail statement that Next News Network seeks "a global perspective" while providing commentary aimed at U.S. audiences, especially with regard to Russian military activity. "Understanding the threat of global war is the first step to preventing it," he said, "and we feel our coverage assisted in preventing a possible World War 3 scenario."