labor
UMass Labor Center Saved from Shutdown and New Scholarships to Center Available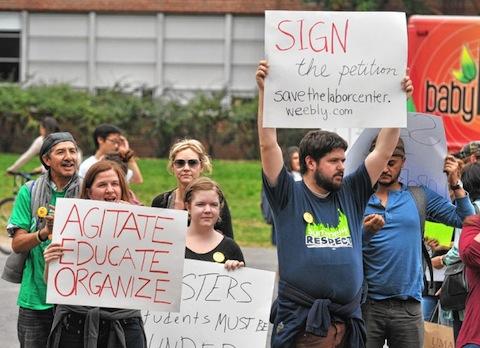 left Allyson Garcia, Anna Waltman and Patrick Burke, at a Labor Center rally at Umass Monday afternoon., Amherst Bulletin
AMHERST -- After months of upheaval concerning the future of the University of Massachusetts Amherst's Labor Center, stakeholders announced Tuesday plans to restore teaching assistant positions and revamp efforts to boost enrollment.
In a news release, university leaders said they would aim to "revitalize" the Labor Center, which got its start after a 1964 commencement address by then-AFL-CIO President George Meany. The center is a nationally recognized program that trains students in matters such as workers' rights and collective bargaining.
"The steps we are announcing today reaffirm our commitment to this eminent program," Chancellor Kumble Subbaswamy said in the statement.
Tom Juravich, interim Labor Center director, said the university will restore up to six teaching assistant positions that had before been in jeopardy. In addition, the university will support up to 12 graduate student externships, which will now be called internships.
To fund the positions, the university is committing to cover stipends for the teaching assistants, Juravich said. The university said it would provide stipends for three of these positions at 20 hours per week, for a total of $109,785. The Labor Center may, at its option, instead provide up to six such positions at 10 hours per week, according to the statement.
Labor unions will be tasked with covering stipends for the internships, at $23,071 per internship.
For all of those positions, the university has committed to covering the students' tuition, Juravich said.
Despite the student staffing commitments, Labor Center leaders didn't get everything they wanted out of conversations with administration, they wrote in a letter to alumni and supporters.
"We had requested a new faculty position, which the Chancellor did not support," the letter reads. "We were also not able to secure any additional staff support for the Labor Center. In the short term, the Labor Center will use its own reserve funds to hire the part-time faculty necessary to cover required courses and fill out staff needs."
But, bottom line, the Labor Center Committee said: "We got a commitment from the university about the importance of the Labor Center to the mission of the university, and significant support for our graduate students to build a new foundation for the Labor Center."
In September, after budget cuts threatened graduate student jobs, two professors told the Gazette that making assistantships available to graduate students is key to the Labor Center's success in attracting students.
"The ability of Labor Center students to do work and be remunerated or reduce the cost of attendance has been taken away," part-time professor Harris Freeman said at the time. "This, to me, seems to be at the core of the problem."
"If you're not providing the work so people can go to grad school, they're not going to sign up to come," said David Cohen, a former part-time professor. Benchmark for success
With the student staffing commitments, UMass is aiming to double undergraduate enrollment within three years. The center currently has about 100 students.
The university also wants to have 12 new, full-time students enrolled in the residential master's program per year, according to the release.
In September, Eve Weinbaum, former Labor Center director, expressed dissatisfaction at what she said was an insistence by administrators that the labor studies master's degree program be a "revenue generator" -- and that, because it wasn't, its existence was harder to justify to university leadership. Administrators disagreed with the assessment.
On Tuesday, university spokesman Ed Blaguszewski said all programs received assistance from the university in some form, "but that being said, programs that have healthy enrollments are educating more students and they're generating revenue to help support their work."
Blaguszewski couldn't say what might happen if enrollment targets aren't met in three years.
"The essence of what we're talking about here is that the key parties believe we'll address the financial needs of the Labor Center going forward," he said.
Contact Jack Suntrup at jsuntrup@gazettenet.com.
New Scholarships Available to UMass Labor Center
Dear Sister and Brothers,
Most of us are all still reeling from the election of Donald Trump and terrified about what the next four years might really mean for workers and their unions. It has never before more important for labor and activist communities to have the hard conversation about where we have been and what will need to bring our movements forward. I would like to tell you about a special opportunity to begin this discussion.
The UMass Amherst Labor Center is announcing an exciting new scholarship program to start in January in our limited residency Master's degree program in Labor Studies (ULA). Designed for union officers, staff and activists, participants attend 5 ten-day sessions held in January and July and receive their Master's degree in three years. Check out our website at: https://www.umass.edu/lrrc/ for more information on the program.
Based in part on the contributions of two alums and their unions, we are delighted to announce a new scholarship program that will cover the tuition costs ($2,628) for up to ten (10) new students to start in the ULA session this January 8-18, 2017. Students would only need to cover their travel and a meal/facility charge.
This is a one-time opportunity to begin the program at a substantially reduced cost. If you are interested in this scholarship program, contact Tom Juravich juravich@lrrc.umass.edu, 413-545-5986, and he can assist you with the application process.
Best,
 
Tom
 
Tom Juravich
Professor of Labor Studies and Sociology
Labor Center Interim Director
UMass Amherst
634 Thompson Hall
200 Hicks Way
Amherst, MA 01003
Phone 413.545.5986
Fax 413.545.3204
http://altarofthebottomline.com/