Brazil Senate Approves Austerity Package to Freeze Social Spending for 20 Years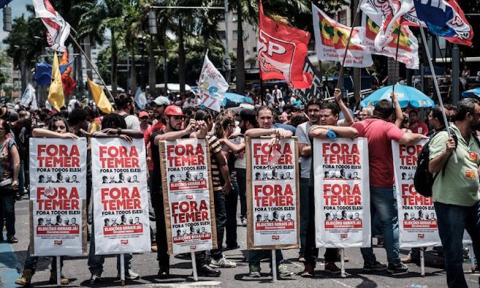 Protesters hold placards reading 'Temer Out' during a demonstration against austerity measures in Rio de Janeiro, Brazil, Yasuyoshi Chiba/AFP/Getty Images
Brazil's senate has passed a controversial spending cap that will limit public spending to inflation for the next 20 years, despite protests across the country against the measure.
The spending cap, known as PEC 55, will now be signed off on 15 December.
Its approval was seen as vital for the beleaguered government of centrist President Michel Temer who took over from the leftist Dilma Rousseff, after a divisive, eight-month impeachment process was concluded in August.
Temer has staked his government's credibility on measures to reduce public spending – which soared out of control under Rousseff as Brazil sunk into a debilitating recession – and his ability to control the bickering parties in an unruly congress.
"Today was a show of force that Temer still has a majority in congress to approve these reforms," said João Castro Neves, Latin America director at Washington DC-based consulting outfit Eurasia. "From a more market perspective it's also a victory because it's a first step towards a more sound fiscal framework."
But the spending cap has been described by a senior UN official as the most socially regressive austerity package in the world, while Brazilian leftists argued that it will damage the country's already fragile health and education systems. In a poll published on Tuesday by the Datafolha polling institute, 60% of Brazilians said they opposed it.
"The poor have woken up," Leonardo Sakamoto, a popular commentator, wrote on his blog on Tuesday. "They have realized that they will have to pay someone else's bill for the economic crisis with the gradual reduction in quality of public services, which they are dependent on."
Marcelo Freixo, a deputy in the Rio de Janeiro state assembly for the Socialism and Freedom party, said the rich should pay more of the bill for Brazil's economic crisis.
"We defend the taxing of great fortunes; taxing of inheritance; debt collection of big tax dodgers and the end of tax breaks for bankers," Freixo tweeted. Despite huge gaps between rich and poor, Brazil's highest rate of income tax is just 27.5%.
There were protests in at least nine states and the Federal District of Brasília, where local media reported that police used tear gas on around 2,000 demonstrators who torched barricades and threw rocks.
More protests can be expected, said Vitor Guimarães, a national coordinator for the Homeless Workers Movement, a leftist group that opposed the impeachment process by blocking roads and occupying public buildings.
"Social movements will keep up the struggle," he said.
Temer is already under fire over allegations that he sought illegal campaign donations from a huge construction company deeply involved in a multibillion-dollar corruption scandal at the state-run oil company Petrobras.
The senate president, Renan Calheiros, a member of the same centrist party, is clinging on to his job after being charged on 12 December by Brazil's prosecutor-general for corruption and money laundering. He was suspended by a supreme court judge on 5 December after being indicted in a separate corruption case, but the decision was reversed by the court two days later.
"Your excellence is only in this chair because of PEC 55," Lindbergh Farias, a senator for Rousseff's Workers' party, told him during Tuesday's session, in comments reported by the Congress in Focus site, a watchdog.
Temer's government said minimum health and education spending would be preserved. The budget increase for 2017 will be 7.2%. The government also said Temer had telephoned the US president-elect, Donald Trump, on Tuesday, who congratulated him "for the reforms and measures to promote the growth of Brazil".
Temer indicated he was determined to press on with the next of his austerity measures – a detailed reform of Brazil's generous pensions system, in which some professions can retire as young as their late 40s.
"Are there conflicts and problems in the country? There are. But we can't let this paralyze Brazil," Temer tweeted on Tuesday.
Castro Neves said that the spending cap was harsh but argued it would force a much-needed debate on Brazil's bloated public spending, much of which is fixed in law. And adjustments can be made down the line, he said.
"Brazil's budget is too rigid. You have a lot of mandatory spending," Castro Neves said. "It's going to create that debate because trade-offs are becoming to become more evident. There's no free lunch."