tv
A&E Cancels KKK Documentary Series After Discovering Producers Paid Participants For Access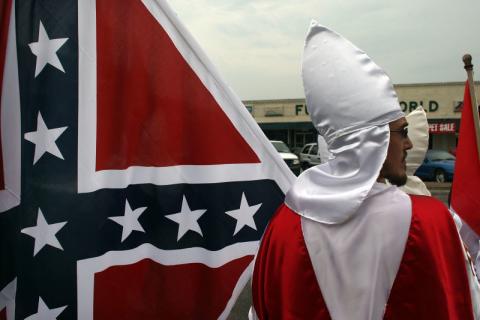 Thanks to sustained, legitimate outrage from people on the Internet and a major ethical violation, there will be one fewer outlet for white supremacists to plead their case to the American people.
On Friday, A&E briefly changed the name of its eight-episode series from Generation KKK to Escaping the KKK: A Documentary Series Exposing Hate in America, before abruptly canceling the project altogether on Saturday.
In a statement released on Saturday, A&E wrote that it had learned Friday night that "third-party producers" working on the series had made "cash payments" to some of its participants "in order to facilitate access." Furthermore, "these payments are a direct violation of A&E's policies and practices for a documentary." When A&E announced the series last week, it had highlighted the unprecedented access provided to them by the KKK, as evidenced in part by the fact that no names were charged or faces obscured.
The statement goes on to say:
"A&E takes the authenticity of its documentary programming and the subject of racism, hatred and violence very seriously. Just because this particular show goes away, the issues of hate in America do not. We will still seek to fight hate in America through on-air programming including town halls and documentary programs produced in partnership with civil rights organizations, as well as continue to work with the civil rights community to facilitate a deeper dialogue on ending hate through comprehensive educational and outreach campaigns."
On Friday, A&E also announced a new partnership with American civil rights organization Color of Change, which helped shape the shift in the series' advertising campaign before it was cancelled. But not quite before A&E released its first cringeworthy preview of the show. Anyway, don't pay neo-Nazis to talk about how great it is to be a clansman