labor
Key Federal Worker Protections May Be in Jeopardy Under Trump Regime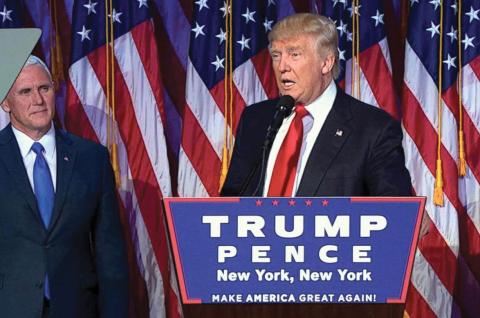 Interesting times for Federal staff, The Chief
At least three of President-elect Donald Trump's picks to run Cabinet-level agencies are on the record as either having a worldview antithetical to their agency's statutory mission or calling for the dismantling of the agency they have committed to lead.
Their appointments to head the Department of Labor, the Environmental Protection Agency and the Department of Energy may present unprecedented challenges to the tens of thousands of Federal civil-service employees who are committed to the mission of these agencies but will find themselves at philosophical odds with their new bosses.
Counterintuitive Choices?
The President-elect's nominee to run the EPA, Oklahoma Attorney General Scott Pruitt, has sued the EPA over its Clean Power Plan and has said the climate-change debate "is far from settled."
Andy Puzder, the incoming administration's pick for U.S. Labor Secretary, is the CEO of CKE Restaurants, which owns the fast-food brands Carl Jr.'s and Hardees, which the New York Times reports were fined for violating wage-and-hour laws and incurred large back-pay obligations.
Mr. Trump's incoming Secretary of Energy, former Texas Gov. Rick Perry's call for the elimination of the agency during the Republican primary debates made headlines because Mr. Perry forgot his target's name.
Douglas Eakeley is a professor at Rutgers Law School in Newark. He served as Chairman of the National Legal Services Corporation during the administration of President Bill Clinton and the first year of the administration of George W. Bush, successfully navigating an opposing-party transition.
"If approved by the Senate, the President-elect's nominees must take an oath of office, pledging (among other things) to `well and faithfully discharge the duties of the office on which I am about to enter.' It is fundamentally inconsistent with that oath for an incoming Cabinet officer to assume his or her office with the intention of dismantling it," Mr. Eakeley said in a phone interview.
`Bedrock of Democracy'
He expressed concerns that the new administration might engage in a "witch-hunt" to ferret out Federal civil-service employees who disagree with chan-ges in policy direction, observing, "The Federal Civil Service has served this country for more than a century as a bedrock of democratic governance, assuring the hiring and retention of dedicated public servants, and insulating them against partisan politics."
In perhaps a portent of the battles to come, NPR reported earlier this month that the Trump transition team sent the Department of Energy a "lengthy questionnaire" looking for a list of all DOE employees who have ever attended a climate-change conference, and a list of the 20 highest-paid employees at the DOE's network of national laboratories.
Rolling back the Obama's administration's commitment to addressing climate change, along with a revival of the American coal industry, were linchpins of the Trump campaign. The President-elect during the campaign frequently called glo-bal warming "a hoax," tweeting: "the concept of global warming was created for and by the Chinese in order to make U.S manufacturing non-competitive."
Trump's Mixed Signals
As on so many topics, Mr. Trump has sent conflicting signals on the issue since the election. He met with former Vice-President Al Gore, a leading advocate for making combating global warming and climate change a top priority, just a few days before tapping Mr. Pruitt to run the EPA. In a sitdown with the New York Times in late November, he said he had an "open mind" on climate change.
President Obama's Energy Department rejected the Trump team's request for the list of employee names. In a statement to the Washington Post, the agency said officials "were going to respect the professional and scientific integrity and independence of our employees at our labs and across our department."
The Trump transition team's request was a red flag for the American Federation of Government Employees, which represents close to 700,000 Federal workers. "AFGE stands for the principle that civil servants must be free from retaliation for simply following the lawful policy direction of their supervisors. A professional, apolitical career civil service that implements the law is a bulwark of western democracy," said Jeffrey David Cox, AFGE's president, in a statement to THE CHIEF-LEADER. "Every-one-regardless of party-should be outraged by any attempt to politicize an agency of the Executive Branch. We cannot allow a return to the political witch-hunts of the 1950s. President-elect Trump must instruct his transition team to cease this profoundly anti-democratic behavior immediately."
Tradition at a Crossroads
For more than 130 years, Federal civil-service employees have enjoyed legal protection from partisan politics, but in recent years the partisan stand-off in Washington has led to the lapsing of the authorizations for the agencies that enforce these laws. In the case of the U.S. Merit Systems Protection Board, which polices the entire civil-service system, the failure to act on a nominee made by President Obama in 2015 will mean that just a few months into Mr. Trump's term, it is likely that board will cease to have a quorum. As a consequence of the Senate's failure to act, the incoming President will be able to appoint two of the three MSPB members.
Currently the two-million-plus Federal workers who report to the 4,000 political appointees selected by the President enjoy civil-service protections that were first put on the books in the 1880s in homage to President James A. Garfield, who was assassinated by a disgruntled office-seeker who felt slighted that his political work for Mr. Garfield's Republican Party had gone unrewarded with a patronage position.
Mr. Garfield had been a fierce opponent of the spoils system, cracked down on corruption in the U.S. Post Office and said in his inaugural address that "the civil service can never be placed on a satisfactory basis until it is regulated by law."
Required Merit Hiring
The Pendleton Act, passed in 1883, two years after Mr. Garfield's death, required that Federal employees be hired on merit and selected based on the results of competitive exams they would be required to take. This was a radical departure from the patronage system that mush-roomed in the first 100 years of the nation.
"When Garfield was assassinated, it was sort of a galvanizing event and it made a lot of policymakers scrutinize the spoils system-and there had been dissatisfaction with it," said James Read, the Director of Policy and Evaluation for the U.S. Merit Systems Protection Board.
The MSPB is a bipartisan quasi-judicial agency that has 228 employees and an annual budget of close to $47 million. It hears, on average, several thousand cases a year brought by Federal employees who believe their treatment by superiors violated the statutes and regulations that govern the Federal workforce. With the recent budget battles that produced furloughs, a government shutdown, and budget cuts due to sequester, the number of cases swelled to 33,000 in 2013.
Mr. Read said the backlog of cases had mostly worked its way through the system, with the government successfully defending its actions in most furlough-related MSPB hearings. Cases take about 120 days from when they are filed to when an Administrative Judge issues a decision. Appeals to the MSPB take closer to 200 days to be completed, which Mr. Read said "stacks up well" when compared to the Federal judiciary's performance on civil matters.
Career Appointees
The AJs are career appointees of MSPB. "They are attorneys and they are the equivalent of a trial judge. They hear the case initially and issue a decision," said Mr. Read. "If the parties are satisfied with the decision, that is the end of the matter" and the judges "are very effective at alternative dispute resolution, so probably half or more cases at the regional level settle."
Either side can appeal the decision to the three-member MSPB board, whose members are presidential appointees with staggered seven-year terms whose selections have to be confirmed by the Senate.
"We have had a vacancy for a while...so in 2017 at some point we are likely to lose our quorum," said Mr. Read. "President Obama did nominate somebody for the now-vacant seat, and the nomination has been pending since 2015. And if that individual is not confirmed, then my understanding is the nomination goes away when the congressional session goes away." According to Mr. Read, the last time this happened was in 2003 and a nominee was tapped and confirmed a few weeks later.
The Non-Quorum Quandary
Without a quorum, the agency AJs will continue to hear cases, but the MSPB board will not be able to issue precedent-setting decisions and will stop issuing reports to the President and Congress on the management of the Civil Service. Appeals of decisions would either be heard before Federal circuit courts or remain in limbo pending Presidential and Senate action to re-constitute the MSPB's board.
In the last few years, the MSPB stirred the ire of some powerful members of Congress, with its call to overturn dismissals of three employees because of chronic failures at the Veterans Administration.
In a statement earlier this year, House VA Committee Chairman Jeff Miller, a Republican from Florida, labeled the MSPB an "unaccountable board with a strong bias against accountability.The MSPB is so biased in favor of misbehaving government bureaucrats that its rulings have actually prevented more disciplinary actions under the Veterans Access, Choice and Accountability Act than they have upheld."
Mr. Miller's sharp rebuke of MSPB came in response to the ruling back in February by Administrative Judge Arthur Joseph in favor of Linda Weiss, the former director of the Albany, New York Stratton Veterans Administration Medical Center. While the MSPB judge reviewing Ms. Weiss's dismissal conceded she could have been more proactive about disciplining a nurse who received multiple complaints for treating patients poorly, the Judge found the VA's firing Ms. Weiss went too far.
Protects Staff From Politics
But Congresswoman Carolyn Maloney, who sits on the House Oversight Committee, believes the MSPB protects "a dedicated professional" Federal workforce from being turned into the "arm of a political party."
"The Merit Systems Protection Board and our agency Inspectors General ensure that our Federal workforce remains professional and nonpartisan through, among other things, protecting due process and other employment protections for our civil servants," Ms. Maloney said in a statement. "I will continue to support these protections for Federal employees and uphold Congress's responsibility for oversight of Federal agencies."
"Donald Trump's administration is making no secret of their plans to undermine, dismantle, and corrupt the government at all levels," Congressman Jerrold Nadler said in a statement. "His cabinet nominees routinely speak of their desire to shut down the very agencies they are supposed to head, while his transition team engages in the inquisition of Federal employees who go against Trump's extreme agenda. In addition, Republicans actively work to undermine worker protections, repeal basic health and safety rules, and lower wages by blocking implementation of new overtime guidelines. Weakening Fed-eral agencies will cost jobs, delay services, and inhibit the government's ability to carry out its constitutional duties."
The confluence of Congressional complaints about the MSPB and anxiety over the incoming Trump administration comes at a time when the congressional re-authorizations for the 1978 laws that created the MSPB, the Office of Governmental Ethics and the Office of Special Counsel, which protects Federal employee whistle-blowers, are all lapsed, offering Congress the chance to re-visit these signature post-Watergate reforms. Since they expired in 2007, Congress has opted to extend them for a year at a time.
Reagan Redux?
Paul Light, a professor at NYU's Wagner School and a leading expert on the Federal workforce, said the Trump team would run into some deep bipartisan pushback if it tried to eliminate Cabinet agencies. "So let's say former Governor Perry wants to make good on his desire to shut down the Department of Energy; it would be much harder than anyone realizes," Mr. Light said in a phone interview. "You would have to get congressional authorization and the congressional committees with subject matter jurisdiction over these agencies will offer significant resistance no matter which party is in control. Individual members of those committees get good stuff for their district from their relationship with these agencies, and they have a vested interest in not getting rid of them."
Mr. Light said the closest historical analogy he could find to the current period was the tenure of President Reagan, who broke the Professional Air Traffic Controllers Organization (PATCO) with a mass firing of that union's rank and file. "Ronald Reagan came in as President wanting to cut two Cabinet-level agencies-Education and Energy-to get the total down to 12 but ended up with not only those two intact, but having to add another, Veterans Affairs, so he had 15," he recalled. "It's like watering a lawn where Kudzu has taken root." But he conceded that if President Trump could get Congress on board to eliminate an agency, its civil-service workforce could be "cleaved off." "It would be a signal achievement, because we just don't do it," Mr. Light said.
Beyond the Beltway
While the debate over the future of the Federal civil service will be centered in Washington, anxiety is being felt at the local level.
"We have very grave concerns that undermining these professional organizations like the U.S Fish & Wildlife Service and the EPA could put at risk decades of work we have done together on restoring wildlife habitat and improving water quality throughout the region," said Tim Dillingham, executive director of the American Littoral Society, a coastal conservation non-profit that serves the New York/New Jersey estuary. "There is a temptation to see these people as faceless bureaucrats' but they know these places and communities and have made a critical difference in their career-long commitment to protecting wildlife and the environment."