books
A Vital Chapter in Jazz History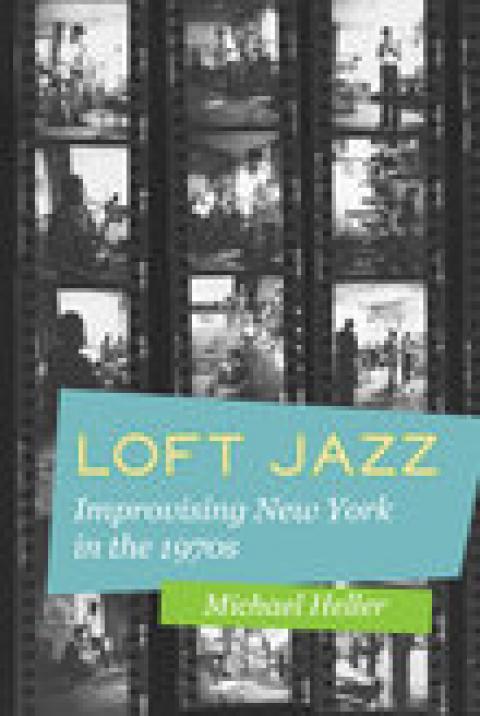 Loft Jazz: Improvising New York in the 1970s
Michael C. Heller
University of California Press
ISBN: 9780520285415
In the late 1960s and 1970s, with New York City's socioeconomic scaffolding rickety and near collapse, abandoned industrial spaces in Lower Manhattan were buttressed by artists. Painters, appropriators, and sculptors converted nineteenth-century sweatshops into studios, and dance-happy DJs turned these same buildings into the first cathedrals of disco.
One of the most fecund, though least documented, scenes was chiseled out by jazz musicians, most young, black, and with eclectic leanings. These post-Coltrane free players, and free thinkers — shunned by a mainstream in the midst of commodifying the "counterculture" — lived, rehearsed, and performed in these loft spaces, usually in or around Soho.

The movement, and the music, became known as "loft jazz," an iffy if not outright divisive term. Was it a style? A genre? An ideology? An attitude? Many of the musicians found the phrase confining, despite the high ceilings, while others saw possibility. (Ah, low rents as creative enabler!)
Either way, the name stuck, and it provides the title for Michael C. Heller's new book, Loft Jazz: Improvising New York in the 1970s, a study long overdue. The author, an ethnomusicologist and assistant professor of music at the University of Pittsburgh, was, he writes, "not without certain reservations" about the name and considered calling his work Loft/Jazz — "a movement which saw factories transforming into homes, homes into studios, and studios into stages."
Heller — through dozens of interviews and painstaking research that included full access to the ample personal archive of percussionist Juma Sultan, a pivotal figure in the movement — refreshingly moves beyond reductionist notions. Loft jazz was, in some sense, a movement to take the music back from club owners. It was highly politicized, but also highly social: This was community music. Part of the point was that, free of the strictures of clubs, the music could be anything, go anywhere, go on for as long as it wanted.
And when the period slowly ended — the New York Times' Robert Palmer effectively wrote its obit in 1979 soon after the closure of Studio RivBea, the epicenter presided over by sax player Sam Rivers, "the unofficial mayor of the lofts" — Heller emphasizes that, yes, it was because of rising rents, but a variety of other factors, too. Reaganomics, at least this once, couldn't be blamed. (And it was Ed Koch who belched out, "If you want to live in Manhattan south of 96th Street, you've got to pay for it.")
"The lofts," Heller argues, "were not an organization, nor a movement, nor an ideology, nor a genre, nor a neighborhood, nor a lineage of individuals. They were, instead, a meeting point, a locus for interaction." It included musician control over economics and performances, community involvement, and "various forms of political consciousness, often connected to racial identity and economic inequality."
The crucial event came in 1972 with the inauguration of the New York Musicians' Jazz Festival, a grassroots alternative to George Wein's Newport Jazz Festival, which had just moved to New York but didn't include downtown black avant-gardists.
Heller details the precursors to the movement both in New York lofts — as in W. Eugene Smith's space in the flower district, immortalized in a recent documentary — and in collectives, such as Chicago's influential Association for the Advancement of Creative Musicians (the AACM) and St. Louis's Black Artists Group, many of whose members, like Henry Threadgill, Roscoe Mitchell, and Oliver Lake, moved to the city and became central to the scene. Heller also gives due to the overlooked (or, shall we say, the overlooked of the overlooked), like the trumpeter James DuBoise, who ran Studio We on 193 Eldridge Street.
If the book lacks something, it's soul. Loft jazz may have been intellectual and "an overtly anti-commercial musical style," but it wasn't antiseptic; these musicians were well studied in any and all of the styles that came before. Heller tells us the scene was "undeniably exhilarating," but he doesn't show us; we never feel Sam Rivers blow the paint, chipped as it may have been, off the walls. We don't hear the obstreperous but swinging solos, whether from David Murray or Sunny Murray, Anthony Braxton or Anthony Davis.
The author generously remembers the few writers who actually did cover the lofts — Amiri Baraka, Peter Occhiogrosso of the Soho Weekly News, this paper's invaluable Gary Giddins, and Stanley Crouch, a hell-raiser even back then — but his prose doesn't simmer quite like theirs. It's an academic book, and that's a good thing; the loft period warrants one. It just might not inspire you to reach for Wildflowers, the three-hour, three-CD (five-vinyl) set recorded in May 1976 at RivBea, at 24 Bond Street — Noho before it was Noho — as riveting a document of the time as any that exists.
"I think it was the greatest period ever," William Parker, the titanic bass player whose annual Vision Festival is a direct descendant of the movement, tells Heller. "I don't think there was anything bad about the loft period. Maybe I'm looking at it with rose-colored glasses, but there's nothing wrong with rose-colored glasses. I love rose-colored glasses."