tv
Saturday Night Live Faces Off Against the Trump Presidency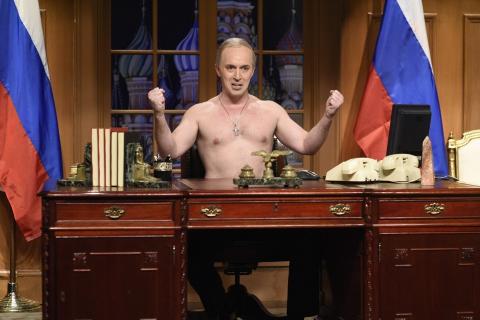 Donald Trump didn't make an appearance on the first Saturday Night Live of his presidency, at least not in the guise of his TV alter ego, Alec Baldwin's pouting, preening impersonation. But Trump's presence dominated the show, from the cold open featuring Beck Bennett as a joyful Vladimir Putin to a video skit in which Kate McKinnon's Kellyanne Conway sang a musical tribute to her newfound fame. This much was clear: The NBC sketch show has no intention of easing up on the new commander-in-chief, and at times seemed to actively position itself as a force of resistance.
SNL's determination to keep being a thorn in the side of the 45th president, who's complained on Twitter that its portrayal of him is a "complete hit job," was crystallized in the opening monologue of the January 21st episode, delivered by the comedian and first-time host Aziz Ansari. For almost nine minutes, Ansari pondered the new president ("He's probably at home right now watching a brown guy make fun of him"), Islamophobia in the media, and the alt-right, which he dubbed the "lower-case KKK."
Warning against demonizing all Trump voters, Ansari instead focused on a particular subset, which he described as "these people that, as soon as Trump won, they're like, 'We don't have to pretend like we're not racist anymore! We don't have to pretend anymore! We can be racist again! Wooooo!'" As he delivered the joke, Ansari offered the crowd a fist-bump, which slowly changed shape into a Nazi salute.
Baldwin's guest appearances on Saturday Night Live have sharpened the show's satire when it comes to Trump, but have also meant that the most talked-about man in America is portrayed by a part-time player. So his absence was notable on a day in which millions of protestors took to cities all over the world to express their objections to the new U.S. president. The show's response was to focus on the constellation of characters around Trump, starting with the Russian president Vladimir Putin, who addressed America while shirtless in "a paid message from the Russian Federation" delivered via the state-sponsored cable network RT. "You are worried that your country is in the hands of this unpredictable man, but don't worry, it's not," he smirked. "I promise that we will take care of America. It's the most expensive thing we've ever bought."
Later, SNL presented a pre-taped skit featuring Kellyanne Conway, an adviser to Trump throughout much of his campaign, and a newly appointed counselor to the president. In the past, McKinnon's Conway has come across as partly sympathetic, particularly in the video "Kellyanne's Day Off," in which a beleaguered Conway is repeatedly forced to interrupt a day with her husband and kids in order to make excuses for Trump's outlandish statements on cable news. Saturday's sketch was less generous. McKinnon, seen as Conway giving an interview to Jake Tapper (Bennett), imagined an elaborate fantasia in which she was a star, shimmying through a version of a song from the musical Chicago. "The name on everybody's lips is gonna be … Conway," McKinnon sang. "Who says that lying's not an art?"
The episode was a reminder, too, that Trump's candidacy and victory have enlivened the long-running sketch show. Most of the skits that didn't focus on current affairs, like a tortured bit about personal-injury lawyers and a fake gameshow featuring a boffin (Ansari) stumped by pop culture fell totally flat. But Weekend Update, which has also been unpredictable in quality over the last few seasons, threw some zingers at the weekend's events (the inaugural concert at the Lincoln Memorial, Colin Jost quipped, was "the second-worst live performance Lincoln has attended).
The episode ended with a musical thank-you to President Obama—Cecily Strong and Sasheer Zamata singing "To Sir, With Love"—and a closing sequence on the main stage in which many of the show's female cast members wore t-shirts commemorating the women's marches of January 21. In other words, Saturday Night Live doesn't have to offer a position of political neutrality over the next four years, and, as it made clear this weekend, it isn't going to pull any punches.