Local Progressives Continue Working Toward 'Political Revolution'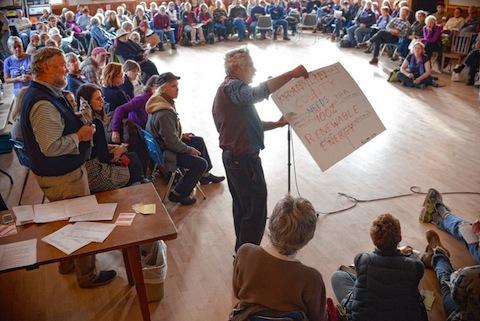 Ferd Wulkan makes a presentation Sunday at the General Assembly of the Franklin County Continuing the Political Revolution in Greenfield. , Richie Davis—Robert Tobey photo
Even as 150 enthusiastic organizers of a new Franklin County League of Women Voters gathered on a recent Sunday at Greenfield's Temple Israel, a standing-room-only crowd of more than 200 people showed up less than a mile away at the Guiding Star Grange Hall for the second general assembly of a new political action group calling itself Franklin Continuing the Political Revolution.
"We thought we'd have 100," said David Cohen of Greenfield Ma., since 65 had shown up for its first general assembly just after the November election.
"We're really tapping into people who are really afraid of what's happening right now, and they want to work on progressive issues," Cohen, a member of the group's eight-member coordinating committee, said recently.
Franklin Continuing the Political Revolution bills itself as nonpartisan, although its leaders clearly are politically engaged and liberal. Many recruits are political novices recently energized by the election of Donald Trump. There are 225 dues-paying members, many of whom aren't enrolled in any party and some of whom, Cohen says, haven't been politically active before.
"People want to talk and know 'What can we do?" said Susan Triolo of Sunderland, another coordinating committee member, adding that using social media, the group has brought in people "who haven't done anything, ever, in their lives politically, who are terrified or depressed or desperate, or who just believe in democracy and want to do more than just show up for demonstrations."
FCCPR, a grass-roots effort that morphed out of the Pioneer Valley for Bernie (Sanders) organization last summer, turned its emphasis from "get out the vote" to long-range issues.
"We said, 'We'll stick together and work on issues long-term,'" said Cohen.
Seven task forces have been meeting every couple of weeks to actively advance their seven areas of concern, including civil rights, education, electoral politics and workers' rights.
A task force on single-payer health care, said Judy Atkins of Greenfield, is insisting that Massachusetts -- in the face of Republican efforts at the national level to dismantle the Affordable Care Act and do away with Medicaid -- should move toward a full single-payer health plan, as prescribed in a bill now before the Legislature, and as called for on the state Democratic platform for years.
That task force, of which she's a member, is researching how much area towns would save on employee health insurance if such a plan were in place, to create what Atkins calls "a groundswell" of support.
A campaign finance reform task force, meanwhile, is working on efforts to get big money out of lobbying. The Climate Crisis Task Force is working to help Franklin County towns move toward the statewide coalition Mass Power Forward's goal of 80 percent renewable energy generation, supporting the campaign to divest the state's pension fund away from fossil fuel investments and promoting greater use of public transportation.
The Education Task Force, which worked initially to defeat the charter school ballot question on last fall's ballot, is focused on issues like high-stakes testing, on separating test results from teacher evaluations and promoting free higher education.
The Electoral Politics Task Force will encourage progressive candidates to run for local and state office, said coordinating committee member Ferd Wulkan of Montague. "We're not going to just support somebody because they're slightly better than their opponent."
In this, FCCR appears willing to take its "revolution" moniker seriously.
"We'd expect that if somebody's running for, say, state rep and they say they support single-payer, but the leadership of the Democratic Party doesn't want to push it, we'd expect that person to buck him, and not say, 'I'll go along with what the leadership tells me,'" Cohen said. "If they run on a platform of things people need, we expect them to fight and raise a little hell in the statehouse over those issues. ... We have to openly say, 'Yes, we have a political system that doesn't work and is dominated by the interests of corporate donors.' To have a true democracy wouldn't depend on people who have been in there a long time and have toed leadership's line. There's a real problem with that."
The task force also hopes to provide basic information and support on how to run for town office, or for becoming a delegate to the state party convention.
General assembly meetings are open to members and nonmembers, and nonmembers can go online to www.FCCPR.us to join and learn when task forces are meeting or the time and location of the next general assembly meeting, on March 26.
There are also plans for theater, music and arts activities, as well as seeking town meeting resolutions on issues from sanctuary for refugees to campaign and finance reform.
With plenty of work to do, the local groups hardly work in a vacuum, but Triolo said, "We're trying to stay focused locally and not get distracted by Donald Trump's daily tweets."
Cohen reiterated state Rep. Paul Mark's message at the Jan. 19 Greenfield pre-inaugural rally that "The federal government is not going to be there for us for the next two to four years or maybe longer. Massachusetts has always been a leader, and nowhere more so than western Massachusetts. It is our duty now to set an example for the rest of this country, to lead as we've always led. ... Whether it's same-sex marriage, whether it's health care for all. We need to lead and we need to go beyond where we've been able to go so far."
Rather than standing apart as a group, these gray-haired veterans of the labor movement and other social issues said, FCCR has also attracted anti-pipeline activists as well as members of Western Massachusetts Jobs For Justice, Social Justice Rising, Not in Our Town and even some founding members of the new League of Women Voters chapter.
"We're making it clear: We're not out to supplant them," Cohen said. "We're trying to add more people into this large struggle for civil rights and against racism."
"Because we're seen as an active group, actually doing stuff, the work we're doing is giving people hope," said Triolo. "That's how we got 200-plus people to show up on a Sunday afternoon for two hours. We're alive ... People can actually be involved with doing something."
On the Web: fccpr.us
You can reach Richie Davis at rdavis@recorder.com
or 413-772-0261, ext. 269