For America's Sake, We Need Answers about Russia. Now.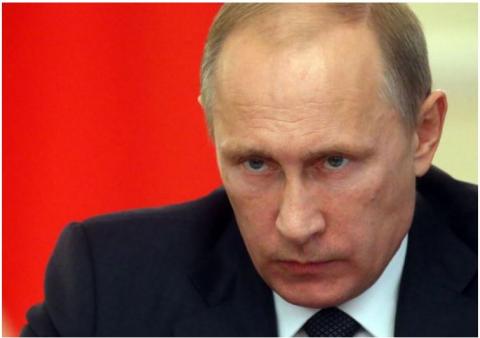 These first weeks of the Trump White House have felt like one of those tennis ball machines run amok, volley after volley shooting at us in such rapid fire that often the only reaction is to grimace and duck. Outrage after outrage, imperial pronouncement after pronouncement, lie after lie; it's just one damned, fast and furious, flawed thing after another.
All of this is confusing and distracting and of course, that's precisely what they want. As the old saying goes, if you can't dazzle them with brilliance, baffle them with bullshit. It easily distracts us from the real issues, diverting our eyes from those important things that have to be closely examined and resolved if we're to continue trying, at least, to behave like a free nation.
But with the resignation of Trump national security advisor Michael Flynn, in the wake of news reports about his December phone calls with the Russian ambassador to the United States, and word that US intelligence has confirmed some of the information in the Steele dossier, interest in Russia has rekindled, and a good thing, too.
This is way beyond troubling, so it merits noting some of the other news about Russia that has transpired in the last few weeks, news that might have flown under your radar while Trump's fusillade of executive orders and tantrums was bombarding your every waking moment.
All of it is serious business, specifically when it comes to figuring out just why Trump is so deeply enamored of Vladimir Putin and how much Russia interfered with our election, and more broadly for what it says about Trump and his chief strategist Stephen Bannon's vision, God help us, of a world divided and dominated by white nationalists.
She's worth quoting at length:
"It appears that the Kremlin has been conducting an intensive hunt for moles within its security apparatus who might have leaked information about Russian efforts to influence the US presidential election. In mid-December 2016, following public assertions by leading US intelligence officials that Russia had intervened in the election, two high-level FSB officers, Sergei Mikhailov, deputy chief of the FSB's Center for Information Security, which oversees cyberintelligence, and his subordinate, Dmitry Dokuchayev, were arrested. (Russian authorities reportedly took Mikhailov away from a meeting of the FSB top brass after placing a black bag on his head.) The two men — along with Ruslan Stoyanov, who headed the Kaspersky Lab, a private company that assists the FSB in internet security — were charged with state treason. Russian independent media reported that the men had been responsible for leaks to Western sources, including US intelligence, about Russian cyber attacks against the US and also about Russian covert efforts to blackmail Donald Trump…

 

"Also, the authoritative independent Russian business daily Kommersant

reported

two weeks ago that Andrei Gerasimov, chief of the FSB's cyberintelligence department, and Mikhailov's boss, would be fired, although Gerasimov's dismissal has yet to be officially confirmed. According to Russian security expert Andrei Soldatov, the upheaval in the FSB amounts to a purge of the entire Russian state security team dealing with cyberintelligence and cybersecurity."
"Erovinkin was a key aide to Igor Sechin, a former deputy prime minister. He has been described as a key liaison between Sechin and Russian President Vladimir Putin. Now head of the state-owned oil company Rosneft, Sechin is repeatedly named in the

so-called Trump dossier

… [Christopher] Steele wrote in the dossier, which was dated July 19, 2016, that much of the information it contained was provided by a source close to Sechin. That source rewas Erovinkin, according to Russia expert Christo Grozev of Risk Management Lab, a think-tank based in Bulgaria."
Supposedly the transaction is a fairly straightforward joint venture between Qatar and Glencore, a Swiss firm, but as Reuters noted,
"Like many large deals, the Rosneft privatization uses a structure of shell companies owning shell companies, commonly referred to in Russia as a 'matryoshka', after the wooden nesting dolls that open to reveal a smaller doll inside. Following the trail of ownership leads to a Glencore UK subsidiary and a company that shares addresses with the Qatari Investment Authority, but also to a firm registered in the Cayman Islands, which does not require companies to record publicly who owns them."
A 19 percent stake in Rosneft, versus a 19.5 percent stake… admittedly, it's a stretch, and probably nothing more than an odd coincidence, yet stranger things have happened, especially given the Bizarro World we now inhabit. But what's not a stretch is that beyond the particulars, beyond whatever reasons, blackmail or otherwise, that Trump is so under Vladimir Putin's spell, there is a global agenda both men share that's the real danger.
Urged on by his American Rasputin, the ineffable Bannon, for all intents and purposes Trump is promoting white nationalism and what many call "traditionalism," a worldview shared by Putin. It's no coincidence that the Russian kleptocrat and his government also are supporting and being embraced by far-right political parties and leaders throughout Europe, including Marine LePen's National Front in France, Germany's Alternative for Germany (AfD), Golden Dawn in Greece, the Ataka Party in Bulgaria and Hungary's Jobbik Party.
Asked about support for Putin and Russia from France's National Front and Britain's United Kingdom Independent Party (UKIP), Bannon replied, "One of the reasons is that they believe that at least Putin is standing up for traditional institutions, and he's trying to do it in a form of nationalism — and I think that people, particularly in certain countries, want to see the sovereignty for their country, they want to see nationalism for their country. They don't believe in this kind of pan-European Union or they don't believe in the centralized government in the United States."
"There is little empirical basis for the charge of civilizational rot. It speaks to an emotional state, one we should do our best to understand and even empathize with. But we know from history that premonitions of imminent barbarism serve to justify extreme countermeasures. These are the anxieties from which dictators rise. Admiring strongmen from a distance is the window-shopping that can end in the purchase of authoritarianism."
And so it may go here in America. From a window-shopping distance, Trump admires Putin and his authoritarianism. This blind love, plus the lust that drove Trump to want the White House — and yes, perhaps extortion as well — may have allowed Russia not only to subvert our election but also to infiltrate Trump's administration and erode if not destroy American democracy.
Unlike those days 50 years ago when Russia posed a different kind of ideological threat, one that had us building fallout shelters and teaching kids to duck and cover, this is not a drill.