Trump's 'One-State' Remarks Embolden Rightwing Zionists – Jewish and Christian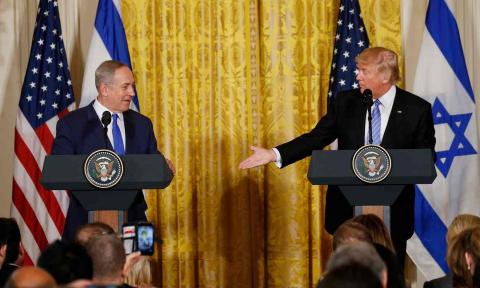 At a press conference with Benjamin Netanyahu, Donald Trump signalled openness to a one-state solution in the Middle East., Kevin Lamarque/Reuters
Donald Trump's apparent readiness to accept a one-state solution to the Middle East conflict that would permanently rule out a Palestinian nation is emboldening rightwing Zionists in the US – both among Jewish Americans and the much larger pool of pro-Israeli evangelical Christians.
Some Zionist groups welcomed with delight the president's unexpected comment on Wednesday that tore up the longstanding US adherence to a two-state solution in which Israel would coexist peacefully alongside a fully formed Palestine.
"I'm looking at two-state and one-state and I like the one that both parties like," he said.
Morton Klein, president of the oldest pro-Israel group in the US, Zionist Organization of America (ZOA), said that Trump's remark marked a turning point.
"We have entered a new sane, rational era in dealing with the Arab-Islamic war against Israel – it's remarkable that he has backed off from supporting a Palestinian state," he said.
ZOA has long opposed a Palestinian state. Critics of the one-state solution point out that it would destroy the fundamental character of Israel as a democratic Jewish state: Arabs and Palestinians would numerically be dominant in a single state and that in turn would either eradicate the Jewish nature of the country or force it to forgo democracy by relegating the Palestinians to second-class status.
As former secretary of state John Kerry put it last December: "If the choice is one state, Israel can either be Jewish or democratic – it cannot be both – and it won't ever really be at peace."
Klein dismissed that objection as "one of the great propaganda myths". He said the difficulty could be overcome either by allowing Palestinians in Gaza and the West Bank "to continue living their own lives" within autonomous areas in which Israel still had control over security, or by allowing West Bank residents to become citizens of Jordan.
The Guardian view on Trump and Israel: casual, careless and dangerous
Editorial: The US president's ditching of the commitment to a two-state solution may not be part of a calculated strategy. That is all the more alarming
Read more
But advocates of a progressive two-state solution to the crisis expressed dismay at Trump's shock departure from established US policy.
Dylan Williams, chief lobbyist of the Washington-based group J Street, which wants to see a democratic Jewish state living peacefully alongside a Palestinian country, said: "The president is really playing with fire here in a way that he probably doesn't grasp yet. He seriously risks jeopardizing the bipartisan policy that has held for so long in the US, that a two-state solution is essential to a negotiated end to the conflict."
The differing responses of ZOA and J Street are representative of a rift among the 6 million American Jews. "There are increasingly two American Jewries, Orthodox and Reform, and that split is increasing rather than diminishing," said Herb Weisberg, a political scientist at Ohio State University who is writing a book on the politics of American Jews.
The more progressive-leaning Reform movement – which tends to side with the two-state solution – accounts for 35% of the overall community, according to Pew Research, together with another third that identify with no denomination at all.
By contrast, the more conservative-leaning Orthodox Jews amount to only 10%. But though they are the relative underdogs numerically, they carry an increasingly influential punch given their close ties to the Republican party – and to Trump, whose son-in-law and Middle East adviser, Jared Kushner, is an Orthodox Jew.
Trump's choice of US ambassador to Israel, David Friedman, has called for the Israeli annexation of the West Bank.
Of particular importance to the changing debate on Israel within the US is Aipac, the American Israel Public Affairs Committee, which enjoys a lion-sized influence on Capitol Hill. The lobby group presents itself as bipartisan, though in practice it has moved steadily towards the hardline position.
Technically, it still sides with the idea of a Palestinian state as part of the long-term solution to the conflict, but its shifting approach became clear a week after Trump's election last November, when it expunged reference to the two-state solution from its website. (Following a public outcry, the material was put back up again).
Aipac did not respond to Guardian requests for comment.
Arguably the most important group steering the US-Israeli relationship is not Jewish at all, but Christian evangelical. Again, the numbers are significant: the Jewish community is tiny compared with up to 80 million evangelicals.
Within that group, twice as many white evangelical Protestants as Jews subscribe to the biblical belief that God gave the land of Israel to the Jewish people, Pew has found.
Their influence is amplified also by representation within Trump's inner circle, in this case Vice-President Mike Pence, who describes himself as a "born-again, evangelical Catholic".
He addressed Aipac in 2009 and said: "Let me say emphatically, like the overwhelming majority of my constituents, my Christian faith compels me to cherish the state of Israel."
Evangelical Zionists are wielding increasing influence in Congress, emboldened by the Trump administration and Pence in particular. Christians United for Israel (CUFI), the largest of all pro-Israel groups in the US, has begun to exert pressure on Congress members by ranking them according to their voting record in an echo of how the National Rifle Association browbeats representatives into being pro-gun.
CUFI, which follows the biblical commandment to speak out in favor of Zion, would not talk to the Guardian about its position on Trump's shifting policy. Its communications director, Ari Morgenstern, would only say: "Our longstanding policy has been to stand with the democratically elected government of Israel and defer to Jerusalem on such matters."
But its director, David Brog, has said that its members are "skeptical of the two-state solution".