Trump's Efforts to Obstruct the Russia Investigation May Have Finally Gone Too Far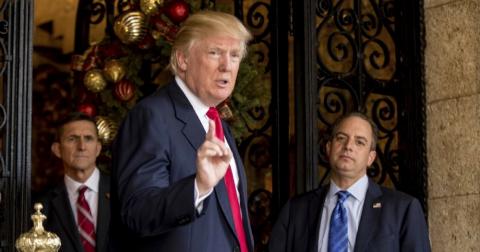 President-elect Donald Trump, center, accompanied by Trump Chief of Staff Reince Priebus, right, and retired Gen. Michael Flynn, a senior adviser to Trump, left, speaks to members of the media at Mar-a-Lago, in Palm Beach, Fla., Wednesday, Dec. 21, 2016., AP Photo/Andrew Harnik
Trump has made no secret of his disdain for efforts to investigate the role of Russia in the 2016 presidential election, including possible communication between his campaign and Russian operatives.
"It's time for our country to move on to bigger and better things,"
Trump said
in December.
There is, however, an ongoing FBI investigation into potential contacts between top Trump advisers and Russian officials. CNN, citing "multiple current and former intelligence, law enforcement and administration officials," reported that "[h]igh-level advisers close to then-presidential nominee Donald Trump were in
constant communication
during the campaign with Russians known to US intelligence."
Similarly, the New York Times, citing "four current and former American officials," reported that "[p]hone records and intercepted calls show that members of Donald J. Trump's 2016 presidential campaign and other Trump associates had
repeated contacts
with senior Russian intelligence officials."
These reports apparently prompted an even more aggressive effort by the Trump White House to tamp the story down. According to reports by CNN and the AP, White House Chief of Staff Reince Priebus contacted top FBI officials, including FBI Director James Comey, and asked them to "publicly knock down media reports about communications between Donald Trump's associates and Russians known to US intelligence." The FBI, citing the ongoing investigation, refused.
But, according to legal experts, Priebus' efforts were deeply unethical and, potentially, illegal.
Potential attempted obstruction of justice
In requesting a statement from the FBI that there were no contacts between Trump campaign officials and Russian operatives, Priebus was essentially demanding that the FBI publicly announce that an ongoing investigation was closed.
Depending on the exact nature of Priebus' conversations and contacts, this could constitute attempted obstruction of justice under federal law, Larry Tribe, a law professor at Harvard University, told ThinkProgress.
"[I]t could well be attempted obstruction of justice, and it's certainly so unethical that it would be a firing offense for a chief of staff in any White House that respects the rule of law," Tribe said.
Federal law
prohibits any communication that "endeavors to influence, obstruct, or impede, the due administration of justice."
The basic facts, that Priebus contacted the FBI and asked them to issue favorable public comments exonerating the Trump campaign do not appear to be in dispute.
"We didn't try to knock the story down. We asked them to tell the truth," White House Press Secretary Sean Spicer said.
Violating Justice Department rules
Whether or not Priebus' communications violated federal statutes, they appeared to almost certainly violate Department of Justice rules on communications between the White House and the Department of Justice regarding ongoing investigations.
A 2009 memo by Attorney General Eric Holder prohibited all direct communication from the White House staff and the FBI about ongoing investigations. Rather, in rare circumstances, limited communication could be made between the President and Vice President (or White House Counsel) and the Attorney General or Deputy Attorney General.
David Cole, the National Legal Director for the ACLU, believes Priebus broke those rules.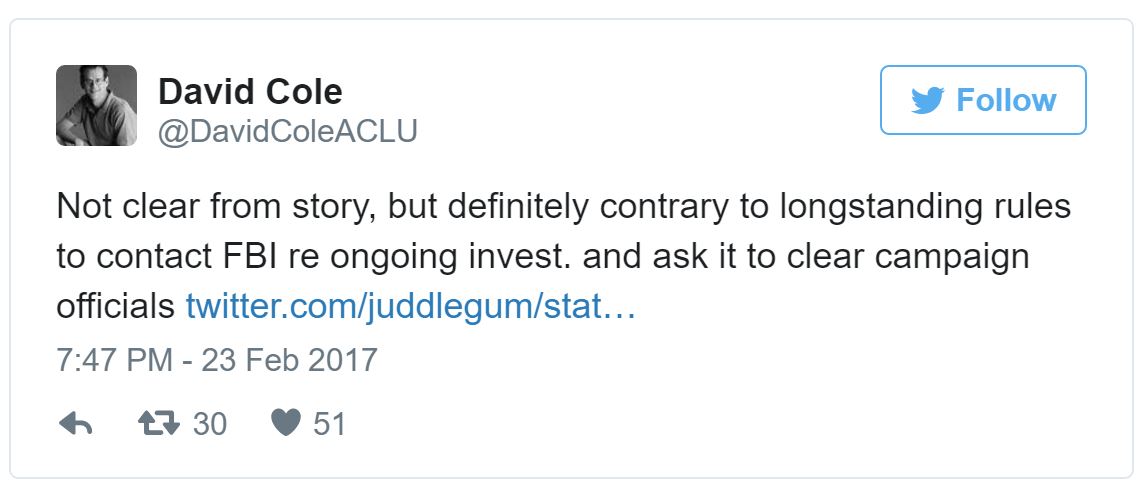 What did Priebus know and how did he know it?
Priebus, who is not supposed to be contacting the FBI at all regarding their ongoing investigation into potential contacts between Trump campaign officials and the Russians, seems extremely well informed about the FBI investigation.
"I've talked to the FBI, I know what they're saying. I wouldn't be on your show telling you that we've been assured that there is nothing to the New York Times story if I actually wasn't assured. And by the way, if I didn't have clearance to make this comment," Priebus told Meet The Press last week.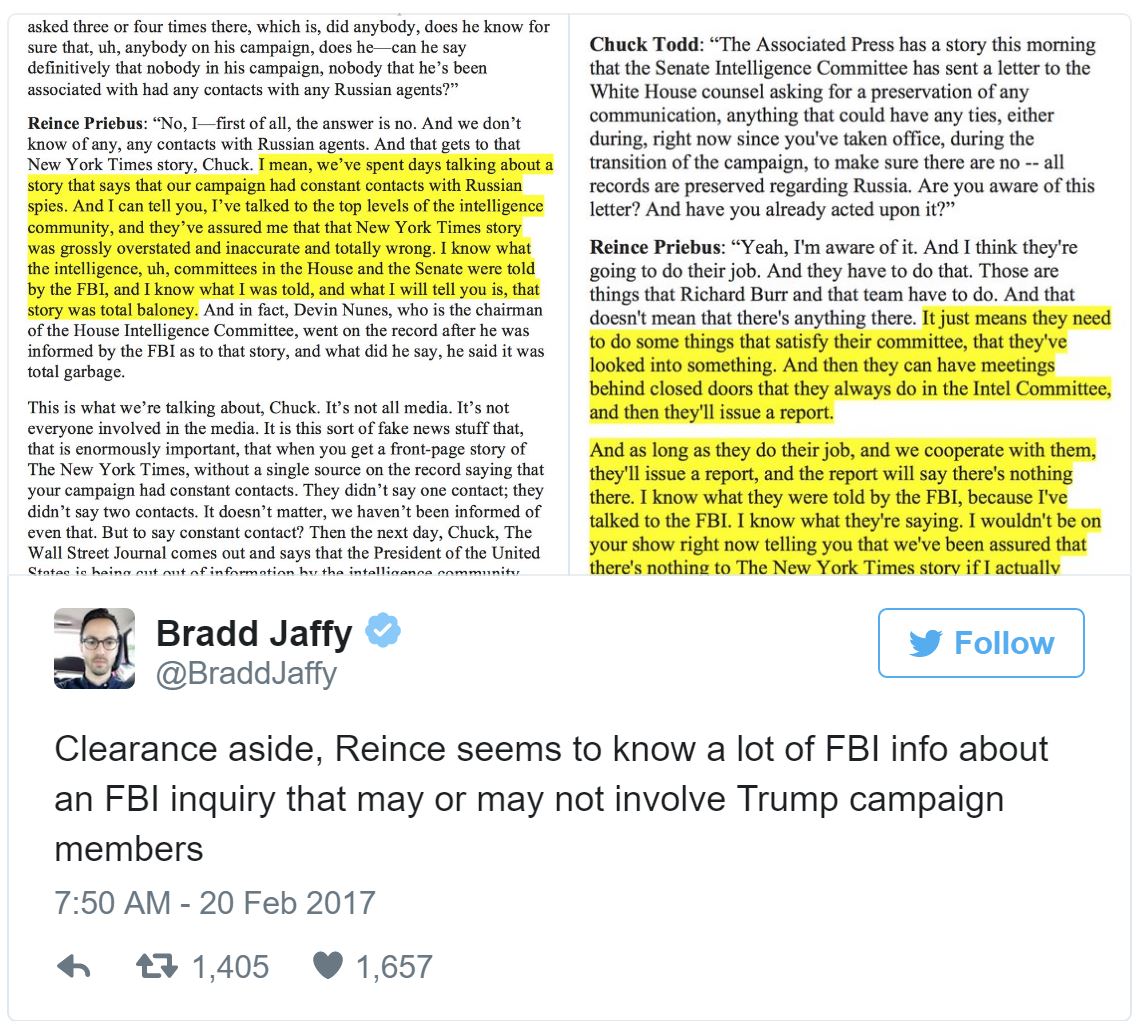 It's unclear who would give Priebus "clearance" to talk about an ongoing FBI investigation. It is also unclear what role Trump had in directing Priebus' conversations with the FBI.
Shades of Watergate
The efforts of the White House to preempt the FBI investigation of contacts closely mirrors some of the conduct described in the Articles of Impeachment against Richard Nixon in the Watergate scandal.
Paragraph 4 of Article I of the Articles of Impeachment adopted by House Judiciary Committee alleges that Nixon was:
interfering or endeavoring to interfere with the conduct of investigations by the Department of Justice of the United States, the Federal Bureau of Investigation, the office of Watergate Special Prosecution Force, and Congressional Committees
In this case, we do not know all the details of Priebus' communications with the FBI. But we do know that he was in contact with the FBI regarding an ongoing investigation and the purpose those contacts was to secure a public ending to an ongoing FBI investigation of top Trump advisers.
The need for an independent investigation
If the FBI does find that there were illegalities involving Trump campaign advisers and Russian operatives, those findings would be handed over to the Attorney General Jeff Sessions. He has not recused himself from involvement in the case.
Priebus' contacts have made clear that the White House has politicized this investigation and has sought to use the FBI?—?and by extension, the Justice Department?—?as a public relations vehicle. Whether or not their efforts crossed legal lines, it has undoubtably cast doubt on the ability of the Department of Justice to independently assess the results of the investigation.
Sessions is, after all, one of Trump's top political advisers. He also served in that capacity during the campaign, which is the subject of the FBI inquiry.
Priebus' contacts with the FBI is "clear evidence that Sessions needs to appoint a respected special prosecutor to head this investigation," Tribe said.