tv
Jessica Henwick's Iron Fist Role to 'Inspect' Asian Stereotypes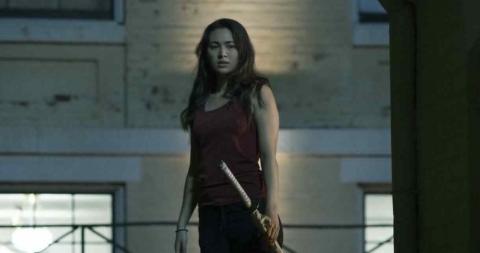 ,
Jessica Henwick, best known for her role as Nymeria Sand on HBO's "Game of Thrones," will portray Colleen Wing in Netflix's "Iron Fist" when the show debuts on the streaming service this March. Wing, a Japanese martial arts expert descended from samurai who was originally created by Doug Moench and Larry Hama in 1974, comes with a lot of baggage today. Initially, Henwick was hesitant about taking the role, the source material for which drew on racial stereotypes, but not anymore.
Henwick recently spoke with Collider about her portrayal of Wing, and how the series is looking to investigate the Asian stereotypes that spawned the character, rather than rely on them. When asked about concerns over the character's Orientalist origins, Henwick recounted her own recent journey from actively avoiding Asian character roles to embracing them — so long as there's something meaningful to say:
"For me, when they approached me about Colleen, I was a little bit like, huh, do I want to play an Asian woman who does martial arts who's a love interest? Do I want to do those three things? Because I've always shied away from it. In fact, I've shied away from playing Asian characters, if you look back I'm playing characters that have no relevance to my ethnicity. But I reached a stage last year where I said, I want to start telling Asian stories, I want a young Asian girl to go, oh my god, that reminds me of my relationship with my mom. So I had some concerns, and Jeph Loeb rang me and he said, 'We're going to take the stereotype, and we're going to — we're not going to avoid it, we're going to inspect it.' For example, she is, I don't know how many episodes you've seen, she's a martial artist, she fights in fight cages, we've seen that before. What happens when you become addicted to that? What happens when you can only talk with your fists and you struggle to communicate on any other level and you've become addicted to fighting? So we've taken this stereotype and we've said, OK, what is the actual realism in it? You know? Which was interesting to me."
Henwick's initial concerns are likely derived from the source material. Comic book characters like Iron Fist and Luke Cage were initially spawned back in the 1970s as a way for Marvel Comics to take advantage of the then-burgeoning industry of Kung-Fu and Blaxploitation films. As a result, their respective comic series contained a mixture of both progressive and deeply problematic depictions of both Asians and African-Americans.
"Luke Cage, Hero for Hire," for example, was the first ongoing comic book series to be headlined by a black hero, who also enjoyed a long-term relationship with a black woman. Meanwhile, in the same series, dialogue for villains like Black Mariah was offensive at best. With "Iron Fist" coming from the same period of comic book writing, it's not unreasonable for actors to be skittish.
Debuting on Netflix on March 17, "Iron Fist" is a production of Marvel Television developed by Scott Buck and starring Finn Jones as Daniel Rand, Jessica Henwick as Colleen Wing, Jessica Stroup as Joy Meachum, David Wenham as Harold Meachum and Rosario Dawson as Claire Temple.