Lessons from Trump's Health-Care Debacle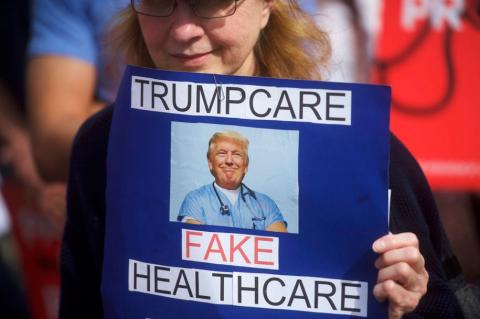 A demonstrator at a February 2017 demonstration in Philadelphia.,Topher Spiro
WASHINGTON, DC – US President Donald Trump's domestic economic agenda suffered a major setback last week, when the House Republican leadership decided to withdraw their hastily drafted bill to repeal and replace the Affordable Care Act (ACA, or "Obamacare"). Given the high-profile effort the president devoted to the issue, the Republican majority's failure to produce a viable draft was deeply embarrassing.
The key question now is whether Trump will be able to move forward on other items on the Republicans' economic agenda. And, for three reasons, Trump's next major policy push – on taxes – is in big trouble.
First, activism matters. Since November, many people have rediscovered that grass-roots political action in the United States – such as well-organized marches, visits to congressional offices, speaking out at town halls, and calling members of Congress – really does makes a difference.

Members of Congress listen, because their jobs depend on it. The entire House of Representatives faces reelection every two years – a term set by the US Constitution to force them to hew close to public opinion. If they don't, they risk facing serious challengers in party primaries and reelection campaigns.
Likewise, whether the Senate votes to confirm ultra-conservative Neil Gorsuch to the US Supreme Court will depend on how many phone calls Senators receive. Both Democratic and Republican Senators want to sense their constituents' mood – and there is no better way to get this across than through a phone call.
I am an adviser to a group at MIT that created a website, http://fiftynifty.org, designed to make it easy for Americans to use their social network to mobilize calls to Congress. The response has been very positive: for example, I made two calls myself in recent weeks, but my network has made more than 160 calls. And FiftyNifty itself has accounted for more than 1,200 calls lasting over 31 hours.
The second challenge for Republicans is that political morale changes quickly. The Democrats were defeated and depressed in November. Now they feel united and focused – and with good reason. Until recently, stopping Trump's health-care proposal, which would have stripped insurance coverage from an estimated 24 million Americans over the next decade, looked tough. But the Republicans' internal rifts have made it clear to Democrats that, if they stay united, they can put a serious crimp in the Trump agenda and claw back House seats in November 2018.
How many? As of March 1, there were 237 Republicans and 193 Democrats in the House (along with five vacancies). But there are 23 House Republicans who represent districts that voted for Hillary Clinton in November – and many of them look vulnerable today.
For example, Representative Mimi Walters, from California's 45th District, looks increasingly out of touch with her voters. In committee discussions of Trump's health-care proposal, she infamously remarked, "Let the games begin," before supporting the legislation until it was withdrawn. To watch the pressure mount in coming months, follow the twitter feed of Dave Min, a law professor at the University of California, Irvine. The group Swing Left has a helpful website that enables people to find the nearest congressional swing district – the point being to identify where Democrats should focus their attention and donations.
The third major challenge facing Trump is structural. He has pandered to the far right by installing fanatics in top White House posts, including Stephen K. Bannon as chief strategist, Betsy DeVos as education secretary, Scott Pruitt as administrator of the Environmental Protection Agency, and Rick Perry as energy secretary. These people – and their cabinet colleagues – are using executive actions to pursue an extreme agenda, such as removing environmental protections, which will result in more polluted air and water around the US.
At the same time, Trump realizes that if he embraces legislation preferred by the Freedom Caucus – a bloc comprising the most extreme conservatives in the House, whose members sank the effort to repeal Obamacare – he will lose the political center. In that case, congressional Republicans will suffer significant midterm loses in 2018, and in 2020 Trump will face the prospect of one of the most humiliating defeats ever experienced by a sitting president.
On tax reform, the Freedom Caucus (and Speaker of the House Paul Ryan) primarily wants to cut rates for the rich. Trump wants a broader tax cut, but one that will increase the deficit dramatically – which the Freedom Caucus will have a hard time swallowing, in part because doing so would expose them to primary challenges.
Trump could in principle pick up Democratic support, for example if he adds some infrastructure spending. But why would any Democrat want to assist a president who not only appoints people like Bannon, DeVos, Pruitt, and Perry, but also gives those secretaries free rein to implement damaging and irresponsible policies at home and abroad?
When Trump has been able to act without Congress, his appointments and executive orders have been beyond extreme. On legislation, however, extremism will not work, owing to the need to attract some relatively centrist Republicans in order for it to pass.
In the meantime, the Democrats should make that as difficult as possible and focus squarely on taking back the House next year.
Simon Johnson, a former chief economist of the IMF, is a professor at MIT Sloan, a senior fellow at the Peterson Institute for International Economics, and co-founder of a leading economics blog, The Baseline Scenario. He is the co-author, with James Kwak, of White House Burning: The Founding Fathers