March for Climate, Jobs, and Justice - April 29 - Washington, DC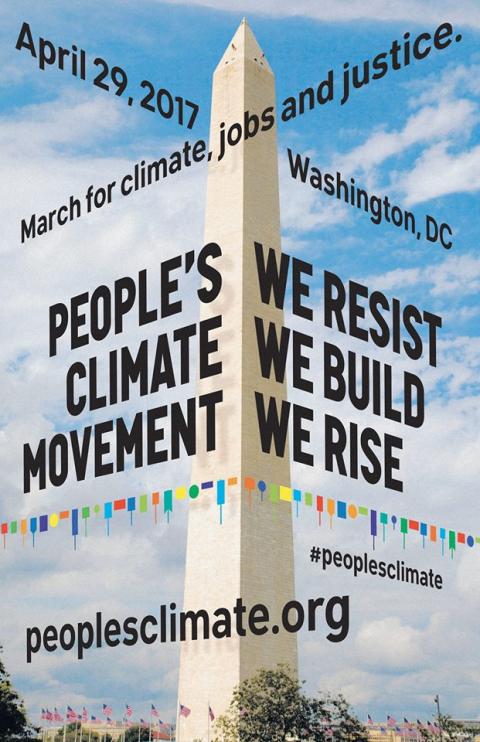 ., People's Climate Movement
Join In
Why we're marching
On the 100th Day of the Trump Administration, we will be in the streets of Washington D.C. to show the world and our leaders that we will resist attacks on our people, our communities and our planet.
We will come together from across the United States to strengthen our movement. We will demonstrate our power and resistance at the gates of the White House. We will bring our solutions to the climate crisis and the problems that affect our communities to our leaders in Congress to demand action.
We invite you to join the Peoples Climate Movement on Saturday, April 29th as we march to:
Advance solutions to the climate crisis [that are] rooted in racial, social and economic justice and committed to protecting front-line communities and workers.
Protect our right to clean air, water, land, healthy communities and a world at peace.
Immediately stop attacks on immigrants, communities of color, indigenous and tribal people and lands and workers.
Ensure public funds and investments create good paying jobs that provide a family-sustaining wage and benefits and preserve workers' rights, including the right to unionize.
Fund investments in our communities, people and environment to transition to a new clean and renewable energy economy that works for all.
Protect our basic rights to a free press, protest and free speech.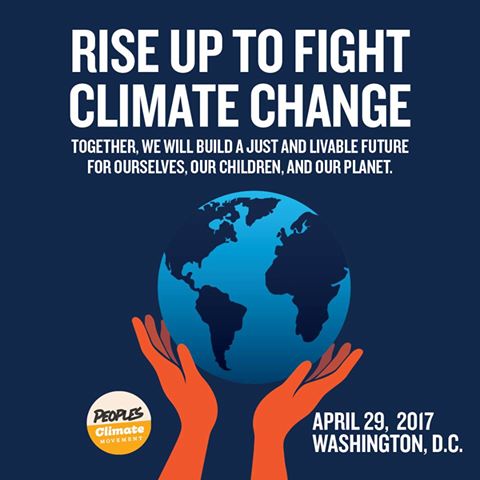 March with us on April 29th as we come together to resist and march for our families, our communities and our planet.
There is no denying it: Donald Trump's election is a threat to the future of our planet, the safety of our communities, and the health of our families.
This new administration is attacking the hard-won protections of our climate, health, and communities, and the rights of people of color, workers, indigenous people, immigrants, women, LGBTQIA, young people, and more.
Our fights are tied together, and we will only succeed together. That's why, from now through the first 100 days and beyond, we are taking action and standing up for everything and everyone we love — and we are calling on everyone to join us on April 29th; for a massive march to bring our demands to the streets of Washington, D.C.
We're ready to fight back, and we are ready to build a resistance to Trump and Congress' attacks on our climate, our communities, and our jobs that stands alongside the unprecedented Women's Marches and other powerful rallies that shook the globe in the hours and days following the inauguration of Donald Trump and the 115th Congress.
On April 29th, we will march for our families. We will march for our air, our water, and our land. We will march for clean energy jobs and climate justice. We will march for our communities and the people we love.
In 2014, we said that it takes everyone to change everything. Now, with everything at stake, everyone has a part to play.
Getting to the March 
Transportation Details:
If you're looking for a bus to Washington, DC, click here. 
Not able to make it to D.C.? See if there's a sister march near you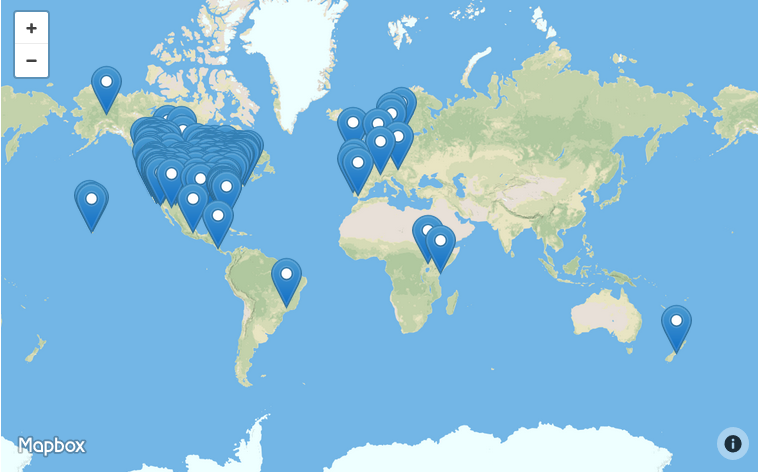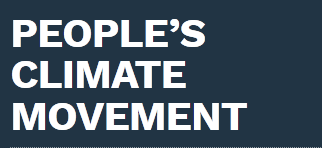 The Peoples Climate Movement is a project of over 50 organizations working together to solve the climate crisis and address the growing pollution of our air and water, while also assuring the creation of good jobs in our communities. Beyond the steering committee, this project is supported by over 500 other partner organizations.
    32BJ SEIU
    350.org
    1199SEIU United Healthcare Workers East
    Alliance for Climate Education
    Amalgamated Transit Union
    The American Federation of Government Employees, Council 238
    American Federation of Teachers
    American Postal Workers Union
    The B Team
    BlueGreen Alliance
    Center for Biological Diversity
    Center for Community Change
    Center for Popular Democracy
    Chesapeake Climate Action Network
    Chispa
    Climate Justice Alliance
    Climate Nexus
    The Climate Reality Project
    Color of Change
    Communications Workers of America
    Earthjustice
    Emerald Cities
    EMPOWER
    Engage Virginia
    Environmental Justice Leadership Forum on Climate Change
    Franciscan Action Network
    Grassroots Global Justice
    GreenFaith
    GreenLatinos
    Green For All
    Hip Hop Caucus
    Indigenous Environmental Network
    Labor Network for Sustainability
    League of Conservation Voters
    Maryland Working Families
    Moms Clean Air Force
    NAACP
    Native Organizers Alliance
    Natural Resources Defense Council
    NextGen Climate
    Oceana
    People's Action
    People's Collective Arts/Colectivo de Arte Popular
    People's Climate Movement NY
    Power Shift Network
    Public Citizen
    Service Employees International Union
    Sierra Club
    Sojourners
    Union of Concerned Scientists
    UPROSE
    US Climate Action Network
    Win Without War