Atlanta as a Sanctuary City: Holding Leaders Accountable for Violence Against Marginalized People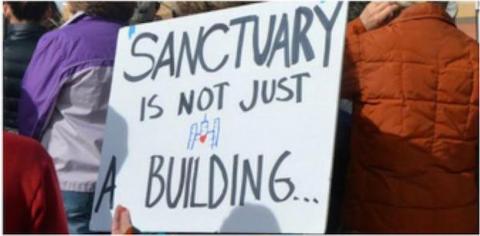 Photo is from the National Sanctuary Movement's website
On this International Workers' Day (May Day), we will be appearing before the Atlanta City Council to demand that the city adopt a policy limiting its cooperation with Immigration and Customs Enforcement (ICE).
This is one step the city can take to meaningfully stand up to Trump and help protect our communities.

On January 20, our organizations -- Project South, GLAHR and SONG -- joined more than 25 other Georgia-based groups for an action we called the People's Inauguration. Together, we demanded that the City of Atlanta declare itself a sanctuary city by addressing a list of demands to protect the human rights of our communities.
Trump's inauguration and the ascendance of a white supremacist regime galvanized our action. As Black and Brown, Muslim, trans and queer people, our communities have already been the target of attacks by the federal government for many centuries. We knew that we would face ramped-up repression and increased danger to our safety and our very existence.
We also felt that the time is ripe to hold the city accountable for its actions. It means nothing to denounce Trump and still to push forward policies that keep Black and Brown people in cages, over-policed and criminalized, primarily for low-level offenses such as possession of marijuana. Between 2014 and 2016, the Atlanta Police Department arrested 1,070 people for marijuana possession; 96 percent of those arrests were for possession of under 1 oz. of marijuana and 92 percent of the people arrested were Black. (These numbers are based on records provided by the Atlanta Police Department to Marshall Rancifer, a longtime homeless advocate in Atlanta).
For too long, Black, poor and homeless people in this city have experienced Trump-like policies. Meanwhile, the city, big businesses and the rich have profited from the suffering of the most marginalized.
Our coalition, the January 20th coalition, called on the city of Atlanta to repeal all city laws and policies that degrade, discriminate against and harm undocumented individuals and their families, Black lives, people of color, women, Muslims, immigrants and refugees, trans and queer people, and poor people.
We demanded that the city not use its resources to assist in deporting our immigrant communities, including Atlanta police participation in future ICE raids, as well as transfer or hold requests. This is all the more important in light of the Trump administration campaign of mass criminalization and deportation of immigrants.
The coalition also demanded that the city oppose any registry based on religious identity, national origin, gender, race or political affiliation. Statements from the Trump administration about creating a Muslim registry made this all the more urgent in light of their eerie resemblance to the World War II Japanese-American internment camps.
We demanded that the city close the Atlanta City Detention Center, and that as a first step, the city stop detaining immigrants for ICE.
We voiced several other demands related to gentrification, racial profiling and the school-to-prison pipeline, among others.
We met with the mayor's deputy director that day and she promised a response to our demands within seven to 10 days. That would have been February 1.
February 1 came and went, and we did not receive any direct communication, though Mayor Kasim Reed continued to tell the media that there was no need for Atlanta to declare itself a sanctuary city since it was already a"welcoming" city.
Finally we received a letter on February 20 -- a letter that amounted to a non-response. The mayor's office dismissed many of our demands out of hand, including that the city put a stop to GILEE (Georgia International Law Enforcement Exchange). GILEE is a police exchange program between Atlanta and the state of Israel in which Atlanta police travel annually to Israel to receive training in policing tactics. These tactics can only be described as repressive and racist, given the fact that Israel is an occupying power which has often times -- including in a recent report commissioned by the UN -- been described as an apartheid regime.
In its letter, the city continued to claim to be a "welcoming" space for immigrants. This is at the same time as the city continues to profit from detaining immigrants for ICE at the Atlanta City Detention Center.
We will continue to hold the city accountable and we will call out hypocrisy when we see it.
Sanctuary spaces have taken on additional importance in light of the recent executive orders and federal policies targeting our immigrant, Muslim and refugee communities.
Our community members have been banned from getting back to their homes solely because they are Muslim. Their houses have been raided and they have been ripped apart from their families and deported. In fact, per a recent report from the Washington Post, the Atlanta ICE office arrested the largest number of people in the entire country, with more than 2,000 immigrants picked up in the first weeks of the Trump administration.
All the while, instead of offering sanctuary to these community members under attack by the federal government, the city has refused to take meaningful action. The mayor continues to only talk the talk.
The city of Atlanta's leadership must decide which side it's on. This political moment calls their rhetoric into question. What is the city willing to do to make Atlanta a sanctuary city for Black, Brown, Muslim, poor, trans and queer people? It can start by addressing the demands set forth by the people.
Copyright, Truthout. Reprinted with permission. May not be reprinted without permission.
Azadeh Shahshahani is legal and advocacy director with Project South.
Adelina Nicholls is the executive director of the Georgia Latino Alliance for Human Rights.
Mary Hooks is co-director of Southerners on New Ground.