Media Bits and Bytes – Pavlovian Trepidation edition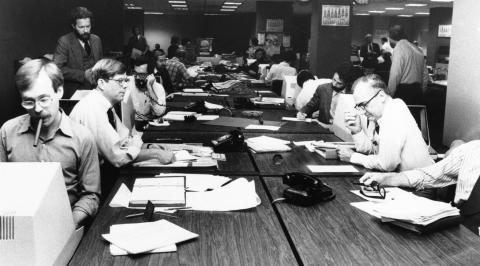 Newsroom of The New York Times, Sunday, Nov. 5, 1978., .
In Trump's America, Black Lives Matter Activists Grow Wary of Their Smartphones
By Craig Timberg
June 1, 2017
For all of the power of smartphones as organizing tools, the many streams of data they emit also are a boon to police wielding high-tech surveillance gear, allowing them to potentially track movements and communications that activists such as Malkia Cyril would rather keep private.
Such worries are driving a nationwide push by Cyril and other activists to train members of their movement in the tactics of digital defense — something they say is crucial with an aggressive new president who has displayed little sympathy for their causes.
White House Eyes Bannon Ally For Top Broadcasting Post
By Hadas Gold
June 1, 2017
The Trump administration's leading candidate to head the Broadcasting Board of Governors, a position that with recent changes would give the appointee unilateral power over the United States' government messaging abroad reaching millions, is a conservative documentarian with ties to White House chief strategist Steve Bannon, according to two people with direct knowledge of the situation.
Michael Pack, the leading contender for the post, is president and CEO of the Claremont Institute and publisher of its Claremont Review of Books, a California-based conservative institute that has been called the "academic home of Trumpism" by the Chronicle of Higher Education.
How Twitter Is Being Gamed to Feed Misinformation
By Farhad Manjoo
May 31, 2017
The biggest problem with Twitter's place in the news is its role in the production and dissemination of propaganda and misinformation. It keeps pushing conspiracy theories — and because lots of people in the media, not to mention many news consumers, don't quite understand how it works, the precise mechanism is worth digging into.
We recently saw the mechanism in action when another baseless conspiracy theory rose to the top of the news: The idea that the murder last year of Seth Rich, a staff member at the Democratic National Committee, was linked, somehow, to the leaking of Clinton campaign emails. The Fox News host Sean Hannity pushed the theory the loudest, but it was groups on Twitter — or, more specifically, bots on Twitter — that were first to the story and helped make it huge.
Feds are Using Stingray Cell-Trackers to Find Undocumented Immigrants
By Russell Brandom
May 19, 2017
Typically used to locate devices tied to a specific phone number, cell-site simulators have been the subject of significant controversy in recent years. The devices work by mimicking the signal of a cell tower, then collecting information from every device that attempts to connect. As a result, they can disrupt cell service in areas where they are used, and often collect vast amounts of information from non-targeted phones.
Why the Last Few Weeks Have Been Full of Evening Bombshell News Reports
By Esme Cribb
May 25, 2017
Over the course of the past two weeks, journalists have gotten used to a new kind of news cycle: the late-breaking bombshell report that dominates political coverage for hours.
What most of those stories had in common — though they covered a vast range of subjects — was that they dropped in the afternoon or early evening, throwing the typically staid evening news cycle into chaos.
On behalf of political reporters who now regard 5 p.m. ET with Pavlovian trepidation: Why?
FEAR and UNbalanced: Confessions of a 14-Year Fox News Hitman
By Tobin Smith
May 26, 2017
In 2000 when I started at Fox as a paid contributor (aka "hitman') and asked my new boss "So Roger tell me…who is your Fox News target audience and what turns 'em on?"
What he told me . . . of course "off-the-record" . . . should not be shocking. But now that he is gone, it's time to be real and tell the truth about Fox News . . about everything I lived and experienced in my 14 years as a paid contributor and part-time anchor on Fox Business Network.