Renter Week of Action and Political Education!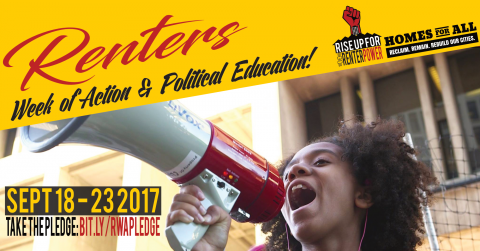 ,
Every day millions of us are struggling to find affordable housing, facing enormous rent increases and being forced from our homes by unjust evictions. Every day we experience the violent impacts of gentrification as we see our neighbors displaced, the grocery store on the corner turned into luxury lofts, and our communities and cultures disregarded. As federal authorities threaten to cut almost $7 billion from Housing & Urban Development, corporate and Wall Street landlords get government subsidies to buy up our communities for pennies on the dollar. 
Corporate landlords think they can steal our cultures, devour our paychecks, deny our humanity, push us out of our neighborhoods and turn our cities into playgrounds for the wealthy. They can't, they won't and it's up to us to stop them!
Together the renter nation—more than 110 million people strong— can become powerful beyond our wildest dreams. Already renters are rising up to organizing tenant unions, winning rent control campaigns and building community land trusts, and standing up to predatory development and building communities that actually work for our people.  We know that the only way to gain access to safe, quality and affordable homes for all is to demand that decisions made about our communities are made BY our communities, not wealthy investors. 
From
September 18 - 23, 2017
we'll rise up in the largest mobilization of it's kind for the Renters Week of Action and Political Education. In cities across the country we're planning to organize bold and escalated action targeting HUD, corporate landlords & developers and our city and state governments to call for:
Universal Rent Control and a freeze on ALL unjust evictions
! 
Community control over land and housing in our communities

The right of all tenants to organize and bargain collectively

Full funding for HUD and an end to Wall Street giveaways. 
We are rising up to work for the public good, for healthy homes and schools for our children, and parks for them to play in. We are transforming our communities into places where we can all thrive — not just survive. We are fighting so that low-income communities, communities of color, immigrants and formerly incarcerated people are invested in, not pushed OUT by development that only benefits the wealthy. It's up to us to organize millions of renters to fight back for our homes, for our dignity and for our futures. Now is the time! 
Now is the time for bold action to shut down business as usual and demand urgent action to solve the housing crisis!  
Now is the time for mass education communities around a vision of world free from displacement where housing and communities are developed for people, not profit. 
Now is the time to bring millions of people of the Renter Nation into a unified movement for housing as a human right.
Join Homes For All for the Renters Week of Action & Political Education Today! 
The Renters Week of Action is being organized by the national Homes For All campaign, Right To The City and being supported by Carson Watch.
We have a right to reclaim, remain in and rebuild the communities we call home! We refuse to be displaced!
Homes For All is a trans-local national housing justice movement bringing together public and private housing renters, low-income homeowners and houseless families in a unified fight for housing as a human right and community control of land & housing. Learn more and take the pledge to join Homes For All at www.HomesForAll.org/Pledge