Dismantling Public Education - Like it or Not, Betsy DeVos Has Made a Mark in Six Months as Education Secretary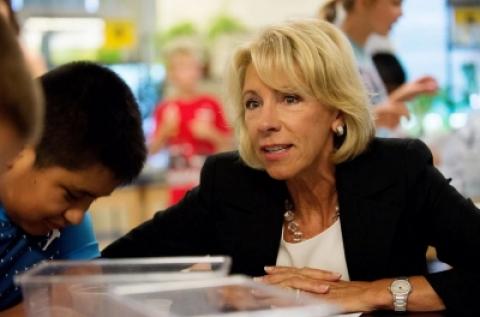 Education Secretary Betsy DeVos visits students in the Cohort Program at the Van Andel Institute in Grand Rapids, Mich., on August 1.,Neil Blake/Grand Rapids Press/AP // Washington Post
It is tempting to conclude that after six months as education secretary, Betsy DeVos hasn't accomplished all that much.
Congress has not been kind to her legislative agenda, and Republicans have joined with Democrats in criticizing her proposed budget cuts. She faces protests at many public appearances, which is why she receives special protection from the U.S. Marshals Service, at an average cost so far this year of $1 million a month. Her department, like many others in the Trump administration, has yet to fill a long list of empty jobs.

But, like it or not, DeVos has taken some major steps to change education policy, and her very presence at the head of the U.S. Education Department signals something important about the past, present and future of public education in the United States.
DeVos is a Michigan billionaire who has labored tirelessly for decades to promote school choice, or alternatives to traditional public schools, and is seen by critics as the most ideological and anti-public-education secretary in the more than 40 years of the department's history.
She has made clear her K-12 priority is expanding charter schools — which are publicly funded but privately operated — and vouchers or voucher-like programs,  which use public money to pay for private and religious schools in different ways. Her supporters say those measures offer parents more choices, but her critics say they drain resources from the public education system, the most important civic institution in the United States.
In every speech she delivers she finds a way to promote school choice, sometimes saying things that aren't true, as in February when she said that historically black colleges and universities were "real pioneers when it comes to school choice." They weren't. They were founded because blacks were barred from white colleges. Graduating students at a historically black university in Florida, Bethune-Cookman, protested the comments, booing and turning their back on her while she made a commencement speech in May.
What she doesn't talk about are the challenges that school choice options have presented in many communities. Some states have scandal-ridden charter sectors, and studies show that voucher programs don't help and often hurt student achievement. One such study was released this April, showing that students in the only federally funded voucher program, in Washington, D.C., performed worse on standardized tests within a year after entering D.C. private schools than peers who did not participate.
Because of her role in promoting school choice and her history of denigrating traditional public schools — she called them "a dead end" in 2015 — DeVos was controversial before her nomination, but became even more so after her Jan. 17 confirmation hearing before a Senate committee. During that session, she betrayed ignorance of the basics of the federal law protecting students with disabilities, as well as other key education issues. She even lost the support of a few Republicans, so that her confirmation on Feb. 7 was secured only after Vice President Pence, as presiding officer of the Senate, cast the first tiebreaking vote in U.S. history to confirm a Cabinet nominee.
But that didn't stop her from moving as much as possible on her agenda, which envisions running schools as if they were businesses and offering so many "choices" for parents that picking a school for their children would be equivalent to picking "an Uber, or Lyft, or another ridesharing service."
Before her tenure began, DeVos was known as a reformer in the K-12 space, but her views on higher education were not well known. In her first six months, however, she has made a real mark in higher education, aggravating advocates of consumer protections and delighting the for-profit education industry. She and her staff moved swiftly to start to remake the student financial aid system by rolling back or rewriting regulations that were put in place by the Obama administration to protect student borrowers. For example:
DeVos's department reinstated hefty collection fees for some borrowers who have defaulted.
The department started to take apart two major consumer protection rules. One of the rules is on gainful employment, which holds nondegree career education programs accountable when graduates have too much debt; the other is on borrower defense, which allows student borrowers defrauded by institutions to get loan forgiveness.
DeVos tapped the chief executive of a private student-loan company to run the federal government's trillion-dollar financial aid operations.
But it is worth noting that the department also took quick action to implement a bipartisan initiative to help low- and moderate-income college students get year-round access to Pell grants, after Congress approved the measure.
In the K-12 space:
DeVos backed the administration's decision to rescind guidance from the Obama administration that was aimed at protecting the rights of transgender students and directed the department's Office for Civil Rights to consider transgender students' discrimination complaints on a case-by-case basis.
She exercised some muscle in evaluating some state plans for compliance with the K-12 Every Student Succeeds Act, making "suggestions" about things they should fix and drawing complaints from Republicans.
She made science teachers shudder when she issued a statement praising President Trump for pulling the United States out of the Paris climate accord.
A crucial government function for K-12 and higher education is enforcing civil rights. DeVos hired Candice Jackson, who has made some controversial statements about sexual assault on campus, as acting head of the Office for Civil Rights.  DeVos also held "hearings" at the Education Department about how to change Obama-era rules on how colleges should address sexual assault complaints. She made clear that she believes men accused of sexual assault have been improperly treated by institutions of higher education, and need more rights of their own. And when it became known that Trump's Justice Department is launching a project to sue universities they deem to have affirmative action policies that discriminate against whites in admissions  — rather than historically underserved populations — DeVos did not publicly protest.
Perhaps most important, being education secretary has given DeVos a national platform to mainstream her school choice ideas, which once were considered radical. And her repeated attacks on the federal government have laid the groundwork for potential future efforts to abolish the Education Department, a long-cherished goal of many conservatives. Trump himself, during the 2016 campaign, voiced support for dismantling or shrinking the department.
What public officials say matters. President Ronald Reagan famously said, "The most terrifying words in the English language are: I'm from the government and I'm here to help," and his consistent portrayal of the U.S. government as an impediment to solving problems affected politics and the view many Americans hold of the role of public officials.
In the same way, DeVos's denunciations of the federal government and her refusal to make even a tepid call-out to the value of the public education system, can't help but have an effect on the way some Americans feel about their neighborhood public schools, which educate the vast majority of the country's schoolchildren. Arne Duncan, education secretary under President Barack Obama, was a supporter of charter schools (though not vouchers) but still spoke about the need for — and the aspirational goals of — public education. Margaret Spellings, education secretary under President George W. Bush, also defended public education and the role of the U.S. Education Department.
DeVos and her husband, Richard, have been working on school choice for decades, with the two instrumental in pushing through Michigan's charter school law in 1993, and supporting voucher programs, and this work has convinced her critics that she seeks to privatize public education in the United States. They point to Dec. 3, 2002, when Richard DeVos gave a now-famous speech at the conservative Heritage Foundation in Washington, D.C., laying out a state-by-state strategy to expand school choice. He advised that supporters call public schools "government schools," as a pejorative, but urged them to "be cautious about talking too much about these activities" so as not to call attention and garner opposition.
Today, DeVos is the country's top education official who no longer has to be careful about pushing her school reform vision. She is supportive of efforts by a conservative, pro-business group known as ALEC, or the American Legislative Exchange Council, to create model legislation for school vouchers and similar programs for states to pass in their legislatures. She spoke admiringly of ALEC at the group's annual convention in July and took on the philosophy of conservative British Prime Minister Margaret "Iron Lady" Thatcher as her own, saying that there is no "such thing as society," an attack on social and other government programs. The support of a U.S. education secretary, even an unpopular one, for such thinking emboldens like-minded state legislators and lobbyists to push the agenda.
To be sure, DeVos has had her challenges.
DeVos and Trump have advanced a pro-school-choice 2018 budget, which seeks broad funding cuts while pushing proposals to spend about $400 million to expand charter schools and vouchers for private and religious schools and an additional $1 billion to push public schools to adopt choice-friendly policies. It is also thought that they will push a federally funded tax credit program during any overhaul of the tax code.
Legislators have made clear that many of the proposed cuts won't stand, especially in higher education. They don't appear keen on approving money for a new voucher program, though a federal education tax credit program has some, though not overwhelming, support in Congress, and it could be slipped into a tax-overhaul bill.
Democrats have savaged DeVos over a number of issues, but Republicans recently have also been critical of her department's review of state plans to deal with persistently low-achieving schools. Those Republicans thought that someone who keeps insisting that states and local school districts should make education policy should not be overseeing a process in which the federal government tells states what to do.
Meanwhile, protesters follow her almost everywhere, and Gail Collins, the New York Times columnist, ran a sarcastic contest for worst Cabinet member and published the results in June. It was DeVos.
Still, she has accomplished some things. Anybody who thought she'd do much more than that in six months, given the acrid political atmosphere in Washington these days, was being overly optimistic. Or pessimistic, as the case may be.
[Valerie Strauss covers education and runs The Answer Sheet blog at The Washington Post.  Follow @valeriestrauss ]