Confront White Supremacy from Charlottesville to the White House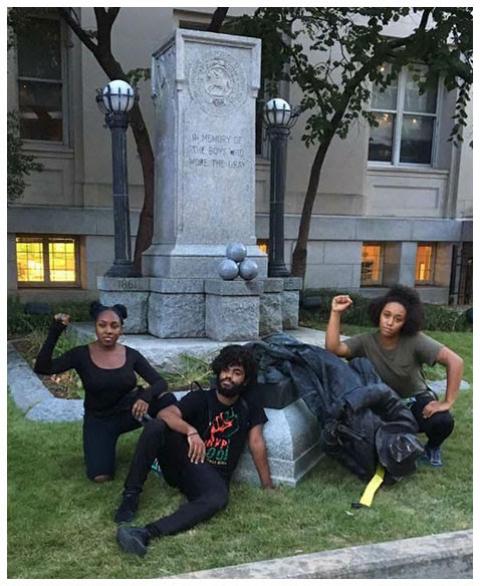 ,
The events in Charlottesville are not anomaly; They are happening all over America. In cities like Durham, Tampa and New Orleans, people are organizing to take down racist monuments.Symbols of white supremacy take different forms; For some it is a monument, for others it's street name or campus building. For many it is an institution that continues to inflict harm on their people.
Join us in action Saturday Aug. 19th. We will continue to focus our attention on the many institutions that maintain white supremacy. Visit out site to either plan or take action Saturday.
Post or find an action near you today.
Challenge yourself to use your imagination and consider all the symbols and institutions of white supremacy:
A corporate headquarters
A local police union
A campus building
A local politician who has yet to cut ties with the Trump / White Supremacist project,  
And for those close enough, the White House.
We're calling everyone to be bold and publicly choose to side in this fight. Thank you for joining us in opposition to white supremacy and state violence. Let's tear down systems of hate and build a world we believe in.
Onward,
Movement for Black Lives
Asian-American Activists Issue Call to Resist White Supremacist Violence, Complicity in Open Letter
Asian Americans advancing Justice, August 16
https://advancingjustice.salsalabs.org/refusewhitesupremacy/index.html
An Asian-American advocacy coalition responded to the racist violence in Charlottesville with an open letter that cites historical anti-Asian racism while calling on the diaspora to fight White supremacy—both against and within their communities.
Dear fellow Asian Americans,
Modern day Ku Klux Klan members marched through Charlottesville this past weekend, emboldened, in their own words, by our current President. They lacked hoods but if anyone doubted their intentions, they carried torches and Nazi and Confederate flags to ensure the world knew what they stood for: white supremacy, white power, and nativism. They came ostensibly to protect and promote Confederate history, but took clear aim at African Americans, immigrants, and the civil rights movements of the past and present.
While few Asian Americans trace our roots to the Civil War, our history in this nation is deeply intertwined and impacted by white supremacy and nativism. At the turn of the 20th century, white mobs threatened -- and even lynched -- Chinese, Filipino, and South Asian immigrants, in part for fear they would taint (white) American culture. White supremacist groups helped to pass the Chinese Exclusion Act, the first law to ban an entire ethnic group. And white supremacy birthed "alien land laws", barring "non-citizens" from owning land at a time when mainly Asians could not become U.S. citizens, and anti-miscegenation laws, prohibiting interracial marriage (a law that in California specifically singled out Chinese, Japanese, Filipino, and other Asians). White supremacy also paved the way for the U.S. government to violate due process and incarcerate 120,000 Japanese Americans, many U.S. citizens, during World War II -- an action upheld by the U.S. Supreme Court in Korematsu vs. United States and never formally overturned.  
Given our history, we as Asian Americans cannot stand idly by and watch as white supremacists march through our neighborhoods. Even before this past weekend, hate crimes were surging upwards, including nearly 200 incidents against Asian Americans since January documented through our hate tracker (StandAgainstHatred.org) and the shooting of two South Asian immigrants, Srinivas Kuchibhotla and Alok Madasani, in Kansas earlier this year.
We as Asian Americans also must not be complicit in the white supremacist agenda of this current administration. White supremacy drives the President's Muslim bans, seeking to ban entire groups of people based on their national origin and non-Christian religion. It drove last week's one-two punches from the White House. First, when the President announced his support for the RAISE Act, an immigration bill that would gut the current family-based immigration system, which has brought millions of Asian, African, and Latin American immigrants into the U.S. and remade the racial demographics of the U.S. in the past 50 years. And second, when the White House redirected federal civil rights resources to undo long-standing affirmative action policies. The administration's purported claim to be fighting discrimination against Asian Americans flies counter to all other evidence that this administration and its allies and supporters seek to advance only the interests of fellow white Americans.
Our nation is at a critical crossroads. White supremacist leaders like David Duke have seized upon Charlottesville as a turning point in moving their hate and nativism mainstream. Without clear and decisive leadership from the President or other administration officials or Congressional leaders, it falls on all of us to resist white supremacy, including efforts to be co-opted by white supremacists who do not and have never had our communities' interests at heart.
We call on all Asian Americans to join us in defending our vision of democracy – one where we protect the vulnerable amongst us, resist efforts to erode our hard-won rights and protections, and fight to advance progress for all marginalized communities. We pledge to challenge rising hate, to fight the President's Muslim bans, to oppose the RAISE Act and the gutting of affirmative action, to fight deportations and defend DACA, to champion health care for all, and to ensure all voters can cast their ballots. We cannot do this alone, and we will be calling upon you to join us on the streets, in legislative chambers, and on the steps of the courts to stand up for our democracy.
In unity and resistance,
Stephanie Cho, Executive Director, Asian Americans Advancing Justice - Atlanta
Andy Kang, Legal Director, Asian Americans Advancing Justice - Chicago
Aarti Kohli, Executive Director, Asian Americans Advancing Justice - ALC
Karin Wang, Vice President of Programs and Communications, Asian Americans Advancing Justice-Los Angeles
John Yang, Executive Director, Asian Americans Advancing Justice - AAJC