Massachusetts Executed Two Italian Immigrants 90 Years Ago: Why The Global Fallout Still Matters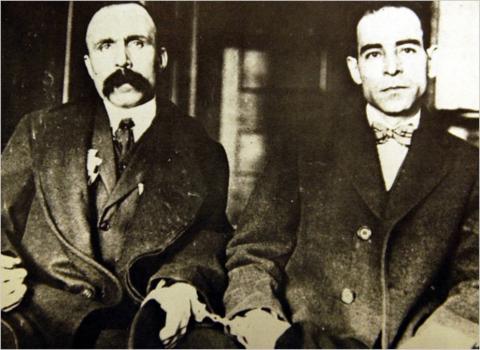 Bartolomeo Vanzetti (left), handcuffed to Nicola Sacco, 1923,Boston Public Library
Ninety years ago, on Aug. 23, 1927, two Italian immigrants were executed.

The deaths of Nicola Sacco and Bartolomeo Vanzetti in the Charlestown Prison in Massachusetts marked the end of a raucous seven-year legal and political battle that captivated people across the United States and the world.
According to many who lived through it, no other event since the outbreak of the Civil War had so starkly divided American opinion. Writer Edmund Wilson believed that it "revealed the whole anatomy of American life, with all its classes, professions, and points of view, and raised every fundamental question of our political and social system." And arguably, no other event until the Vietnam War evoked as much anti-American sentiment on the global stage.
I wrote a book about how and why the case of Sacco and Vanzetti evolved from an obscure local criminal trial to a national and international scandal. I refer to it in the book as the transition from a "case" to an "affair."
What can it tell us about our politics today?
The most famous prisoners in the world
At first, Sacco and Vanzetti were two anonymous immigrants on trial for an act of banditry. Sacco was a skilled shoe factory worker and family man with two small children. Vanzetti was a fish monger. But local authorities charged them of being part of a stickup gang that on April 15, 1920 shot and killed a factory paymaster and his guard in Braintree, Massachusetts, stealing approximately US$15,700. One reporter sent to cover their trial wrote to his editor, using a derogatory term for Italians, that there was "no story…just a couple of wops in a jam."
But fairly soon, it emerged that the two men were not anyone's idea of typical bandits. Rather, they were active in Italian anarchist circles who believed that capitalism and states were oppressive and should be overthrown by revolution – and, if necessary, a violent one. At the time, most Americans lived in horror of anarchists and other "reds," as left-wing radicals of all sorts were known, and anti-immigration sentiment (especially against Italians) was at its peak. Not surprisingly, their trial took on a decidedly political character.
The evidence against them was mostly circumstantial, relying heavily on what the authorities called "consciousness of guilt." The prosecution made their political radicalism an issue, as if that helped prove them guilty of robbery and murder. And, given that opening, the defendants were not shy about expressing their radical ideas in court, which did not help them with the jury. Many people who came to Sacco and Vanzetti's defense argued that they were innocent men being railroaded not for anything they did, but for who they were and what they believed in.
Sacco and Vanzetti forcefully protested their innocence from the moment they were arrested until the minute they were electrocuted. They gradually convinced large numbers of people. As their case dragged on, they gained the advocacy and support of public figures, legal experts, intellectuals, political leaders and ordinary people. Their supporters included law professor Felix Frankfurter, poet Edna St. Vincent Millay, car magnate Henry Ford, British author H.G. Wells and even Italian dictator Benito Mussolini.
The judge in their case, Webster Thayer, was openly biased against them. Among other things, he had originally lobbied to be assigned the case to make sure that Sacco and Vanzetti "got what they deserved." During the trial, Thayer braggingly asked a member of his social club if he had seen "what I did to those anarchistic bastards the other day?"
After Thayer sentenced them to death in April 1927 – but not before the pair made stirring speeches in the courtroom proclaiming their innocence – the case created a genuine diplomatic crisis for the United States. Heads of state in Europe and elsewhere appealed to U.S. President Calvin Coolidge and Massachusetts Gov. Alvan Fuller to try to prevent the executions – in vain. Governments in Argentina, France, Britain, Brazil and elsewhere were forced to deal with angry demonstrations, major riots and attacks on American travelers, companies and embassies.
Why did Sacco and Vanzetti become, as the New Republic magazine put it, "the two most famous prisoners in the world"?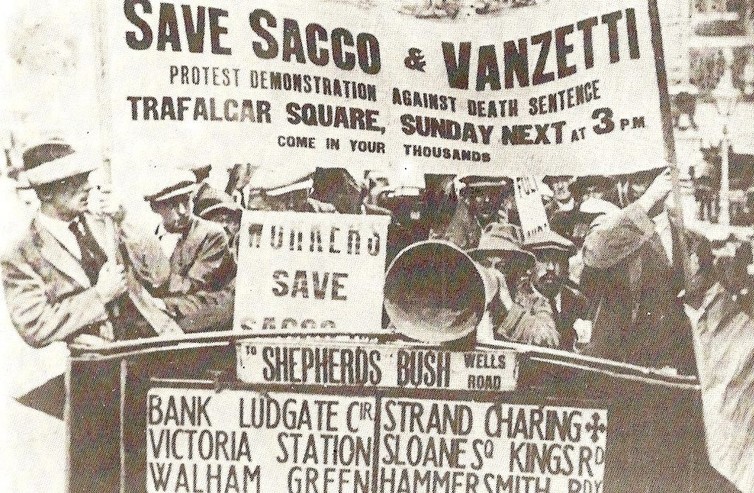 Demonstrators in London protest the conviction of Nicola Sacco and Bartolomeo Vanzetti, 1921. Public domain
It was partly because of the global and geopolitical context. In the wake of World War I, the United States became a global power for the first time. At the same time, Western European nations suffered crisis and decline, and became indebted to American banks and reliant on American power. In that decade, the United States also closed its doors to immigrants who most desperately needed to migrate, especially those from poverty-stricken areas like Southern and Eastern Europe, as well as Mexico.
There have been many debates over the years over whether Sacco and Vanzetti were indeed guilty of the crime for which they were punished. Numerous authors have forcefully argued both sides. But this debate, which is impossible to resolve decades after the fact, misses the point of why Sacco and Vanzetti attained, after their deaths, totemic status.
As I describe in my book, Sacco and Vanzetti came to be seen as symbols of an America that had turned its back on foreigners, abandoned its principles of justice, and failed to pay heed to what Thomas Jefferson, in the Declaration of Independence, called "a decent respect for the opinions of mankind." Their trial was so flawed, the politicization of their case so egregious, the executions so horrifying, that it was a travesty of justice irrespective of guilt or innocence.
From Sacco-Vanzetti to the Trump era
Ninety years after the executions of Sacco and Vanzetti, the affair presents us with many connections to the present. For many people in 1927 and after, the two men were victims of a deep-seated fear of immigrants. For others, they were criminals and terrorists who benefited from a worldwide campaign led by people who despised America and its institutions.
Today, the United States is engaged in a bitter struggle between these same two views, with the xenophobic forces currently in political power, especially in the White House.
But it is important to keep in mind that today's America would be socially, culturally and demographically unrecognizable to Americans in 1927. The United States is a much more multicultural and diverse society nowadays than it was when Sacco and Vanzetti were alive. And it will become even more so.
At the same time, recent events have made life in America frightening for immigrants and minorities. The factors in American society that brought about the executions of Sacco and Vanzetti never completely went away. In the current, toxic political environment, those who care about equality and justice must remain vigilant.
_______________________________________________________________
Moshik Temkin, Associate Professor of History and Public Policy, joined the Harvard Kennedy School faculty in 2008. Previously he taught at the Ecole des Hautes Etudes en Sciences Sociales in Paris and at Columbia University. A specialist in the history of the modern United States in global and comparative perspective, with a focus on the connections between history and public policy, he is particularly interested in the interaction between Americans and non-Americans–the effects that American politics have had on the wider world, the roles that international politics have played in American society and policymaking in the United States, and the dynamics created when American and international politics come into contact, or conflict.
He is the author of "The Sacco-Vanzetti Affair: America on Trial" (Yale University Press, 2011), which was a finalist for the Cundill International Prize, as well as several articles and book chapters. His current research interests include the history of the death penalty in comparative perspective, the impact of war on public policy intellectuals since World War I, Malcolm X's career and politics in a global context, the relationship between American civil rights and global human rights, and the contest between global political activism and travel control since the Cold War. He is currently at work on a book provisionally titled "Undesirables: Travel Control and Surveillance in an Age of Global Politics," to be published by Harvard University Press.
At Harvard, he is affiliated with the Charles Warren Center for Studies in American History, the Center for European Studies, and the Weatherhead Center for International Affairs. At the Harvard Kennedy School, he convenes the Harvard Seminar on History and Policy and is the co-founder and co-director of the Harvard Initiative on History and Public Policy. In 2010-2011, he co-convened the Harvard International and Global History Seminar. He received his B.A. at the Hebrew University and his M.A., M.Phil., and Ph.D. in History at Columbia University.