Eight-Year-Old Football Players Kneel During National Anthem Amid St. Louis Protests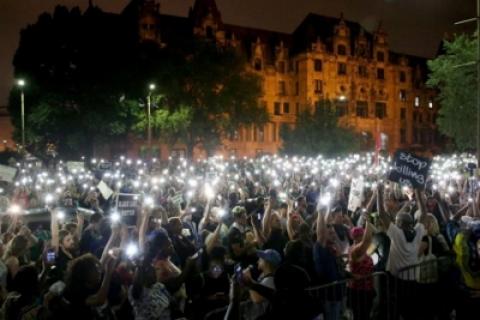 Protesters stand outside of the St. Louis city jail on Monday., David Carson/St. Louis Post-Dispatch via AP // Washington Post
Amid protesting in St. Louis over the acquittal of a white police officer accused of murdering a black man after a car chase, a youth football team decided to take a knee during a pregame rendition of the national anthem. The team's coach said that the decision was made by the eight-year-olds following "a good teaching moment" about what was happening in the nearby city, and why.
According to Fox 2 St. Louis, all 25 members of the Cahokia (Ill.) Quarterback Club's eight-and-under squad knelt during "The Star-Spangled Banner," before a game Sunday in Belleville, Ill. The coach, Orlando Gooden, told the station on Monday, "One of the kids asked me did I see them protesting and rioting in St. Louis, and I said yes. I said, 'Do you know why they are doing it?' "

Gooden said his player responded, "Because black people are getting killed, and nobody's going to jail."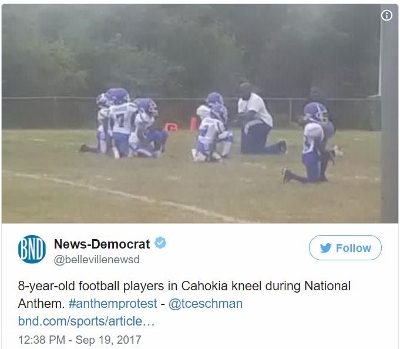 The Cahokia players were aware that the protests in St. Louis, which began Friday and continued into Tuesday, erupted following the acquittalof former St. Louis police officer Jason Stockley, who had been charged with first-degree murder in the shooting death of Anthony Lamar Smith in December 2011. After chasing the car of Smith, who was suspected of drug dealing, Stockley's police vehicle rammed it, at which point he got out and fired five shots at the 24-year-old man through the driver's side window.
The incident was captured on the police car's dashboard camera, and during the trial, St. Louis prosecutors produced audio from that car during the pursuit. A voice alleged to be Stockley's could be heard telling his partner that he was going to "kill this m—–f—–," and prosecutors claimed he planted a gun on Smith after the shooting.
When asked about by the children about the Stockley trial and its aftermath, Gooden said, "I felt like it was a good teaching moment for me to circle the team up, and have a brief meeting." The ensuing discussion eventually included Colin Kaepernick, the ex-49ers quarterback who knelt during the anthem last year to protest racial injustice.
Kaepernick, who was particularly concerned about police killings of black men, such as Philando Castile and Alton Sterling, inspired other football players and athletes in other sports to emulate his example. The former San Francisco quarterback has been unable to latch on with an NFL team this year, a situation many observers feel stems directly from his social activism and unpopularity among some fans.
In Kaepernick's absence, some other NFL players have been staging anthem protests, including the Seahawks' Michael Bennett and the Raiders' Marshawn Lynch, who have declined to stand up, and the Eagles' Malcolm Jenkins, who has been raising a fist. After getting a sack in Sunday's Seattle-San Francisco game, Bennett staged another demonstration.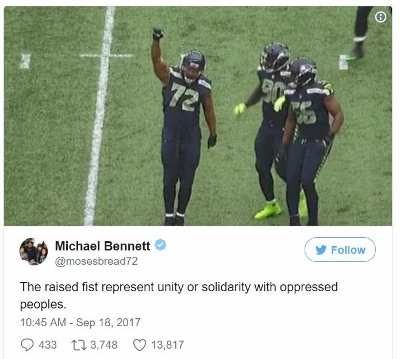 A preteen football squad in Beaumont, Tex., took a knee during the anthem before a game in October, leading to tensions between some of the coaches and parents that ultimately caused the team's season to end prematurely. A few of the adults involved in the program who supported the protest formed a new team this year, one that received financial support from several NFL players, including Jenkins.
"We wanted to make sure that we sent those kids the message that it's okay to stand up for what you believe in," Jenkins told ESPN in June. "We didn't want them to walk away from the season feeling punished for trying to do the right thing. We wanted to make sure that was rewarded and acknowledged and encouraged, so that was our main motivation for helping."
"As long as I have the support of my parents and my team, I'm perfectly fine," Gooden said Monday. "I'm covered under the First Amendment to peacefully protest and assemble."
The coach said that, after he brought up Kaepernick's protests, one of his players asked, "Can we do that?" He replied, "As long as we know why we're doing it, I don't have a problem with any of it."
"What I teach my kids is love, integrity, honesty, fairness and respect for their boundaries," Gooden told the station. He reportedly added that he didn't see a reason to have his team stage any more anthem protests, having taken part in a valuable lesson.
"They brought up the subject and led the discussion," Gooden said of his players to the Belleville News-Democrat. "I feel like once a child shows interest in a topic, you have to talk to them and teach them what you can.
"I told them kneeling is a show of respect, not for those who broke boundaries — I support only peaceful protest — but for the innocent lives that have been touched by injustice."
Related:
Read more from The Post: